LGBT characters
Wikisimpsons - The Simpsons Wiki
A number of people have been identified as (or implied to be) lesbian, gay, bisexual or transgender (commonly abbreviated LGBT).
Lesbian
[
edit
]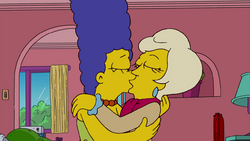 Hinted to be Lesbian
[
edit
]
Openly gay characters
[
edit
]
In the closet
[
edit
]
Gay Latino man - When he saw Homer's graffiti tag of "El Homo"(parodying "El Barto"), he interpreted it as Homer declaring himself to be homosexual, and said, "If only I had your courage, Señor."[30]
Huckleberry Hound - Once said that he was gay but couldn't tell anyone.[31] However, because he made that statement in a non-canon episode, that piece of information should also be considered non-canon.
Hinted to be Gay
[
edit
]
Lenny Leonard - Sometimes hinted as being attracted to Carl.
Carl Carlson - Sometimes hinted as being attracted to Lenny.

Karl - Kissed Homer on the lips after stating that his mom taught him to never kiss a fool. However, it should be noted that Karl is implied to be of German origin, and men kissing men doesn't necessarily equate to homosexuality as much as just respect in some European countries. Karl also patted Homer on the behind after giving him a pep talk, but in the context of the situation it could easily be considered a comradely gesture rather than an affectionate one. Further clouding the issue is that Karl was friends with the women in the power plant's typing pool, and, after being fired, made a point of returning to say goodbye to them. However, it isn't known whether he was romantically involved with any of them. There is a lot of ambiguity surrounding the issue of Karl's sexual orientation, and not enough information to definitively settle the question.[32] A stronger hint at Karl's possible orientation is dropped when Karl is seen supporting Moe's campaigning as gay while running for city council, but there's still no overt indication of his status.[25]
Sea Captain - In The Simpsons: Tapped Out, he implied that he is homosexual. In the game, he suggests that Ned Flanders is gay after Ned gives him decorating advice. Ned states that he is not homosexual, to which Captain McCallister responds, "Neither am I, wink-wink. Now let's get to decorating, Girlfriend." However, there seem to be no other implications that Captain McCallister is gay. Also, because Tapped Out is non-canon, this piece of information cannot be construed as a definitive statement regarding Captain McCallister's orientation.[33] Additionally, when he buys pornography and claims that it won't be enough to stop his crew from resorting to homosexuality in the long run, one of his crew members replies, "Look who's talking." Captain McCallister responds with a very flattered, possibly flirtations "Yaargh", though his meaning isn't entirely clear.[34]
Dr. Smith actor at the Bi-Mon-Sci-Fi-Con - Implied that he wanted to molest Bart Simpson.[35] It is important to note, however, that tendencies toward paedophilia (even same-sex paedophilia) don't automatically equate to homosexuality.
Rod Flanders and Todd Flanders - Shown to be gay in the future; Ned feels that he owes Bart a favor (and agrees to lend Bart money) because Bart hasn't outed them. However, due to the future setting, this information should be considered non-canon.[36]
Discus Stu - Was among a group of suitors waiting to see Penelope. He cut to the front of the line and said, "Discus Stu has ouzo for two-zo", referring to the alcoholic beverage he was carrying. Penelope's son Telemachus, pleased at the prospect of his mother having a date, said he would leave the two of them alone. Discus Stu then gestured at Telemachus and said, "Discus Stu was talking to you!" which elicited a shudder from Telemachus. (Due to the non-canon setting, Discus Stu's hinted orientation has no bearing on that of his canon counterpart, Disco Stu.)[37]
Raoul - Lives in Miami Beach and met Abraham Simpson while Abe was visiting. Said that women disgusted him, but appeared to be physically attracted to Abe.[38]
Tab Spangler - Counselor at the Serenity Ranch fat camp. When he drives Homer from Springfield to Serenity Ranch for some treatment, he suggests that they stop off at a motel and split a room, even though it's only an hour's drive. When Homer asks where he's going to sleep, Spangler replies, "We can worry about that when we're standing naked before the bed!" Also, in one of his treatment exercises, Spangler's fat camp clients pull a chariot while he rides in it. The chariot is called the "Chubby Chaser", which in the gay community is a term for a man who is attracted to overweight men.[39]
Paul Lynde - Appeared in an Easter-themed TV special with Nadia Comăneci. Lynde, dressed in a rabbit costume and speaking in a blatantly suggestive manner, said to Comăneci that he would like to "hippity-hop on [her] balance beam". Comăneci shuddered in disgust, then recovered her composure and drily replied, "I don't think you understand the mechanics of heterosexual sex."[40]
Gore Vidal - When Marge asked Lisa which friend she would like to take to Ned Flanders' beach house, Lisa replied that her only friends were grown-up nerds like Gore Vidal. She then went on to lament that even Vidal had kissed more boys than she ever would.[41]
Rod and Todd's Kevin and David - When Marge knocked out Ned Flanders, Rod and Todd were worried he was going to die and they would have to be raised by their Uncle Kevin and "his funny friend David", implying that they were a same-sex couple.[42]
Cameron and Tyler Winklevoss - After coming in second in a London 2012 Olympics boat rowing event (which they lost to Patty and Selma), they started making out with each other.[43]
Bisexual
[
edit
]
Hinted to be Bisexual
[
edit
]
Transgender
[
edit
]
Hinted to be Transgender
[
edit
]
References
[
edit
]