Bart Simpson, Jr.
Wikisimpsons - The Simpsons Wiki
Bart Simpson, Jr.
Character Information

Bartholomew JoJo "Bart" Simpson, Jr. is Bart's imaginary son, whom Bart envisioned in a future where he never passed the Fourth Grade.
History
[
edit
]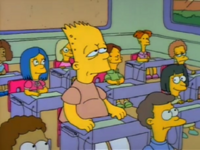 In Bart's vision, he had been held back in the fourth grade for years. He had a wife and was in the same class as his son. An elderly Mrs. Krabappel asked a middle-aged Bart, Sr. for the name of the pirate in Treasure Island. When he couldn't come up with the name, Bart, Jr. told him it was Long John Silver. Mrs. Krabappel then punished both of them by giving them detention.
Description
[
edit
]
Bart Simpson, Jr. at age 10 bears a very strong resemblance to his father at the same age. However, Bart, Jr. appears to be a much better student than his father.
Appearances
[
edit
]
Simpson family
Main family

Homer Simpson
•

Marge Simpson
•

Bart Simpson
•

Lisa Simpson
•

Maggie Simpson

Santa's Little Helper
•

Snowball II