Springfield Up
Wikisimpsons - The Simpsons Wiki
"Springfield Up"
Episode Information

"Springfield Up" is the thirteenth episode of season 18 of The Simpsons and the three-hundred and ninety-first episode overall. It originally aired on February 18, 2007. The episode was written by Matt Warburton and directed by Chuck Sheetz. It guest stars Eric Idle as Declan Desmond.
Synopsis
[
edit
]
"Declan Desmond films a documentary about the lives of people of Springfield and how they changed over the years. Homer makes him believe he is rich, but he actually took Burns' Summer Mansion while Mr. Burns was out."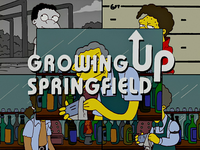 Declan Desmond opens up with an introduction to his film, Growing Up Springfield. The film follows several students from Springfield Elementary School as they grow up, with Declan coming back to see them every eight years. Clancy Wiggum always wanted to be a cop, playing cops and robbers in the playground with Homer. When he was 16, he became hall monitor at school. At 24, he joined the Springfield Police Academy. Clancy was terrible with his gun and only got through Police Academy by giving his superiors back rubs using his gun. At 32, Clancy became police chief after bribing Mayor Quimby with back rubs. At age 40, Chief Wiggum had gotten everything that he had ever wanted.
The scene then goes back to an 8 year-old Homer, who lists all his dreams to Declan. Declan then tells Homer that he's not a genie. By age 24, Homer's dreams still hadn't come to fruition. Homer sold manure, asked questions during infomercials, and had a one-man garage band. He also was in a relationship with Marge at the time. When Declan asks if they're considering children, Homer scoffs at the idea. The scene then jumps ahead 8 years to Homer and Marge with their children, Bart and Lisa. Eight years later, in the present, Homer and his family live in a mansion. Declan is surprised that Homer is a millionaire. Homer reveals to Declan that he made his millions with a simple invention; the Condiment Pen. Declan concedes defeat over Homer, saying that there's no way he can embarrass Homer any further. He then puts text on the film saying that Homer is "barely literate" and "smells like feet".
The film then follows Professor Frink who tells Declan that he wants to be a rocket scientist. In the present, Frink tells Declan that he made a time machine, the Chrono Trike. He plans on using it to go back in time and tell his younger self to choose a different career. He then cycles the Chrono Trike and goes back in time. As he runs towards his younger self, Frink gets hit by two cars, and a young Carl Carlson steals the Chrono Trike.
At the age of 24, Eleanor Abernathy had graduated from Harvard Medical and Yale Law schools. She was a successful lawyer and doctor. At 32, Eleanor had become a little burned out, and had gotten a pet cat, Buster. She reveals that she is planning on getting another cat. Eight years later, Eleanor has become the Crazy Cat Lady and throws cats at Declan. The film then follows a young Marge, who likes photography. Marge would take pictures of all her friends. In High School, Marge was the photographer for the school newspaper, The Sentinel. At 24, she had started dating Homer. Her career as a photographer never took off and she ended up taking passport photos for people.
In the present, Mr. Burns enters the mansion and reveals that it's his summer home. Declan realizes that Homer's story was all a lie. Waylon Smithers had been stuck in the grandfather clock for three days whilst the Simpsons had run of the house. Burns then tells Smithers to release the hounds, but they're at Burns' Winter home. Smithers goes to get the hounds and releases them on the Simpsons 90 minutes later. Declan questions why Homer lied, but Homer refuses to speak to Declan again. When Declan confronts Marge and Homer at the Simpson house, Homer tells him that he has nothing different from the last time Declan was there, so he wanted to be the cool guy in Declan's movie. Marge rants at Declan over his treatment of Homer and tells Declan that she doesn't want him anywhere near her house.
In Moe's Tavern, Declan tells Moe that he feels affection for Homer. Declan then comes up with an idea and interviews people in Springfield about Homer. He then invited Homer to his editing bay where he showed the interviews to Homer. The people in the video all say positive things about Homer, which makes him feel better. Homer realizes that he has a pretty good life after all. Marge then bursts into the room and tells Homer not to kill Declan. Homer then realizes that Declan has a mixing board and decides to perform a song, "Satan, You're My Lady", along with Declan.
Production
[
edit
]
The episode is based on Michael Apted's Up series. Episode writer Matt Warburton wanted to show off the nervousness of people in those sorts of films when they haven't done enough when they come back to film them.[1] The episode has less scenes than other episodes, only having around 135, when a normal episode has 300-400.[2] This is due to all the continuous shots in the episode. The interval of 8 years was chosen because 7 years would leave Homer too young or too old. 8 years also left Homer a little older than he's supposed to be. The Condiment Pen idea came from Dana Gould.[1]
The original airing was alongside the trailer for The Simpsons Movie so they had to cut parts of the episode to fit the trailer in. The original airing cut the couch gag and the final scene with Homer and Declan singing "Satan, You're My Lady".[3]
Reception
[
edit
]
Robert Canning named "Springfield Up" as "one of the best Simpsons episodes from the past few seasons". He praised the amount of jokes in the "great story" that was told in a "cleverly unconventional way". He went on to say that the episode was a tale that has been told "time and again, but the fresh twist of having it presented within Desmond's documentary".[4]
As of April 2021, the episode has a 7.2 rating on IMDb.[5]
In other languages
[
edit
]
| Language | Name | Translation |
| --- | --- | --- |
| Français | "Tous les huit ans" | Every Eight Years |
| Italiano | "Come eravamo... a Springfield" | The way we were... in Springfield |
References
[
edit
]