Vindicators
Wikisimpsons - The Simpsons Wiki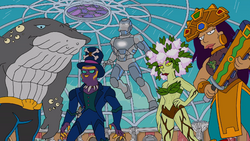 The Vindicators are a team of superheroes who appeared in the films Vindicators: Crystal War and Vindicators: Crystal War 2: Resurgence.
History
[
edit
]
In Vindicators: Crystal War, the Vindicators fought against Chinnos. After Airshot blew off Chinnos' head, Chinnos restored his head then used the Doomsday app to turn everyone into crystal as the film ended. The Vindicators then returned in the sequel, Vindicators: Crystal War 2: Resurgence.
Magnesium Man later brought Bart to a virtual reality world created by Marble Studios. In this fictional world, the Vindicators told Bart that their movies were real to them, and whatever happened in the movies really happened to them. They also told Bart that because he spoiled Crystal War 2 to Comic Book Guy, the bad guys were able to change the outcome of the film and Airshot got killed. The Vindicators then fought against Chinnos' army before they joined their powers together to kill Chinnos.
Members
[
edit
]
Behind the Laughter
[
edit
]
The Vindicators are a parody of The Avengers from the Marvel Cinematic Universe. The name "Vindicators" came from an unaired show that The Simpsons executive producer Matt Selman wrote called "The Vindicators" in 1996.[1]
Appearances
[
edit
]
References
[
edit
]