Milhouse Van Houten
Wikisimpsons - The Simpsons Wiki
"I'm not a nerd, Bart. Nerds are smart."
―Milhouse
Milhouse Van Houten
Character Information
Milhouse Mussolini[6] Van Houten (born July 4[7]) is Bart Simpson's best friend. As the only child of Kirk and Luann Van Houten, Milhouse's most distinctive physical traits are his extreme nearsightedness (depicted by very small eyes), requiring thick glasses to correct, and a bulbous potato-shaped nose. Milhouse has his mother's coloring (blue hair) but not her vivacity or confidence, and shares his father's generally milquetoast and defeated demeanor, although Milhouse sometimes gets cocky and overconfident, raising his eyebrows lasciviously, usually while trying to woo Lisa.
Despite being considered a nerd, Milhouse is of average intelligence but has poor social skills. He is also very gullible, thus he is often led into trouble by the mischievous Bart, who is not shy about taking advantage. Occasionally, however, Milhouse takes advantage of or manipulates Bart.
Biography
[
edit
]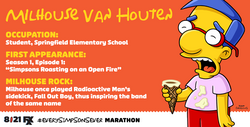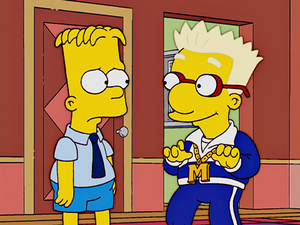 Milhouse is of Dutch and Italian descent. Milhouse is constantly victimized in some form or another such as being the target of the bullies Jimbo, Dolph and Kearney. They often inflict extreme acts of physical violence upon him. One instance had the bullies wrapping Milhouse in bumper stickers and placing him in a shopping cart, the bullies then pushed the cart with Milhouse inside down a very steep hill.[8] He frequently visited a female psychiatrist called Dr. Waxler until she got fed up by his frequent callings. Milhouse is also the subject of Nelson's cruelty: "stop (hitting, zapping, etc.) yourself." He still uses a child-size car seat and is a bed-wetter.
On one occasion, Bart got Milhouse placed on the America's Most Wanted list, even though they are friends, and he once tried to lure Milhouse into a cactus. This kind of torture is often used by Bart, who tries either to get Milhouse in trouble or to hurt him for no reason, making Milhouse's and Bart's relationship even more questionable. Bart once introduced Milhouse and attempted to explain why they are friends. He cannot come up with a real answer and admits that it is due to geographical reasons, though Bart has admitted that he really loves Milhouse.[9] Homer often calls Milhouse a "doofus" or refers to him as "that little wiener Milhouse". Homer also called Kirk Van Houten a "weirdo" and once emailed him to "pick up your weirdo kid". Bart does genuinely care for Milhouse, despite victimizing him on many occasions. Milhouse often does bad things under Bart's influence, like dropping mustard on cars from the top of a bridge[10] and destroying the school by loosening all the screws.[11] This is the reason his mother, Luann, at one point didn't want Milhouse to see Bart anymore, but later changed her mind after Marge talked to her.[12]
However, when his parents were presumed lost at sea (they were later found safe) during their second honeymoon, Milhouse acquired a somber gravitas. The kids at school were impressed, even Nelson, who forewent giving Milhouse his scheduled wedgie. Bart brought Milhouse's uncle, Norbert to Springfield to console Milhouse. Once Milhouse was no longer (believed to be) an orphan, however, the dignified gravitas disappeared and the other kids went back to treating him as before.[9] Later, when his he and his mother moved to Capital City, he dyed his hair blond, wore loud clothing, and treated the visiting Bart poorly to impress his new city friends. He even gave Bart a wedgie (Bart allowed it). Later his father won a judgment requiring Milhouse to be returned to Springfield.[13]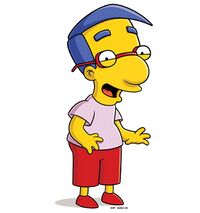 People frequently make Milhouse the butt of a variety of jokes, from having the door slammed in his face while playing Pin the Tail on the Donkey to inheriting Bart's dismal permanent record at school through a side deal arranged between Bart and Edna Krabappel and Principal Skinner, which will disqualify Milhouse from "all but the hottest and noisiest jobs". Lisa once inadvertently caused Milhouse to be severely beaten by Nelson when she persuaded Milhouse to pass Nelson (with whom she was briefly infatuated) a love note from her but which Nelson thought was from Milhouse himself, due to the absurd facial expressions and guilty looks on Milhouse's face when he saw Nelson looking at him.
Lisa identified Milhouse as representing "The Dependable Sidekick" among The 20 Types of People You Meet in Elementary School.[14]
Milhouse is of partial Italian ancestry, due to the fact that his grandmother lives in Italy. He is of Dutch and Danish descent on his father's side.
Romance and sexuality
[
edit
]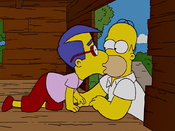 Milhouse harbors a hopeless crush on Bart's younger sister, Lisa, and he is usually clumsy around females. However, in a flashback, when Bart and Milhouse were in kindergarten, the school principal accidentally revealed that he had assessed Milhouse to be gay.[15] On occasion he has been shown to enjoy cross-dressing (in one episode, he convinces Bart to dress up with him too) and noticed a boy, named Deven Woosterfield, to be beautiful.[16]
Milhouse has exhibited a tendency to act feminine, complete with dress, clichéd catchphrases and mannerisms, usually in some sort of misguided or out-of-control shenanigans, luring Bart, on at least one occasion, to dress likewise. His lies and social anxiety have cost him Lisa's affection three times, as well as a relationship with Rainier Wolfcastle's daughter Greta. Examples of such behavior are referring to himself as a "big sister" and being caught with a scrunchie in his hair.[17] Milhouse may have a crush on Marge, implied when Bart asked him if he's in love with her. Additionally, upon being asked whether he thinks that Marge is cool, he immediately, without thinking, responds, "No, I think she's HOT!"[18]
Lisa once showed concern for Milhouse when he was beaten by Nelson and left in a heap, and tended to him. However, she soon became distracted by the arrival of Irish environmentalist Colin, who became her love interest. When the Trappuccino finished, Milhouse lied to Lisa about Colin's death and claimed he begged Milhouse to look after her. Colin returned in the middle of Milhouse's story, and Milhouse quickly took his leave.[19]
Milhouse's first girlfriend was
Samantha Stanky
, a new student who had moved to
Springfield
from Phoenix, Arizona.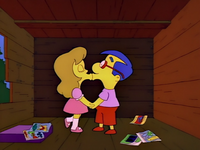 After her father caught her and Milhouse kissing, he sent her to all-girls
Saint Sebastian's School for Wicked Girls
.
[20]
While Milhouse's official first kiss was with Samantha, it was contradicted when Milhouse claims his first kiss was with Homer during a game of spin the bottle that Homer interrupted by going up the treehouse and accidentally kissing Milhouse (much to Homer's disgust, but to Milhouse' glad for being his first kiss).
[21]
Milhouse was seen making out with Paris Texan, who is nearly 20. This may be due to Milhouse wearing cool clothes at the moment.[22] Milhouse have also date Taffy, and Lisa began to follow the. After a while, realized Taffy to Milhouse will always be in love with Lisa and broke up the relationship. Lisa then decided to kiss him for the first time but explained that she does not yet know if she loves him.[23] Although Lisa pointed out in a previous episode that she kissed Milhouse.[24]
Skills and talents
[
edit
]
Milhouse is fluent in Italian from visiting his Anglophobic grandmother, Nana Sophie, in Tuscany for two weeks every year. His grandmother's beatings when he spoke English left Milhouse both fluent in Italian and a bed-wetter. He demonstrated once that he is a skilled Vespa rider, although he is obviously not legally entitled to operate a scooter on public roads. He came closest to successfully wooing Lisa when he taught Italian to her, as she even kept a picture of Milhouse in her room while practicing Italian, but his lies and bragging ruined it, and at the end of the episode Lisa was seen chasing Milhouse in fury, just as his grandmother was shown chasing after him whenever he spoke English.[6]
Non-canon
[
edit
]
| | |
| --- | --- |
| | The contents of this article or section are considered to be non-canon and therefore may not have actually happened or existed. |
He was revealed to not be the son of either Luann or Kirk.[25]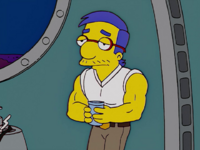 According to a future-telling machine invented by Professor Frink, at age 14 Milhouse burns down a house but rescues Lisa from it. By the time he is 18, Milhouse is rather steroidally-looking buff but emotionally unstable. He dates Lisa but she breaks up with him, sending him on a violent rampage similar to Hulk, probably due to the steroids. When the two nearly get back together, Bart rescues Lisa, fearing it will ruin her life.[26]
A few years later, Milhouse (having lost the "Hulk"ish physique), asks Lisa to marry him. She declines because she intends to never marry. At age 25, Milhouse is balding and works as Homer's supervisor at the Springfield Nuclear Power Plant. He abuses the position to mistreat Homer when learns that Lisa is engaged to another man, although ultimately the engagement does not last.[27] At age 40, he marries Lisa; the two have a teenage daughter, Zia.[28]
The Simpsons arcade game
[
edit
]
Milhouse appears in stage 2 carrying a hammer for the Simpsons to use to fight Mr. Burns' goons.
The Simpsons Game
[
edit
]
Milhouse appears as the villain "Mr. Dirt" who taunts Homer and Lisa as they seek to defeat all three Sparklemons. After they capture all three Sparklemon balls and place them in the coin slots of the giant toilet shrine, Mr. Sparkle cleans up the village, and Milhouse shrinks to normal, handing over the keycard and being attacked by the three Sparklemons.[29]
The Simpsons: Tapped Out
[
edit
]
Milhouse
[
edit
]
This section is transcluded from The Simpsons: Tapped Out characters/Kids. To edit it, please edit the transcluded page.

Milhouse
Image
Cost
Unlock method
Unlock message
3,000
Level 8, Van Houten House
Thrillhouse Pt. 1
Permanent Tasks
Task
Time
Reward
Requires
Quest with the task
Animated?
Hide Wet Bedsheets
45s
3, 1
Van Houten House
Mom, I Spilt My Drink In Bed
Chasing Shauna Pt. 4
Find Puppy Goo-Goo
10m
17, 5
Van Houten House
Like Father, Like Son
Set a High Score at Whack a Real Mole
10m
26, 7
Whack A Real Mole
Go Skating
10m
17, 5
Simpsons' Skating Rink
Overload on Sugar
30m
60, 15
The Candy Shoppe
Loiter at Android's Dungeon
30m
40, 10
Android's Dungeon
Attend a Convention
30m
40, 10
Convention Center
Sneak an Ice Cream
30m
60, 15
Ice Cream Truck
Spy on Other Kids
60m
70, 17
Surveillance Post
Go on a Field Trip
60m
105, 26
Cypress Creek Elementary
Watch Bart Play Larry the Looter
60m
70, 17
Wall E. Weasel's
Tell Santa His Wishes
60m
70, 17
Santa's Castle
Shop at the Kwik-E-Mart
60m
70, 17
Kwik-E-Mart
Thrillhouse Pt. 2
Death by Squishee
Candy Day
Practice His Two-Pointers
2h
110, 27
Outdoor Half-Court
Hit the Club
2h
110, 27
Snub Club
Enter the Asylum
2h
175, 40
Springfield Asylum
Paintball in the Brown House
2h
110, 27
Brown House
The Mysterious Brown House Pt. 3
Catch a Movie
2h
110, 27
Big T Theatre
Ride the Carousel
2h
110, 27
Boardwalk Carousel
Be Too Scared to Go on a Water Slide
2h
110, 27
H2WHOA!
Play in the Mirror Maze
4h
175, 45
Springfield Mystery Spot
Host Board Game Night
4h
175, 45
Satan's Path
Attend Parenting Seminars
4h
260, 70
Universal Panacea
Be a Glutton for Punishment
4h
175, 45
Springfield Squidport or
Brown House
Get Fit and Educated
4h
175, 45
Springfield Gymdandee
Put Coins on the Rails
4h
175, 45
Springfield Union Station
Learn by Fun
4h
175, 45
Childrarium
Sneak Into The Escape Zone
4h
260, 70
The Escape Zone
Give Feedback
4h
175, 45
Audience Research Table
Poorly Working Title Pt. 2
Play With Interactive Exhibits
4h
175, 45
KidZone Elite
Sneak in for an Autograph
4h
175, 45
Mitchell Mansion
Fight Bart
4h
350, 90
Outdoor Half-Court
Bart
Split a Fancy Mac and Cheese
4h
175, 45
Le Petite Appétit
Fly His Scale Model Perfectly Level
4h
175, 45
A Real Maverick
Establish Squatter's Rights
4h
175, 45
Parasite House
Spend His Allowance
4h
175, 45
Toy Town
Play in the Ba'al Pit
4h
175, 45
Ba'al Pit
Rent Antlers
4h
175, 45
$5 Antler Rental
Practice Hungry Games
4h
260, 70
Battle Dome
Ask to Buy Everything in the Store
4h
175, 45
Mirrored J.R.R. Toykin's
Go to School
6h
225, 55
Springfield Elementary
Schoolhouse Crock Pt. 2
Bart Crusoe Pt. 1
Teamwork!
Any Given Weekday
Get Brainfreeze
8h
275, 70
Pinkbeardy Yogurt
Look for a Wife
8h
420, 105
Atlantis
Get Caught in Webs
8h
420, 105
Big Bug House
Attend a Book Signing
8h
275, 70
Springfield Books
Ride the Carousel
8h
275, 70
Christmas Carousel
'Twas the Pageant Before Christmas Pt. 3
Check Out Mylar Baggins
8h
275, 70
Mylar Baggins
Assault the Bandit Fort
8h
420, 105
Bandit Fort
Attend Wizarding School
8h
275, 70
Magic Academy
Fly a Kite
8h
275, 70
Everyone Always Tells Me To Go Do This
Valentine's Day Pt. 3
Take a Yoga Class
12h
420, 100
Downward Doghouse Yoga Studio
Ride the Elevators
12h
420, 100
Royal Tokyo
Sulk About Fame
12h
600, 150
Milhouse's Trailer
Go To Sunday School
12h
420, 100
First Church of Springfield
Passion of the Flanders Pt. 3
Let's Learn About Hell!
Enjoy a Night at the Theater
12h
420, 100
Springfield Playhouse
Celebrate the 'WOD FIR'
16h
500, 125
The Sun Sphere
Be Fascinated and Scared by Decorations
16h
500, 125
Spine Chills
Hang Out with the Grand Pumpkin
20h
550, 135
The Grand Pumpkin
Have a Sleepover
24h
600, 150
Bart's Treehouse
Let's Stay Up All Night Watching TV
The Olive Branch Pt. 1
Costumes
[
edit
]
Standalone
[
edit
]
Behind the Laughter
[
edit
]
Creation
[
edit
]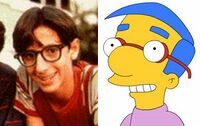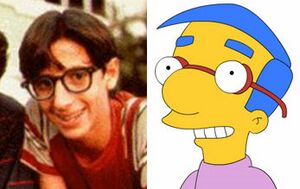 Milhouse was named after US President Richard Nixon, whose middle name was Milhous. The name was the most "unfortunate name Matt Groening could think of for a child". Milhouse is a favorite among the staff as Al Jean noted "most of the writers are more like Milhouse than Bart".
Wonder Years Connection?

[

edit

]
Due to Milhouse's resemblance to the character Paul Pfeiffer from The Wonder Years, there was a long-standing rumor among Simpsons fans that Milhouse's appearance had been based on Paul. However, the resemblance appears to be only a coincidence. Producer/director David Silverman disclaimed the rumored Milhouse/Paul connection in a discussion on Twitter in 2011, first saying that "Wonder Years never came up" in the process of designing Milhouse's appearance.[30] Later in the discussion, he said, "Wonder Years Schmonder Years. Nerdy kid w glasses, big nose, & severe hair = a common stereotype."[31]
Foreign dubs
[
edit
]
Language
Voice dubber

Čeština

Pavel Tesař

Dansk

Sasia Mølgaard (movie)

Español

Anabel Méndez (seasons 1-8)
Gisela Casillas (seasons 8 to 15, since season 32)
Nallely Solís (seasons 16-31)

Italiano

Davide Lepore
Giorgio Borghetti (only from "When Flanders Failed" to "Like Father, Like Clown")
Appearances
[
edit
]
This article or section is incomplete.


Please improve the article, or discuss the issue on the talk page.

References
[
edit
]
This article is covered by multiple navigation templates. Click "show" to view.
Factfiles from Simpsons World the Ultimate Episode Guide: Seasons 1-20
Season 14
Rock Stars • Audrey McConnell, Third Grade Teacher • Dr. Velimirovic, Plastic Surgeon • Mitch Hartwell, the Reality Channel Producer • Junior (AKA Frank Grimes, Jr.) • Teacher of the Year Award Nominating Committee • Dexter Colt, Private Eye • The Mugger • Larry H. Lawyer, Jr. • Baby Stink-Breath • Booberella • Sara Sloane, Hollywood Movie Star • Cookie Kwan, Red Coat Realtor • Stark Richdale • Declan Desmond • Julio and Grady • Luke Stetson, Junior Wrangler • Suds McDuff, Spokesdog/Mascot for Duff Beer • Marriage Counselor • Jim Proudfoot • Don Castellaneta