George Meyer
Wikisimpsons - The Simpsons Wiki
This article is about the character. For the writer, see George Meyer.
George Meyer
Character Information
George Meyer is a former writer for The Itchy & Scratchy Show.
History
[
edit
]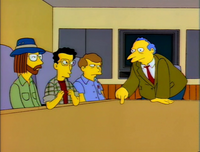 Meyer is employed as writer on The Itchy & Scratchy Show at the time of Abraham Simpson's tenure on the show.[1] Some time later, he attends the emergency staff meeting at the show, following its sudden ratings drop. Meyer responds to executive Lindsey Naegle's suggestion of a hip dog character being introduced to the show, questioning her use of the words "proactive" and "paradigm" as merely "buzzwords that dumb people use to sound important." Although not "accusing [her] of anything like that," Meyer quickly and correctly realizes he is fired.[2] Meyer is now unemployed and collects his social security check regularly from the Springfield Unemployment Office.[3] He later walked past Bart on the street.[4] He was on Kent Brockman's list of people who are gay.[5]
Non-canon
[
edit
]
In an alternative Springfield created by Professor Frink, Meyer was the host of Late Night with George Meyer.[6]
Behind the Laughter
[
edit
]
In reality, George Meyer is a long-time writer for The Simpsons.
Appearances
[
edit
]
References
[
edit
]