Smitty
Wikisimpsons - The Simpsons Wiki
For the Futurama character, see Smitty (Slaves of New New York!).
Smitty
Character Information
Smitty is a Springfield Nuclear Power Plant employee.
History
[
edit
]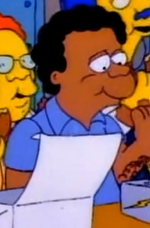 Smitty's name briefly appeared in Moe's Little Black Book as having placed a $12 bet on New Orleans.[1]
He was sitting drinking coffee and Homer yells to him "Smitty! Safen up", after Horst comes in.[2]
After Homer changed a paper with Smitty's name on it to Spitty for he spits when he talks he told it for Carl which told him at he had to have part of his tongue removed. Homer felt sorry and said at he didn't know that.[3]
He is talking to Dr. Hibbert and his wife, as Mr. Burns walks over. When he tries talking to them, Dr. Hibbert makes the excuse that he has surgery in the morning, with the guest saying that he is the one having the surgery.[4]
During an employee drug test, his cells were found to be irradiated with Gamma radiation. When told about this, he asks "like the Hulk?" to which Dr. Hibbert replies that it is sort of like The Hulk, but instead of getting powerful, he will get very sick. The employee then falls to the floor in pain and says "Hulk smash", to which Dr. Hibbert pats him on the head and says "yes, Hulk smash".[5]
He, along with other employees, stole supplies from the supply closet, using his helmet, with a Jack-o Lantern face painted on it, to carry the goods.[6]
Smitty attended a meeting on sexual harassment, which Ned Flanders hosted. Smitty was asked to greet Jacqueline. When Smitty asked what would happen if touched Jacqueline, Ned told him to go ahead. Smitty then touched Jacqueline and a trap door opened below him. Mr. Burns then told Smitty that his behavior was obnoxious and offensive and promoted him to an executive.[7]
Behind the Laughter
[
edit
]
Appearances
[
edit
]
This article or section is incomplete.


Please improve the article, or discuss the issue on the talk page.

References
[
edit
]