Homer the Smithers
Wikisimpsons - The Simpsons Wiki
"Homer the Smithers"
Episode Information

"Homer the Smithers" is the seventeenth episode of season 7 of The Simpsons and the one-hundred and forty-fifth episode overall. It originally aired on February 25, 1996. The episode was written John Swartzwelder and was directed by Steven Dean Moore.
Synopsis
[
edit
]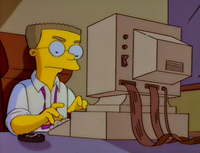 The Power Plant employees are invited to an employee appreciation night that Mr. Burns is hosting at a drag racing track. Smithers holds his binoculars up to him so he can watch the race, which he orders to be slower. When it is over, Mr. Burns complains to Smithers that his foam novelty finger is too big. Smithers then leave Mr. Burns alone in his limo, which a drunken Lenny approaches. He attempts to thank Burns for the great evening, but ends up frightening him. Smithers returns, and takes Lenny away, before he gives the thumbs up to Burns, which makes him cower even more. As an apology for the night before, the next day Smithers alphabetizes Burns' breakfast and laminates the entire newspaper. Burns complains that he cannot complete the Junior Jumble because his pen doesn't work on laminated paper.
Smithers suffers a breakdown and attempts to drown himself (or more or less, his head) in an office water dispenser. Burns forces Smithers to take a vacation. He agrees, but needs to find a replacement. He looks for the most pathetic worker to replace him, and after searching twice for the ideal workers on the Power Plant directory (which turns up 714 employees), Homer gets the job. He works as hard as he can, but Mr. Burns just mocks him at everything he does. Even Bart and Lisa exploit Homer by making him do Bart's long division and driving Lisa to the library. Before Homer can do that, Marge forces Homer to take a rest, but that is interrupted by Burns. After a while, Homer gets more and more angry at Mr. Burns, and at one point, he boils over and punches Burns in the face, prompting Homer to run home and admit that he's 'killed' Mr. Burns. Burns is left cowering in fear, and in order to be safe and keep Homer from battering him again, he starts doing his own work, and he comes to enjoy it. Smithers returns to find Burns congratulating Homer on helping him to do his own work.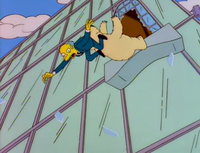 Burns says that Homer can now return to his post in Sector 7G, and immediately fires Smithers, due to him being not needed any more. Smithers attempts to get employed, but fails. He is hired at Neat & Tidy Piano Movers, but ends up breaking his back and unable to move a piano again. He goes to Moe's Tavern and asks if he can be employed. His job is to distract Barney when the midnight beer delivery truck arrives. But, Smithers is himself distracted by Homer who tells him a plan to get his job back. And so, the next day, Smithers phones Burns' mother and tells her that he is transferring a call to Burns' office. However, Homer presses "Disconnect" instead of "Transfer", so he presses "Speaker" and pretends that he is Burns' mother. Unbeknowest to them, Mr. Burns is watching Homer and scolds Smithers as well for being part of this.
Homer insults Smithers, who gets angry at Homer and they start to fight. Burns attempts to break up the fight, but he ends up deciding to get as farthest away from the two - ontop of the bear statue in his office. Homer ends up dazed by Smithers and backs into the bear statue, which sways backwards and forwards, until finally falling backwards - smashing the window and making Mr. Burns fall to the road outside. Having to go through physical therapy after being released from the hospital, Mr. Burns becomes once again dependent on Smithers for all his needs. Burns asks Smithers if Homer has got what was coming to him, and Smithers says yes. Instead of firing Homer like Burns thinks, Smithers has given Homer a gift basket for helping him get his job back.
Production
[
edit
]
Gallery
[
edit
]