A Fish Called Selma
Wikisimpsons - The Simpsons Wiki
"Troy said something interesting last night at the bar. Apparently he doesn't really love Selma and the marriage is just a sham to help his career."
"A Fish Called Selma"
Episode Information

"A Fish Called Selma" is the nineteenth episode of season 7 of The Simpsons and the one-hundred and forty-seventh episode overall. It originally aired on March 24, 1996. The episode was written by Jack Barth and directed by Mark Kirkland. It guest stars Phil Hartman as Troy McClure and Fat Tony and Jeff Goldblum as MacArthur Parker.
Synopsis
[
edit
]
"Troy McClure's sagging film career is given a boost when he is seen in public with a woman. And to stay in the public eye, Troy must do more than merely date this woman, who happens to be Selma."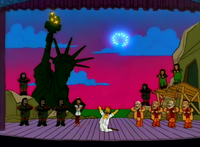 The Simpson family are watching The Muppets Go Medieval on television, which stars Troy McClure. Whilst watching it, the family discusses Troy McClure, with Homer bringing up a rumor about Troy and something happened at the aquarium. However, Marge tells Homer that's just an urban legend. In Springfield, Troy McClure is driving his DeLorean through town, crashing into many cars along the way. He is pulled over by Chief Wiggum and whilst Troy tries to work his charm on the Chief, he fails. Troy is told to give Wiggum a bribe and to go to the DMV to get an eye test.
Upon arriving at the DMV, Louie is surprised as he thought that McClure was dead. Fat Tony then told Louie that he sleeps with the fishes and starts to explain before Louie stops him. Troy then approaches Selma, who loves that a movie star just showed up. Troy flirts with Selma and gets her to pass his eye test in return for a date with him. They go on their date at The Pimento Grove and it goes well. As they leave, the paparazzi spots them together and takes pictures, posting them to The Springfield Shopper. This gets Troy media attention again. He is then called by his agent, MacArthur Parker, who tells Troy to keep going out with Selma to get his career back on track. Troy then calls Selma up and asks her out on another date.
They go to Ugli for dinner and during the meal, Selma pulls out a cigarette and starts smoking, which angers the other patrons. Selma, who is embarrassed, leaves the restaurant and continues smoking. Troy then joins her with a cigar and the two get closer. The next day, Selma tells Marge that she thinks that Troy might be the one for her. She then goes on another date with Troy, to the Route 18 Flea Market and Drive-In where they watch The Muppets Go Medieval. During the film, Troy proposes to Selma and she accepts.
As news of his engagement hits the news, Troy gains more publicity. Selma also moves into Troy's house, bringing Jub-Jub with her. Troy shows Selma to her room and reveals that he'll be sleeping in a separate room from her. Whilst Troy is in bed, he gets a call from MacArthur Parker offering him a role in Stop the Planet of the Apes I Want to Get Off, which he accepts. Selma, Patty and the Simpson family then go to Capital City to see the show. After the show finishes, Troy credits Selma with the revival of his career and has her take a bow in front of the audience.
The next day, the Simpsons go to Troy's house to get to know him more. Homer then takes Troy to Moe's Tavern where he asks Troy why he's with Selma. Troy decides to let Homer in on a secret, which shocks Homer. Eventually, Troy and Selma's marriage day arrives. They get married at the Springfield Botanical Gardens where Homer doesn't say anything during the ceremony. That night, Homer reveals to Marge what Troy told him, that the marriage was a sham to further his career. At the hotel that Troy and Selma were staying in, MacArthur Parker meets Troy to tell him that offers were starting to come in, including one for McBain IV: Fatal Discharge.
The next day, Marge and Patty talk to Selma about Troy, with Marge telling Selma what Homer told her, that it was a sham marriage. Upset and angry about this, Selma confronts Troy about it and Troy admits immediately. Troy convinces Selma to continue with the sham, as she has money, security and a big hot flat rock for Jub-Jub. That night, Troy gets another phone call from MacArthur Parker who tells Troy that all the big stars have families so he needs to have a baby with Selma. He tells Selma about this and she agrees to do it. However, when they attempt to have sex, neither of them can go through with it. Selma tells Troy that she can't bring a child into a loveless relationship and she leaves, taking Jub-Jub with her.
After this, Troy got offered the role in McBain IV. However, he turned it down in order to make his own film called The Contrabulous Fabtraption of Professor Horatio Hufnagel.
Production
[
edit
]
The producers wanted to do a whole episode about Troy McClure, and it worked with the plot as Selma was always getting married to people.[1] Jeff Goldblum had to record all his lines twice because after the animatic was done, the producers decided they wanted a different voice for MacArtur Parker. The first time he recorded the lines, he was too slow, making the episode too long.[2] James L. Brooks came up with idea that Troy McClure had a sort of unsavory secret involving fish.[1] The walls of the Pimento Grove were filled with photos of guest stars that The Simpsons had up to that point, along with some random ones. MacArthur Parker was made to resemble Jeff Goldblum, but not look exactly like him.[2]
David Silverman thinks that Stop the Planet of the Apes I Want to Get Off is the best musical moment in the history of The Simpsons. The male news celebrity news reporter is based on John Tesh[2] Ken Keeler came up with the name "MacArthur Parker", taking it from the song "MacArthur Park".[3] During the Planet of the Apes musical, one of the apes started breakdancing. There was a person in the animation office who could do that in real life, which helped with the animating of it.[2] The whole routine came from George Meyer.[3] David X. Cohen came up with the "Chimpan-A to Chimpan-Z" song.[1]
Reception
[
edit
]
Gwen Ihnat of The A.V. Club said that "A Fish Called Selma" gets everything right, praising the "tightly scripted plot" and the little details of the episode. She also called Stop the Planet of the Apes I Want to Get Off the pinnacle of the episode.[4]
As of October 2019, the episode has a 8.2 rating on IMDb[5] and a 8.5 rating on TV.com.[6]
References
[
edit
]