Carl Carlson
Wikisimpsons - The Simpsons Wiki
Carl redirects here. For Homer's one-time secretary, see Karl.
"See, Statements like that are why people think we're gay."
―Carl
Carlton Carlson Artwork of Carl by Matt Groening
Character Information
Carlton "Carl" Carlson is the supervisor of Sector 7-G at the Springfield Nuclear Power Plant[2] and the best friend of Lenny Leonard.
Biography
[
edit
]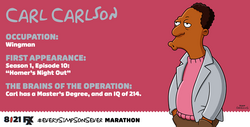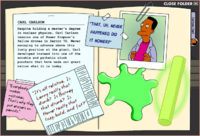 Carl is an African-Icelandic-American, and a Buddhist with a master's degree in nuclear physics, fond of bowling and drinking at Moe's Tavern. Carl demonstrated his talent for science[3] and is frequently said to be among the most attractive men in Springfield.[4] It is suggested that he might be diabetic.[5]
Personality
[
edit
]
Carl often serves as a taciturn straight man to Homer and company, probably because of his harsh opinions of others. On one occasion, he makes everyone in Moe's Tavern cry and then turns to the camera, explaining: "See, this is why I don't talk much.[6]"
Relationship with Lenny Leonard
[
edit
]
There is a constant allusion to homo-eroticism in Lenny's and Carl's relationship, although no one seems to care much about it. Lenny dreamily recalled carving "Mount Carlmore", a huge bust of Carl in the side of a hill, during "one wonderful summer". When Homer asks Lenny what Carl thought of it, Lenny replies "You know, we've never discussed it.[7]"
When various characters looked at the stars to "see into their souls" during a blackout in Springfield, Lenny sees an image of Carl, and Carl sees an image of himself.[8] On another occasion, Lenny and Carl are at the Springfield Baseball Stadium, watching the Kiss Cam, and Lenny says: "Hey Carl, remember when we used to kiss like that...[pause] with our respective girlfriends?" Lenny once said he can't tell apart the remains of his sculpture with Carl's remarking "I don't know where Carl ends and I begin!", Carl then says "it's stuff like this that makes everyone think we're gay.[9]" Implying that they view themselves as being of the straight orientation. (His and Lenny's straight orientation is also implied in The City of New York vs. Homer Simpson when he and Lenny drunkenly suggest to Barney that he take them to the Playboy Mansion and the Girls College, respectively.) At times, Carl gets annoyed at Lenny. When Carl learns that he is paired with Lenny in a team-building exercise on a power plant retreat, his irritated response is, "Aw, nuts. I mean... aw, nuts.[10]" Carl, along with Lenny share a similar styled surname: Carlson and Leonard. At one point, Lenny mentioned, when a fire was about to hit the flammable district during Springfield's massive fire, that their mother was working there.
Carl works in sector 7G, along with Homer and Lenny but was later promoted to supervisor after Ted, the previous supervisor, left.[2]
Carl was given up for adoption when he was too young to remember his parents. His biological father was Wyatt, a man who was descended from cowboys and became a bull rider. Wyatt's ancestor Ellis was a slave at a ranch in Texas before he was freed and became a cowboy. When Carl was given up for adoption, the only thing he had from his birth parents was a belt buckle with an engraving of his father fighting against a bull.[1]
Carl was adopted by an Icelandic couple, Carl Carlson, Sr. and Sigrin Siguðardóttir.[11]
Romantic relationships
[
edit
]
Carl has on occasion dated Lainie Leonard, the sister of his best friend Lenny.[12][13] He has also dated Naima, a woman who owns a restaurant called the SoulHouse. Their first date didn't go well when Naima realized that Carl didn't really know himself that well. However, after Carl learned about his family history, he and Naima started seeing each other again.[1]
Non-canon
[
edit
]
| | |
| --- | --- |
| | The contents of this article or section are considered to be non-canon and therefore may not have actually happened or existed. |
Video Games
[
edit
]
In the Simpsons Game, Carl and Lenny are shown arguing while bird-watching, and having forgotten Lisa and Bart's names when they save Lenny and Carl from logging machinery, even though Lenny and Carl have known them all their lives. During a conversation in the Springfield Hub, Carl and Bernice Hibbert are hinted to have had a past relationship, that Carl wants to rekindle. He also mentions in this game his support for Obama.
The Simpsons: Tapped Out
[
edit
]
Default
[
edit
]
This section is transcluded from The Simpsons: Tapped Out characters/Plant Workers. To edit it, please edit the transcluded page.

Permanent Tasks
Task
Time
Reward
Requires
Quest with the task
Animated?
Go Skating
10m
17, 5
Simpsons' Skating Rink
Try to Make Par
10m
17, 5
Golf Green
Date Lenny's Sister
60m
70, 17
Gilded Truffle
Buddha's Got Back Pt. 4
Search Carl's Dad Caverns
60m
70, 17
Carl's Dad Caverns
Order Take Out
60m
105, 26
Crouching Panda, Hidden Egg Roll
Drink at the Black Box
2h
110, 27
Little Black Box
Eat at Le Krusty Burger
2h
175, 40
Le Krusty Burger
Hit Some Range Balls
2h
350, 80
Driving Range
Shop for Golf Equipment
2h
110, 27
The Golfin' Dolphin
Dress Up and Go Out
3h
200, 55
The League of Extra-Horny Gentlemen
The League of Extra-Horny Gentlemen
Drink and Babysit
4h
175, 45
The Boiled Potato
Try to Win at Blackjack
4h
175, 45
$ Casino
Stay at the Swelldorado
4h
260, 70
Swelldorado
Overpay for Sex on the Beach
4h
260, 70
Smooches on the Beach
Meditate
4h
175, 45
Springfield Buddhist Temple
True Bromance Pt. 1
Drink Colorful Booze
4h
175, 45
Ye Olde Magick Shoppe
Drink at Moe's Express
4h
260, 70
Moe's Express
Attend Parenting Seminars
4h
260, 70
Universal Panacea
Drink at Moe's Brewing Co.
4h
175, 45
Moe's Brewing Co.
Drink Future-Proofed Liquor
7h
250, 60
Future-Proofed Home
Dance the Señor Burns
8h
420, 105
Chez Guevara
Drink at Moe's
8h
275, 70
Moe's Tavern
Buddha's Got Back Pt. 2
Celeb-o-mania Pt. 5
Spend Time With Dad
8h
275, 70
Carl's Dad Caverns or
Brown House
Pogo
12h
420, 100
Enjoy a Night at the Theater
12h
420, 100
Springfield Playhouse
Do a Plant Shift
16h
500, 125
Control Building
Buddha's Got Back Pt. 3
True Bromance Pt. 2
Borrow Rare Records
16h
500, 125
The Jesus Cube
Honor his Icelandic Heritage
24h
600, 150
Number 14
[
edit
]
This section is transcluded from The Simpsons: Tapped Out characters/Stonecutters. To edit it, please edit the transcluded page.

Behind the Laughter
[
edit
]
Character origins
[
edit
]
In the early seasons, Carl was rarely seen with Lenny and did not have a consistent voice - on some occasions, he can be heard with Lenny's voice and vice versa. In an early 1991 episode, "Principal Charming", Carl's name is spelled "Karl".
Appearances
[
edit
]
Episodes:
Specials:
Adverts:
Simpsons Illustrated:
Simpsons Comics and Stories:
Simpsons Comics:
Radioactive Man:
Bart Simpson's Joke Book:
Treehouse of Horror:
Bart Simpson:
Futurama Crossover:
Comic Strips:
Holiday Humdinger:
Super Spectacular:
Winter Wingding:
Summer Shindig:
Comic Book Guy: The Comic Book:
Annuals:
One-Shot Wonders:
Other Comics:
Video Games:
Books:
References
[
edit
]
| | |
| --- | --- |
| | Wikisimpsons has a collection of images related to Carl Carlson. |
This article is covered by multiple navigation templates. Click "show" to view.