Bookaccino's
Wikisimpsons - The Simpsons Wiki
Bookaccino's
Location Information

Bookaccino's is a large bookstore located in Springfield. It has at least 4 floors and a café on the first floor.
History
[
edit
]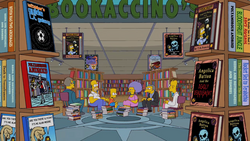 Marge went to the book store to get another copy of a book that Santa's Little Helper had chewed up. While there she met Ruth Powers who invited Marge to join her book club. Marge delightedly agrees, but finds out the next day that the book club is just a front for a "swinging housewives club", something which Marge refuses to take part in. Despite pressure from the club's other members, Marge walks away staying faithful to her husband.[1]
Bookaccino's has a franchise inside the Springfield Mall.[2]
Books Seen for Sale
[
edit
]
The books seen for sale in the store include:
Non-canon
[
edit
]
| | |
| --- | --- |
| | The contents of this article or section are considered to be non-canon and therefore may not have actually happened or existed. |
The Simpsons: Tapped Out
[
edit
]
This section is transcluded from The Simpsons: Tapped Out buildings/Shops (premium). To edit it, please edit the transcluded page.

Bookaccino's
Image
Cost
Build time
Reward
Sell price
Conformity increase
Availability
Unique?
Dimensions -

D

x

W

Yearbook
100
6s
100
4,000,000
Consumerism +20
"Monty Burns' Fleeing Circus" and Love and War
Premium
8 x 8

30
50
This Thanksgiving's Gone to the Birds!, Thanksgiving 2018, All American Auction, Blargsgiving, Northward Bound and The Atom Smasher
Premium (Retail Mystery Box)
50
Flanders Family Reunion
Premium (Yard Sale Mystery Box)
80
Hell on Wheels
Premium
36000 Seconds Pt. 1
1
Splash and Burn and Tragic Magic
Shattered Dreams Mystery Box (after event completion)
Task
Time
Reward
/h
/h
Wasting Paper
12h
300, 30
25
2.5
Appearances
[
edit
]
References
[
edit
]
| | |
| --- | --- |
| | This article relating to a Simpsons location is a stub. You can help Wikisimpsons by embiggening it. |