McBain
Wikisimpsons - The Simpsons Wiki
This article is on the to-do list.
This article needs: History needs cleaning up; could be by movie, needs more images
McBain
Character Information

McBain is a movie action hero played by the actor Rainier Wolfcastle in the McBain movies.
History
[
edit
]
| | |
| --- | --- |
| | This article or section needs to be cleaned up to fit in with the Manual of Style. |
McBain is a former cop. He eventually stumbled upon evidence that implicated Senator Mendoza of running a drug cartel. He then ran his limo off the cliff, snapped the necks of three of his body guards and drove a bus to his front door. He was reprimanded by his boss, the captain of the precinct, and he tried to explain that he had very good reasons to do that, due to his running a cartel. However, he would not hear him out, and he then decided to kick him out of the squad. McBain then punched the captain out of the window in retaliation. Sometime afterwards, McBain, alongside his partner and best friend Scoey, had began to track down evidence independent from the squad due to the fact that he was kicked off. However, during an evening at a Sloppy Joe's diner, a hitman, hired by Mendoza, posed as a waiter and attempted to gun down McBain. The hitman missed and Scoey took the bullets shortly after explaining that he is just two days from retirement, his daughter Suzie is going to graduate from college, and that after nailing Mendoza, he and his wife are going to sail around the world in their newly christened boat, "The Live-4-Ever". McBain attempts to stop the assassin by shooting at him, but the assassin manages to get away by crashing though a window on a motorcycle. As Scoey dies in his arms, McBain becomes more determined than ever to put an end to Mendoza's reign of terror. Later, McBain had presumably gotten his job back, and decided to try and avenge his partner, but his regulated gun is far too small for him to try and avenge Scoey, so he decides to use a much bigger gun. He is then reprimanded by the captain about the size of his gun being against regulations, as in the police department, they go by the book. McBain merely responds by using his gun to shoot and blow away the Police Manual.
He then ambushes Mendoza during a meeting about his newest drug. He bursts out of an ice sculpture and kills everyone in the room, except Mendoza. However, Mendoza gets the better of him by feeding him a drugged salmon puff.[1]
Sometime later, Mendoza had hired another hitman to kill McBain, and again McBain survived. His final stand against Mendoza was at Mendoza's headquarters at the top of a skyscraper. McBain interrupts Mendoza's meeting and hurls him out of a window all the way down onto a parked Gas truck, which explodes on impact, stopping him once and for all. McBain then decides to sleep with his sexy female accomplice.
McBain then decides to go into comedy and performs in a comedy club in the movie McBain: Let's Get Silly.[2]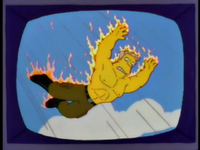 In an untitled McBain film, McBain decides to become a transport plane pilot. In one incident he was helping to deliver UNICEF-made pennies to children that needed them when he was suddenly attacked by a squadron of Commie-Nazis. In an attempt to save the pennies McBain leaps from his plane onto one of the Commie-Nazi jet fighters and kills the pilot despite his surrendering.[3]
Non-canon
[
edit
]
| | |
| --- | --- |
| | The contents of this article or section are considered to be non-canon and therefore may not have actually happened or existed. |
The Simpsons: Tapped Out
[
edit
]
This section is transcluded from The Simpsons: Tapped Out characters/Costumes. To edit it, please edit the transcluded page.
Permanent Tasks
| Task | Time | Reward | Requires | Quest with the task | Animated? |
| --- | --- | --- | --- | --- | --- |
| Turn in his Badge | 60m | 105, 26 | Police Station | McBain, Scene 4: Bad Cop, Bad Cop | |
| Host Up Late With McBain | 4h | 260, 70 | Channel 6 | | |
| Battle Commie Nazis | 8h | 420, 105 | | McBain, Scene 3: Big Explosion | |
| Go Undercover | 12h | 600, 150 | | McBain, Scene 2: Master Of The Disguise | |
| Find Intel at the Track | 16h | 750, 200 | Springfield Downs | McBain, Scene 1: Vengence, Thy Name Is McBain | |
| Fight Climatic Battle | 24h | 1,000, 225 | Film Set | McBain, Scene 5: Undercover Showdown | |
Behind the Laughter
[
edit
]
He is a parody of Arnold Schwarzenegger and Bruce Willis (his name is a play on the character of John McClane from the Die Hard movies) for their film personae.
The character was originally referred to both within the show and by the production team as McBain, taken from the role he portrayed in the fictional action film franchise. However, for a short time, The Simpsons could not use the McBain name because a movie of the same name (unrelated to The Simpsons character) was released in 1991. During this time, the movie's producers refused to give Twentieth Century Fox and Matt Groening's production company clearance to use the "McBain" name, so the name of Rainier Wolfcastle was used to sidestep this. Later, the use of "McBain" as both Wolfcastle's alter-ego and continuing series of films returned to the show. He is an overpaid portrayer of action hero, McBain.
Appearances
[
edit
]
References
[
edit
]