Moonshine River
Wikisimpsons - The Simpsons Wiki
"Moonshine River"
Episode Information

"Moonshine River" is the first episode of season 24 of The Simpsons and the five-hundred and ninth episode overall. It originally aired on September 30, 2012. The episode was written by Tim Long and directed by Bob Anderson. It guest stars Ken Burns as himself, Zooey Deschanel as Mary Spuckler, Sarah Michelle Gellar as Gina Vendetti, Anne Hathaway as Jenny, Maurice LaMarche as Charlie Sheen, Don Pardo as himself, Natalie Portman as Darcy, Kevin Michael Richardson as Jamaican musician, Al Roker as himself and Sarah Silverman as Nikki McKenna.
"Moonshine River" was dedicated to Andy Williams, who died five days before the episode aired.
Synopsis
[
edit
]
"The Simpsons travel to New York City in search of Bart's long-lost love Mary Spuckler who he wants to reconnect with since she left Springfield and her hillbilly family there to reinvent herself in the big apple. Lisa and Marge look forward to experiencing all the city has to offer but when they realize their budget won't allow a Broadway play they settle for the free "Shakespeare In the Park" which doesn't go as planned.[1]"
It's the day of the Springfield Grand Prix and the final stage of the Tour de Springfield, which causes havoc across Springfield, especially to the Simpson family who are waiting for a gap in the race cars so Homer can drive them across the road. Come nighttime, smashed cars and bikes are at the edge of the road around the Jebediah Springfield statue. In the racers' ball, Mayor Quimby comments that there was no winners and losers - because the finish lines were tangled up in the ball of smashed cars and bikes. Bart hears someone tapping inside, but everyone ignores it when the music starts. In the tent, Lisa and Milhouse are dancing together, both having different ideas on what type of date it is they are on. Lisa begins to tease Bart because he hasn't got a date, and tells him that after a week, girls know the real him, and that's why he doesn't have a date.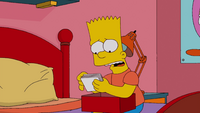 At home, Bart gets out a box which has pictures of his ex-girlfriends in: Jessica Lovejoy, the girl he dated for 3 days, the girl he dated for one recess, and the girl he dated for half of a field trip. Homer comes into the room and says that he's going to take a popcorn bath. Bart asks Homer how he got Marge to stay with him, and he explains that it was Bart because he was unplanned and that he keeps things interesting. Homer says that rejection from his girlfriends never gets any easier until you're allowed to drink, and he can express his feelings via drunk-dialing. Bart tells Homer that instead of that he will visit his ex-girlfriends and prove that they still like him. He knocks on every girl's house - and Gina Vendetti's cell in prison - but gets rejected from all of them. Bart ends up at Cletus' house - where Mary Spuckler lives. Milhouse thinks that Mary is cute for one of Cletus' kids, which leads to Bart saying that she got to drink milk as a kid instead of white paint like the rest of them. Knocking on Cletus' door, Bart gets told that Mary ran off, without them knowing. Bart and Milhouse see Dubya, who tells them that Mary ran off to New York City, and gives him her address.
Back at home, Bart watches a video of him and Mary, and realizes she's the one that got away. Bart asks Marge if they can go to New York to find Mary. Marge says that they need plane money and hotel money, and then Homer adds on that they need $500 to buy tickets to a Yankees game that turns out to be fake. Bart says that Homer would love to go to New York, because his two least favorite buildings have been obliterated - the old Penn Station and Shea Stadium - which Homer called lousy outdated relics. Homer tells Bart to remember what happened the last time the family went to New York - but the thought ends up being a parody of the Sweet Smell of Success. Later, Bart sits Lisa's dolls on the floor - who have his girlfriend's faces on them. Homer enters, saying that he and Marge found a way to get to New York - swapping houses with a family from there. Bart asks Homer if the family will rent out their house when they go to New York - but Homer has instead made the tenants swap with Ned Flanders' house.
In New York, the family look at the sights, or, more accurately, the advertisements on the huge TV billboards at Times Square. Homer hears the cry of the Khlav Kalash vendor from their last visit, but it turns out that there is now a huge 50,000 square feet Khlav Kalash restaurant. Bart tugs on Homer's shirt, saying that they have to go find Mary. Lisa complains that why can't she and Marge seek out culture while Homer and Bart find Mary. Homer immediately agrees, while a man in underpants passes them, who thinks he's in a dream. Homer and Bart board a train on the subway, but don't like the people they are sitting next to. Homer says that he'll spring for a cab, but the two people sitting next to them end up sitting next to them on the cab as well. Everyone gets out, while the cab driver says that anything left in a cab will never be seen again. And so, while Bart is sleeping, Homer sneaks out of the cab, intending to leave him behind. Bart wakes up, and Homer thanks God that he woke up. Bart gets to Mary's block of apartments, but she doesn't answer the door when Bart rings her bell. Bart thinks that his search for love is doomed, and that Bart has learned a valuable life lesson - that love doesn't exist "except between a man and a woman before marriage." Homer goes to get Bart some ice-cream, who sits down on the steps. A 'duchess' asks Bart what's the matter, and Bart says that he's waiting for a girl that's never going to show up. The 'duchess' asks Bart what makes him so sure, and he says that girls don't like him. The 'duchess' states that there's a girl standing right there, and shows Bart her face - it is Mary. Bart asks Mary what she is doing for money - which is being a writer with a performing option on Saturday Night Live. Bart says that they should talk about something nice.
Meanwhile, Marge and Lisa go to a Broadway show, but the woman behind the ticket booth states that with the money Marge has given her, the two will sit on the second balcony with a partly obstructed view, and no bathroom privileges. Lisa says that at least she'll be able to say that she went to a Broadway show, but the ticket booth woman states that she can't, so they leave. Mary and Bart are talking on the steps of the apartment building, and Mary asks if he really came to New York to see her. Bart says that he did - and that he wanted to see an air conditioner fall on someone's head. His wish comes true as one falls on Homer's head as he comes back from getting ice-cream. Mary says that she wants to see him again, but doesn't want a grown-up taking her back. Mary enters the building, telling Bart to meet her tomorrow. Homer is back at the apartment building, and Bart grabs the ice-cream from him. Homer gets angry at Bart because he took both ice-creams. Homer attempts to strangle Bart, but ends up strangling a pole because of the air conditioner on his head. A camera crew films him, and it ends up on the Jumbo-Tron in Times Square. Marge tells Lisa that she wanted Homer on a Jumbo-Tron, but for something good.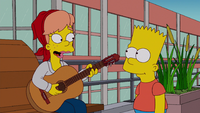 On a bridge above a train line, Mary asks Bart what he did with Homer. Bart says that the two are safe because people have to climb steps to get up to the bridge, and Homer can't be bothered to climb them. A man walks over to Homer and asks if he can't move. Homer says that he can't, and then the man cuts open his pants at the back and steals his wallet. Homer exclaims that he thought there was no crime in New York any more. Mary tells Bart to give her some news about Springfield. Bart says that Sideshow Bob was let out of prison again. Unbeknown to him, Sideshow Bob comes out of some bushes and attempts to kill Bart, but a train passes the line, taking him with it. Mary asks him how his mother and sister are - with him replying that they are trying to find high culture at low prices. Meanwhile, at the entrance to Lincoln Street Station, Marge tries to stop Lisa going through the turnstile, because if she does, it will blow their budget. Lisa falls over, clicking it, causing Marge to panic. Mary says that without his parents around, they can walk through the city holding hands, like the men-folk do. Bart says he could listen to Mary's twang all day, prompting Mary to ask him if he wants to hear it in song. Bart asks Mary if he can do a rap in the middle of it, and she replies that it would be best for Bart to just listen to it. Mary plays her song, "The Ballad of Cylinder Head", on a guitar, with many people dancing to it. After finishing it, Mary puckers up her lips. The two are about to kiss when a dark shadow comes towards them. It is Cletus - who has come to take Mary back to Springfield because Brandine misses her - but she can't say it because the donkey busted her jaw. Cletus says that she'll be fine - and her mother as well.
Meanwhile, Lisa and Marge are on their way to the Delacorte Theater, where "Shakespeare in the Park" is being performed that night. Lisa exclaims that it is free, but then sees how long the line is. At sunset, Marge and Lisa finally get seated in the open-air theater, but their spirits are dampened when a man comes on stage stating that the show has been cancelled because the actors playing the Capulets and the Montagues in Romeo and Juliet have quit the production due to arguing. Everyone groans when they are told to leave the theater because they have to pass a drum circle. Lisa exclaims that they came for Shakespeare and they will see Shakespeare. Lisa tells everyone that if they want to participate they will have to grab a doublet and meet her backstage. A man, a professional at performing, gets in, but apparently he has crippling stage fright. At the end of the play, Romeo and Juliet have poisoned themselves and Marge is narrating the end of the story. Lisa is excited because they made it in New York, but then the police arrive, asking if they're the ones who took over the theater. A fireman then turns on a hose and sprays Marge, Lisa and everyone else with it.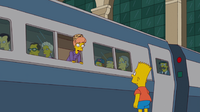 At the 24 Hour U-Stor-It, formally the NBC Network, Bart, Homer, Cletus and Mary are having a discussion. Cletus tells Mary that he is one-third her father and she is going to go back with him. Mary goes to freshen up for the ride home, and pssts at Bart. Bart says that he's got to go - and get Al Roker's autograph. Unfortunately, Al Roker is right next to Bart, and so he gives Bart his autograph. Bart says that he's going to try and sell it, with Al Roker offering to for $1. Mary and Bart rush into a train station, with Mary telling Bart that there's more Mary Spucklers' out there, including two of her sisters. The two kiss, drawing an "awwing" crowd. The man who mugged Homer cuts open another man's pants, but this time to get a rag out to dry his eyes. Mary boards the train, saying that if any girl tries to fix Bart, he should let them, because he's got a couple of big problems, but finishes by saying that he's "mostly great." Bart watches the train go, and then Cletus and the rest of the family rush up to him, with Cletus forcing him to tell him where she went. Bart says that he can't, because Mary's the girl that can prove that girls like him and that she wouldn't like Bart any-more if he gave her up. Bart said he will never tell, even if Cletus tortures him like he does the English language. Cletus realizes that he's got to let Mary find her own way, and tells the Simpsons to head on back to Springfield.
On the train back home, Bart is looking out of the window when Cletus asks him if he misses Mary. Cletus gives Bart a picture of her - which turns out to be a picture of (some) of Cletus' kids. Cletus points out where Mary should be on the picture. Bart thanks Cletus, and Homer says that Bart has finally found out how complicated grown-up feelings can be. Marge says that at least it didn't end as bad as Romeo and Juliet. Homer says that he saw the review of the play, angering Lisa who specifically said no critics, but then finds that they liked her.
During the end credits, the family rush onto the couch and Homer says that he hopes the viewers liked the show, and tells them that the Homer who got the air conditioner on his head was in-fact a stunt man (which explains why we didn't get to see the air conditioner actually fall on Homer's head). Lisa says that the family is there because they want to ask the viewers if they have an idea for a couch gag, with Bart saying that the best submission will be animated and appear on the show. Homer asks if they screwed them on the credit, with Marge replying no, and that for details, viewers should log on to thesimpsons.com. Bart shows us his couch gag, which is that everyone's heads turn into Bart's.
Production
[
edit
]
The short clip at the end of the episode was made to show viewers how to enter The Simpsons Couch Gag Contest, a contest which allowed viewers to describe their own ideas for a couch gag and enter the contest for a chance to get it animated and air in the season 24 finale.
Reception
[
edit
]
This episode gathered 8.08 million viewers on its premiere.[2]
In other languages
[
edit
]
| Language | Name | Translation |
| --- | --- | --- |
| Español | "Ríos de Alcohol" | Alcohol Rivers |
| Español | "Río de Aguardiente" | Brandy River |
| Italiano | "Il fiume delle chiacchiere" | The river of chatter |
| Português | "Um rio de Emoções" | A river of Emotions |
International airdates
[
edit
]
| Country | Date | Channel | Note |
| --- | --- | --- | --- |
| Latin America | March 24, 2013 | Fox Latin America | |
| United Kingdom | March 24, 2013; 6pm | Sky1 | Gathered 1,295,000 viewers |
| Spain | December 22, 2014 | Antena 3 | |
| Italia | April 7, 2014 | Italia 1 | Gathered 353,000 viewers and a 3.38% |
Gallery
[
edit
]
References
[
edit
]