Seymour Skinner
Wikisimpsons - The Simpsons Wiki
For the non-canon "real" Seymour Skinner who appeared in "The Principal and the Pauper", see: Seymour Skinner (The Principal and the Pauper). For other characters named Skinner, see Skinner family.
"Young man, I'm going to be on you like a numerator on a denominator."
―Seymour Skinner
Seymour Skinner Artwork of Seymour Skinner
Character Information
Walter Seymour Skinner, better known as Seymour Skinner and Principal Skinner, is the principal of Springfield Elementary School, and a stereotypical educational bureaucrat. He struggles to control the crumbling school and is constantly engaged in a battle against its inadequate resources, apathetic and bitter teachers, and often rowdy and unenthusiastic students, Bart Simpson being a standout example. A strict disciplinarian, Skinner has an uptight, militaristic attitude that stems from his years in the United States Army as a Green Beret, which included service in the Vietnam War, where he achieved the rank of a sergeant, according to his rank insignia.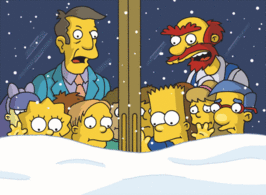 Biography
[
edit
]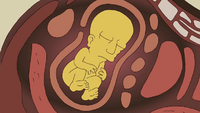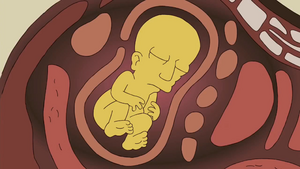 Out of genuine concern for the quality of education of his students, most of Skinner's actions revolve around ensuring the school has adequate funding. His constant desperate, and usually ineffective attempts at maintaining discipline are an effort to receive good reviews from the frequent inspections of his very strict boss, Superintendent Chalmers - who makes no effort to hide his disapproval of Skinner. These inspections usually turn awry due to Bart Simpson's elaborate pranks—which play off Skinner's desperation for order. Over the years of pranks and inspections, though, Skinner developed a love-hate relationship with each of them; when Skinner was fired and replaced by Ned Flanders, Bart found pranks less meaningful, due to Flanders' lax approach to discipline.[5] In an accident involving both Skinner and Chalmers, Chalmers showed grief over Skinner before he realized he was still alive. Although he likes to maintain the image of a strict disciplinarian, he is often weak-willed, nervous, and has a very unhealthy dependence on his mother who constantly makes demands from him. She addresses him by the nickname "Spanky." Also, it was heavily implied Seymour Skinner suffers from post-traumatic stress disorder from his days in Vietnam, where he spent 18 months as a prisoner of war.[1] Seeing his entire platoon devoured by an elephant was one of the many things that led to the development of his post-traumatic stress disorder. He also expelled Bart for the prank really caused by Groundskeeper Willie during the feast, but he welcomes him back as an apology for blaming the Groundskeeper's prank which Bart happily accepts. When Otto starts spanking Bart as an act of corporal punishment, he comes to aid Bart and suspends his driving the school bus. Skinner's unhealthy relationship with his mother began early: it is revealed Agnes's pregnancy resulted in her failing to win a medal at the Helsinki Olympics in 1952.[6] He originally was quite laid back as a principal, even going as far as to do a jumpflip to catch a frisbee while telling a student to keep up with his studies, but it all changed when one of his students, Andy Hamilton, managed to fill the pool with worms and locked Skinner in the pool for the whole weekend, causing him to become serious and almost merciless in his approach on rules, even going as far as to shut down the pool and demoting Willie, the swim teacher, to groundskeeper. When Bart attempted to stop Krusty from diving into a worm filled pool out of fear of Krusty becoming like Skinner, he accidentally blurted what happened to Skinner on the air, causing Skinner to angrily mutter sarcastically his mother told him Krusty the Clown was supposed to be a good influence, indicating he was attempting to repress the traumatic memory. Besides his job as Principal for Springfield Elementary, he also worked as a member of Mensa, and was also the acting referee/a major organizer of the annual Civil War re-enactment of the Battle of Springfield. He mentioned to Superintendent Chalmers he is a Libra (b. September 23-October 21)[7]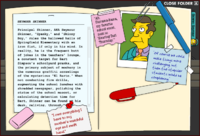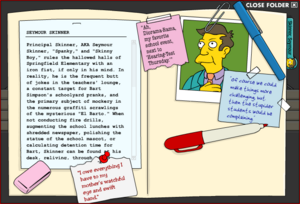 At one point, when the Vice President's Assessment Test was coming up, Skinner and Superintendent Chalmers came up with a plan to lure all of the underachievers away from test day by faking a perfect score on the pretest and tricking them into going for a chopper ride to a pizza party in Capital City (going as far as to disguise the school bus as a chopper). However, when the plan reached fruition, Skinner ended up betrayed by Superintendent Chalmers with the latter tricking Skinner into boarding the bus to "get his sunglasses." He has to get the kids back to the school, and also saved Ralph Wiggum when he somehow managed to board a garbage barge, to which Skinner impresses Bart and the other underachievers by saving Wiggum using the Conservation of Angular Momentum. Luckily for them, the Garbage Barge was also heading to Springfield Elementary, so Skinner reads the newly motivated underachievers the Adventures of Huckleberry Finn the rest of the way, and after returning, cancels the Vice President's Test, and also re-institutes dancing in school.
Romantic Relationships
[
edit
]
Aside from a short-lived relationship with Patty Bouvier,[8] Skinner's love life focused on Edna Krabappel. The two dated for several years and became engaged, but later cancelled the wedding.[9] Edna showed she does want to live a life with Skinner, but first wants him to commit to her—namely by not letting his mother, with whom he still lives, control him anymore.[10] Their relationship ended when Skinner admitted to having second thoughts on the night before their wedding.[9] Though Skinner had other relationships since, he still held a candle for Edna. He was seen dancing with Miss Hoover at the Simpsons' Mardi Gras party.[11] He also had a relationship with replacement music teacher Calliope Juniper (with whom he briefly left with).[12]
Lisa Simpson identified Skinner as representing "The Confirmed Bachelor" among The 20 Types of People You Meet in Elementary School.[13]
Vietnam
[
edit
]
It was established Skinner served as a sergeant in the US Army during the Vietnam War and captured at the Battle of Khe Sanh. Skinner often seems weak-willed and easily suppressed—perhaps because he wants to avoid confrontation—but often will use his military command experience gained in the Vietnam War to get real respect and discipline; when he and the students were snowed-in at school, he treated them like his squad to control the chaos temporarily—before they mutinied.
He once used unarmed combat skills he learned in Vietnam to take out Blue-haired lawyer, Joey Crusher and Low Blow when they tried to shut down the school carnival.[14] Despite these combat skills, Moe Szyslak, Lenny Leonard, Superintendent Chalmers and Comic Book Guy held their own against Skinner in fights.[9][15][16][17]
Appearance
[
edit
]
Skinner wears a blue suit, only one tie (orange), and a lavender shirt. He also wears blue slacks matching his suit. It is sometimes stated he wears a toupee.
Non-canon
[
edit
]
| | |
| --- | --- |
| | The contents of this article or section are considered to be non-canon and therefore may not have actually happened or existed. |
Back-story
[
edit
]
Skinner's back-story is re-visited, revealing Skinner is an impostor. Born Armin Tamzarian, he grew up in the 433rd Street neighborhood of Capital City. He was a troubled orphan and rebellious teenager until he was forced into the United States Army during the Vietnam War. There, he was befriended by Sgt. Seymour Skinner, whom he came to idolize. When Sgt. Seymour Skinner was reported missing and presumed dead, Tamzarian returned to Springfield to tell Skinner's mother, but she deliberately mistook him for Seymour, so he assumed his identity and followed Skinner's dream of becoming a school principal.[1] It is revealed Skinner (AKA Armin Tamzarian) was born in New Orleans. The real Seymour Skinner had been alive after all and briefly returned to Springfield to take his rightful place as Springfield Elementary School Principal, but proved hopelessly unpopular and the Springfielders ran him out of town on the railroad. Judge Snyder granted Tamzarian Skinner's "name, and his past, present, future, and mother", and decreed no one will mention his true identity again "under penalty of torture", thus everything returned to normal.[1]
Treehouse of Horror
[
edit
]
In "Treehouse of Horror XIV", Skinner's skeletal system is ripped out by the regenerated body of Professor Frink's father. In "Treehouse of Horror V", Skinner, and the rest of the faculty start eating students, with Jimbo Jones being the first victim. the last survivors were Lisa, Bart, and Milhouse.
The Simpsons: Hit and Run
[
edit
]
In The Simpsons: Hit & Run, Homer delivers Lisa her school project, because she forgot it. He drives quicker than Skinner to the school. The next day Skinner chases Bart on his car after he skips school. His mother can be seen sitting in the back seat. Later, he confiscates a laser gun from Bart and Bart has to destroy his car to get it back.
The Simpsons Game
[
edit
]
In The Simpsons Game, he hires Dolph, Jimbo and Kearney to steal artifacts from the Springfield Museum for the school (as he couldn't get any science stuff the legal way due to lack of funds), till they are stopped by Homer and Bart. He also takes part of an angry mob led by Marge Simpson and Lisa Simpson, recruited near the museum, implying that he was planning another heist when Marge's mob came around the corner.
The Simpsons: Tapped Out
[
edit
]
Skinner
[
edit
]
This section is transcluded from The Simpsons: Tapped Out characters/School Workers. To edit it, please edit the transcluded page.

Skinner
Image
Cost
Unlock method
Unlock message
3,750
Level 9, Springfield Elementary
We Do Need Yes Education Pt. 2
Permanent Tasks
Task
Time
Reward
Requires
Quest with the task
Animated?
Go Skating
10m
17, 5
Simpsons' Skating Rink
Attend a Convention
30m
40, 10
Convention Center
Dream of a Better Life
60m
105, 26
Cafe Kafka
Shop at the Kwik-E-Mart
60m
70, 17
Kwik-E-Mart
Quicky at the Kwik-E
Take an Educational Tour
2h
110, 27
Eiffel Tower
Dine at the Revolving Restaurant
2h
110, 27
Sit-N-Rotate
Apply the Patented Family Recipe
2h
110, 27
Steamed Hams
Complain About Gas Prices
2h
110, 27
Gasso Station
Search for Records
3h
135, 35
All Sales Vinyl
Attend Mensa Meeting
3h
135, 35
Gazebo
Process Test Scores
3h
135, 35
Emma
Rake the Japanese Garden
3h
135, 35
Springfield Ele-Zen-Tary
Try to Get His Own Mech Suit
3h
135, 35
Rigel 7 Military Base
Stay at the Swelldorado
4h
260, 70
Swelldorado
Overpay for Sex on the Beach
4h
260, 70
Smooches on the Beach
Try to Win at Blackjack
4h
175, 45
$ Casino
Drink and Babysit
4h
175, 45
The Boiled Potato
Study a Stricter School
4h
260, 70
St. Sebastian's School for Wicked Girls
Teach Across the Border
4h
175, 45
Shelbyville Elementary
Be Sharps Reunion
4h
175, 45
Swap Meet Stage
All American Auction Pt. 4
Be a Crossing Guard
4h
175, 45
Springfield Elementary
Schoolhouse Crock Pt. 1
Shred Enrollment Forms
4h
260, 70
Waverly Hills Elementary
Attendance Envy Pt. 2
Attend Parenting Seminars
4h
260, 70
Universal Panacea
Look for Sports Supplies
4h
175, 45
Tex-ida Football Academy
Practice Making Steamed Hams
4h
175, 45
Barbecue Battle Booth
Buy Clothes for the Drama Club
4h
175, 45
Banana Monarchy
Shop for Mother
4h
175, 45
Mirrored Springfield Shopper
Interact with other Unsocial Intellects
5h
300, 75
Springfield Observatory
Dine at the Swanky Fish
5h
300, 75
Swanky Fish
Stargaze
6h
350, 90
Springfield Observatory
Marvel at the Stars
7h
250, 60
Astro-House
Drink at Moe's
8h
275, 70
Moe's Tavern
Singles Night
Dance the Señor Burns
8h
420, 105
Chez Guevara
Assault the Bandit Fort
8h
420, 105
Bandit Fort
Buy Mother's Prune Juice
8h
275, 70
Swapper Jack's
Start a Vlog About Pencils
8h
275, 70
NewTube
Eat a Buffet Meal
10h
525, 135
Up, Up and Buffet!
Remember the Glory Days
10h
350, 90
Missile Bunker
Monitor the Halls
12h
420, 100
Springfield Elementary
Schoolhouse Crock Pt. 3
There Are Winners And Skinners Pt. 2
Enjoy a Night at the Theater
12h
420, 100
Springfield Playhouse
Dress Up Bart as an Elf
16h
1,000, 250
Springfield Elementary
Bart
Project After-Party Pt. 11
Inspect the Facilities
16h
500, 125
Regular Heaven
Rent a Cool Car for the Weekend
20h
550, 135
Renter-Prise Dent-A-Car
Go Bird Watching
24h
600, 150
Trees
Looking for Doves in All the Wrong Places
Another Detention/Tree
Principalling Around
Take Secret Night Classes to Avoid Mother
24h
600, 150
University of Heidelberg or
Krusty's Clown College or
Brown House
Costumes
[
edit
]
Behind the Laughter
[
edit
]
Creation
[
edit
]
Principal Skinner first appeared in "Simpsons Roasting on an Open Fire", which was also the first Simpsons episode to air.[18] Matt Groening based him on "all of the principals of [his] youth, rolled into one bland lump."[19] Writer Jon Vitti named him after behavioral psychologist B.F. Skinner.[20] Skinner was originally supposed to wear a toupee, but it was dropped because the writers didn't like "that type of joke".[21] The Simpsons Guide to Springfield did, however, briefly imply Skinner did wear a toupee.
Development
[
edit
]
In the first few seasons, Skinner resembles Norman Bates, the main character from Alfred Hitchcock's film Psycho[22] In later episodes, Skinner's behavior was based on teachers Bill Oakley and Josh Weinstein had in high school.[23]
Superintendent Chalmers was introduced in the episode "Whacking Day" as a boss for Skinner and Harry Shearer and Hank Azaria, the voice of Chalmers, fell right into the characters and quite often ad-lib between them.[24]
The Principal and the Pauper
[
edit
]
In the episode "The Principal and the Pauper", it was revealed Skinner is actually Armin Tamzarian. Armin was a troubled orphan until he joined the Army and was befriended by Sgt. Skinner, whom he came to idolize. Believing himself responsible for the real Skinner being killed, he returned to Springfield to tell Skinner's mother, but she (deliberately) mistook him for Seymour, and he followed the true Skinner's dream of becoming a school principal. At the end of the episode, Judge Snyder granted Tamzarian Skinner's "name, and his past, present, future, and mother," and decreed no one will mention his true identity again under penalty of torture (this, after the Springfielders ran the real Seymour, voiced by Martin Sheen—who had been alive after all—out of town by way of railroad).
The episode was negatively received by fans and critics over the sudden change of Skinner's backstory. During an interview, Harry Shearer, the voice of Seymour Skinner publicly criticized the episode. He noted he told the writers after reading the script: "That's so wrong. You're taking something an audience built eight years or nine years of investment in and just tossed it in the trash can for no good reason, for a story we did before with other characters. It's so arbitrary and gratuitous, and it's disrespectful to the audience." In the introduction to the Season 9 DVD Boxset, Matt Groening described the episode as his "least favorite" and in a Rolling Stones interview, he called it a "mistake".
The Simpsons writers occasionally mocked the inconsistencies in subsequent episodes, it was referenced in "Behind the Laughter" as a 'far-out plot line' to distract from the family's behind-the-cameras turmoil. When Lisa acquires Snowball II and declares, "To save money on a new dish, I'll call you Snowball II." Skinner says, "Isn't that a cheat?" to which Lisa replies, "I guess it is, Principal Tamzarian." Skinner replies, "I'll just be moving along", nods at Lisa and the new Snowball, and walks off. In the DVD commentary for "The Principal and the Pauper", the producers stated they intended for the episode's ending to reset the continuity to before Skinner was revealed to be Tamzarian. As such, they said, fans could dismiss the discontinuities created by the notion Skinner is actually an impostor and consider the episode on its own terms, divorced from the rest of the series. This episode is proved non-canon in "Boy Meets Curl".
Foreign dubs
[
edit
]
Language
Voice dubber

Deutsch

Fred Klaus (until 2005)
Klaus Guth (season 14 - Present)

Español

César Izaguirre (season 1 , ep. 1 and season 2, ep. 14)
Alejandro Villeli (season 1, ep. 2, season 3, ep. 7 and season 9, ep. 11)
Octavio Rojas (season 1, ep. 5)
Bardo Miranda (season 2, ep. 8)
Alejandro Illescas (season 3, ep. 4 and season 15, final episodes)
Juan Alfonso Carralero (season 3, ep. 5)
César Arias (season 5, ep. 1)
Tito Reséndiz (season 5, ep. 10, last loops)
Víctor Delgado (season 26, ep. 4)
Agustín Sauret (seasons 2-4)
José Luis Castañeda (seasons 5-9)
Gabriel Pingarrón (seasons 9-15)
Gerardo Vásquez (seasons 16-31)
Roberto Mendiola (season 32-present)

Magyar

István Orosz
Skinner's prisoner of war ID number was 24601.
He is allergic to peanuts [25]
Skinner is 5'8".[2]
Appearances
[
edit
]
This article or section is incomplete.


Please improve the article, or discuss the issue on the talk page.

References
[
edit
]
↑ 2.0 2.1 "Yellow Subterfuge"
↑ 10.0 10.1 "Special Edna"
↑ "Flaming Moe"
↑ Simpsons Roasting on an Open Fire BBC.co.uk. Retrieved on March 2, 2007
↑ Joe Rhodes. "Flash! 24 Simpsons Stars Reveal Themselves"TV Guide. Retrieved on 2007-08-15.

 

↑ Reiss, Mike. (2002). The Simpsons season 2 DVD commentary for the episode "Principal Charming" [DVD]. 20th Century Fox.
↑ Groening, Matt. (2002). The Simpsons season 2 DVD commentary for the episode "Principal Charming" [DVD]. 20th Century Fox.
↑ Weinstein, Josh. (2005). The Simpsons season 5 DVD commentary for the episode "Sweet Seymour Skinner's Badaaasssss Song" [DVD]. 20th Century Fox.
↑ Jean, Al. (2004). The Simpsons season 4 DVD commentary for the episode "Whacking Day" [DVD]. 20th Century Fox.
This article is covered by multiple navigation templates. Click "show" to view.
Factfiles from Simpsons World the Ultimate Episode Guide: Seasons 1-20
Season 14
Rock Stars • Audrey McConnell, Third Grade Teacher • Dr. Velimirovic, Plastic Surgeon • Mitch Hartwell, the Reality Channel Producer • Junior (AKA Frank Grimes, Jr.) • Teacher of the Year Award Nominating Committee • Dexter Colt, Private Eye • The Mugger • Larry H. Lawyer, Jr. • Baby Stink-Breath • Booberella • Sara Sloane, Hollywood Movie Star • Cookie Kwan, Red Coat Realtor • Stark Richdale • Declan Desmond • Julio and Grady • Luke Stetson, Junior Wrangler • Suds McDuff, Spokesdog/Mascot for Duff Beer • Marriage Counselor • Jim Proudfoot • Don Castellaneta