Princess Kashmir
Wikisimpsons - The Simpsons Wiki
Princess Kashmir, real name Shawna Tifton[1] and occasionally known as April Flowers (when performing at strip clubs)[2] is an exotic dancer.
History
[
edit
]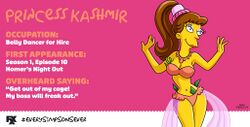 Princess Kashmir is first seen during Eugene Fisk's bachelor party. It is here that Homer gets his picture taken by Bart with his spy camera. The photo had far more effect on Homer than it did Ms. Tifton. She is moved by Homer's speech to all the men in the audience about not treating women as objects, yet she still remains an exotic dancer to this day. She has been known to work at Florence of Arabia, Girlesque, Foxy Boxing, Mud City, Sapphire Lounge and La Maison Derriere.[2] She has been seen with many men, including Apu (before his marriage to Manjula),[3] Dr. Nick,[4] Otto,[5][6] Sideshow Mel,[7] Hans Moleman[8] and even the married Chief Wiggum.[9]
Tifton is a member of the Home Wreckers bowling team along with Mindy Simmons, Lurleen Lumpkin and Jacques.[10]
She is somewhat of a celebrity in Springfield, appearing regularly on Springfield Squares.[11][12] She also was one of the celebrities who sang with Sting, the song "Sending Our Love Down the Well".[13]
She is a serious actress waiting for a break. She has been in in films such as Dreamskates (dancing girl); How to Stuff a Wild Zucchini (lucky limbo girl); and The Jelloidium Factor (belly-dancing creature).[14]
Non-canon
[
edit
]
| | |
| --- | --- |
| | The contents of this article or section are considered to be non-canon and therefore may not have actually happened or existed. |
The Simpsons: Tapped Out
[
edit
]
This section is transcluded from The Simpsons: Tapped Out characters/More Oddballs. To edit it, please edit the transcluded page.

Princess Kashmir
Image
Cost
Unlock method
Unlocks with
Unlock message
Yearbook
175
Formerly:
Level 27
Premium
Florence of Arabia

30
175
Level 27
Premium (The Vault)
50
Thanksgiving 2018, All American Auction, Blargsgiving, Northward Bound, The Atom Smasher and Cold Turkey
Premium (Imports Mystery Box)
60
Thanksgiving 2018, All American Auction, Blargsgiving, Northward Bound, The Atom Smasher and Cold Turkey
Premium (Women Mystery Box)
1
Thanksgiving 2018, All American Auction, Blargsgiving, Northward Bound, The Atom Smasher and Cold Turkey
Gold Mystery Box
Technical Information
ID
Groups
Internal Name
40001
Premium Characters, Premium Female, Bowler, Adult
PrincessKashmir
Permanent Tasks
Task
Time
Reward
Requires
Quest with the task
Animated?
Go Skating
10m
26, 7
Simpsons' Skating Rink
Better Herself
60m
105, 26
Adult Education Annex
Princess Pride Pt. 1
Go for a Waxing
4h
260, 70
Jake's Unisex Hair Palace
Overpay for Sex on the Beach
4h
260, 70
Smooches on the Beach
Stay at the Swelldorado
4h
260, 70
Swelldorado
Try to Win at Blackjack
4h
260, 70
$ Casino
Drink and Babysit
4h
260, 70
The Boiled Potato
Attend Coffee Meetup
4h
260, 70
Jittery Joe's Coffee
Shake Her Moneymaker
6h
350, 90
Florence of Arabia
Be a Professional Celebrity
8h
420, 105
Channel 6
Princess Pride Pt. 4
Dance the Señor Burns
8h
420, 105
Chez Guevara
Practice Kicks
12h
600, 150
Princess Pride Pt. 4
Siren Song Pt. 2
Enjoy a Night at the Theater
12h
600, 150
Springfield Playhouse
Dance Around Town
24h
1,000, 225
Siren Song Pt. 3
Behind the Laughter
[
edit
]
Appearances
[
edit
]
References
[
edit
]
Factfiles from Simpsons World the Ultimate Episode Guide: Seasons 1-20
Season 14
Rock Stars • Audrey McConnell, Third Grade Teacher • Dr. Velimirovic, Plastic Surgeon • Mitch Hartwell, the Reality Channel Producer • Junior (AKA Frank Grimes, Jr.) • Teacher of the Year Award Nominating Committee • Dexter Colt, Private Eye • The Mugger • Larry H. Lawyer, Jr. • Baby Stink-Breath • Booberella • Sara Sloane, Hollywood Movie Star • Cookie Kwan, Red Coat Realtor • Stark Richdale • Declan Desmond • Julio and Grady • Luke Stetson, Junior Wrangler • Suds McDuff, Spokesdog/Mascot for Duff Beer • Marriage Counselor • Jim Proudfoot • Don Castellaneta