Comic Book Guy
Wikisimpsons - The Simpsons Wiki
"Worst [insert noun] ever!"
―Comic Book Guy's catchphrase
For Comic Book Guy's Twitter account, see ComicBookGuy.
Jeffrey Albertson
Character Information
Jeffrey "Jeff" Albertson,[3][4] better known as Comic Book Guy, is the overweight, geeky proprietor of the comic book store, The Android's Dungeon.
Biography
[
edit
]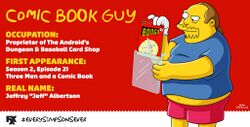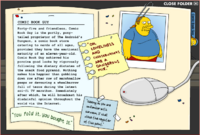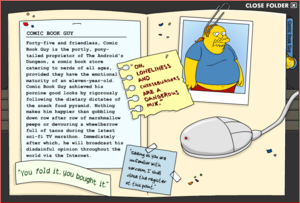 Comic Book Guy is a very obese, socially incompetent, unshaven, cruel man who is perhaps best known for his sarcastic quips. He holds a master's degree in folklore and mythology (he translated The Lord of the Rings into Klingon as part of his thesis).[5] He exhibits geeky behaviour to an extraordinary and deliberately unrealistic degree, and often also makes references to obscure subjects or internet culture. His catchphrase is the declaration,"Worst... (episode)... ever". He states that he is a 45 year-old virgin who lives with his mother.[6] His obesity is referenced in The Simpsons: Hit & Run, where he can be used as a driver. One of his replies is that he might as well pick the player up, since he can't fit into his office chair anymore.
Appropriate to his name, Comic Book Guy is obsessed with comic books, pop culture and science fiction. Comic Book Guy has a bumper sticker that reads "My Other Car Is The Millennium Falcon," given to him by a Harrison Ford lookalike. The license plate on his AMC Gremlin is NCC-1701, the registry number of Star Trek's USS Enterprise. The contents of his display case include, among other oddities, a photo of Sean Connery signed by Roger Moore and a very rare Mary Worth in which she advised a friend to commit suicide. He also owns a T-shirt that says "C:/DOS C:/DOS/RUN RUN/DOS/RUN" (Notice the incorrect usage of the forward slash. DOS directories are listed with a backslash, so it would be "C:\DOS C:\DOS\RUN RUN\DOS\RUN"). He is a member of the Springfield branch of Mensa, along with Principal Skinner, Dr. Hibbert, Lisa Simpson, Professor Frink, and Lindsey Naegle.
Early life
[
edit
]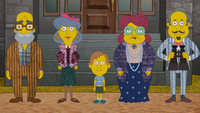 Comic Book Guy lived in a big mansion owned by Postage Stamp Fellow, his father. He had an aunt who collected taxidermized chestnut-tailed starlings, an uncle who collected brutalist birdhouses, a great step-uncle who collected discredited obstetric equipment, and another aunt who collected antique Chinese cricket boxes and filled them with live crickets, which escaped frequently.
Comic Book Guy was into baseball and was a good pitcher, inspired by Sandy Koufax. One day, when he was to take part in a big game, his father didn't show up because he wasn't sure how to comfort his son in case Comic Book Guy lost the game. Instead, his father got him a baseball signed by Sandy Koufax but didn't get a chance to give it to him because Comic Book Guy lost the game due to his father not showing up, which left him feeling sad. Comic Book Guy would later think of this as the "worst day ever".[2]
The Android's Dungeon
[
edit
]
Comic Book Guy is the owner of The Android's Dungeon, a local comic book store. Many of the comics and toys he sells are of very poor-quality, and often sell for very high prices. His store is his sanctuary, where he holds some level of self-esteem, imperiously lording over pre-teen kids, like Bart Simpson and Milhouse Van Houten, using a heavily sarcastic tone. When he was the target of mockery while trying to return the Ultimate Belt, he sighed, "I must get back to my comic book store, where I dispense the insults rather than absorb them". His store contains a section full of illegal videos (which include Mr. Rogers drunk, Alien Autopsy, Illegal Alien Autopsy, a top secret American nuclear war strategy session, a "good version" of The Godfather Part III, Kent Brockman picking his nose, and Ned Flanders in a police informant video, wherein he claims that Homer released a radioactive ape in his house. He later was arrested and had his store shut down temporarily because of this.). He once had to give up the Ultimate Belt (which he won as a door prize at a Star Trek Convention) because, as he pointed out, "the average Trekker has no use for a medium-sized belt".
Similar stores
[
edit
]
In North Haverbrook, there is a comic book shop named "Mylar Baggins" and the proprietor looks very similar to Comic Book Guy with the exception that his skin and hair are slightly darker. He also has a deep-rooted rivalry with a store similar to his: "Frodo's of Shelbyville". These shops could have had the same owner, as both rival store names refer to The Lord of the Rings character Frodo Baggins. During the Trappuccino crisis, Comic Book Guy says that his obsessive comic book collecting is a "life well spent".[7]
Brief Fame
[
edit
]
Comic Book Guy created the comic book series Everyman. He apparently created 278 issues, including the controversial issue with the death of Marmaduke. However, he was reluctant to self-publish them initially because he feared that he'd be mocked by the internet community for his comics. While trying to exasperate Comic Book Guy by feigning complete ignorance on the history of Spiderman, Bart and Milhouse stumbled upon a draft of an issue of Everyman that he was working on. Comic Book Guy then learned that Bart and Milhouse actually liked the comic, and after a bit of convincing, he decided to self-publish. The comic's popularity started to soar as a result, with a movie project starting for the Summer Market. Some movie executives requested to make Everyman into a movie.
Comic Book Guy is reluctant to allow them to work with the movie, especially as the same movie industry apparently ruined the Stratego movie for him. He eventually relents, but only under the condition that he picks the person who will portray Everyman. When they refused that condition, he opened the door to the store, implying that he wanted them to leave, until they agreed to that condition, commenting that being a Hollywood Producer is the closest thing to a physical sport that he could ever do. He later explains that he wants a "complete loser" to portray Everyman. He then picks Homer Simpson for the part, after the latter accidentally walked into the store, not realizing it was closed for auditioning. He then spent his time talking to people at his new, hollywood-style house about what it is like to be a producer, and adopting a Cambodian Orphan named Prius.
However, when the movie was going over-budget and Homer ended up gaining an eating disorder due to his fitness coach abandoning him for Turtle (to the extent that he couldn't even get out of his trailer without it being sawed off), he tried to end production of the film, but ended up being thrown out by security into a dumpster with disgraced executives. He later ended up sacrificing any chance at another Everyman movie being made by voicing his honest opinion that the Everyman movie was the worst movie ever. It is unknown if he still worked on his comics after this.[8]
Relationships
[
edit
]
Comic Book Guy was once married—in an online role-playing game. He and his Internet wife contemplated having children, but that would have severely drained his power crystals. He was shown paired with a blond woman (asking if she enjoyed comic books) during a mass-marriage that occurred when a cult took over Springfield, and presumably the two were wed in the mass ceremony.[9] While part of an intellectual junta that briefly ran Springfield, he proposed plans to limit breeding to once every seven years (a reference to the Vulcan blood fever of mating, called Pon Farr), commenting that this would mean much less breeding for most, but for him, "much, much more".[10] He was a virgin well into his forties when he became romantically involved with Principal Skinner's mother Agnes. (Chief Wiggum was notably repulsed when he and his officers stumbled upon the couple "in the act".)[11] He later dated Edna Krabappel and was shown with the superman logo tattooed on his upper right buttock.[12]
Comic Book Guy later met Kumiko Nakamura, a Japanese woman that searched the saddest towns in America and got to Springfield. He fell in love with her and they got married. She shares lots of hobbies with Comic Book Guy, such as cosplay and comic books.[13]
Later in Comic Book Guy and Kumiko's marriage, Kumiko realized that she wanted children. However, Comic Book Guy didn't. This led to some tension between the two when Comic Book Guy fled back to his childhood home rather than facing up to having kids. Eventually, Comic Book Guy returned home and decided to try for a baby with Kumiko.[2]
Non-canon
[
edit
]
| | |
| --- | --- |
| | The contents of this article or section are considered to be non-canon and therefore may not have actually happened or existed. |
The Simpsons Game
[
edit
]
Comic Book Guy appears throughout the entire game to point out various video game cliches that the player can unlock by performing certain actions. He also appears as one of the contestants in the Duff Ultimate Eating Challenge in the level Around the World in 80 Bites, and in the form of a gang of sumo wrestlers in Big Super Happy Fun Fun Game. The sumo versions are also among the enemies sent by God in "Game Over".
The Simpsons: Tapped Out
[
edit
]
Comic Book Guy
[
edit
]
This section is transcluded from The Simpsons: Tapped Out characters/Business Owners. To edit it, please edit the transcluded page.

Comic Book Guy
Image
Cost
Unlock method
Unlock message
7,000
Level 13, Android's Dungeon
The Dungeon Keeper Pt. 2
Permanent Tasks
Task
Time
Reward
Requires
Quest with the task
Animated?
Go Skating
10m
17, 5
Simpsons' Skating Rink
Trip to Lard Lad
5m
15, 5
Lard Lad Donuts
Go for a Checkup
10m
17, 5
Hibbert Family Practice
Business Is Picking Up
Eat at Krusty Burger
30m
40, 10
Krusty Burger
The Flavormax
Attend a Convention
30m
40, 10
Convention Center
Eat at Gulp 'N' Blow
60m
70, 17
Gulp 'N' Blow
A Quick Snack Between Snacks
Arnie Pye In the Sky Pt. 4
Commission a New Cosplay Outfit
60m
70, 17
Screaming Stitch & Hem
Read a Comic
2h
110, 27
New Age Literature for Geeks
Look for Size 8XL Pants
2h
110, 27
Big & Tall Men's Shop
Attend Mensa Meeting
3h
135, 35
Gazebo
Nerds 'R' Us
Take the Sir-Loin-A-Lot Challenge
4h
175, 45
Slaughterhouse Restaurant
Eat Between Heart Attacks
4h
260, 70
Deuce's Caboose Chili Dogs
Overpay for Novelty Stay
4h
260, 70
Elf Hotel
Stock up on Collectibles
4h
175, 45
Charmer's Market
Practice Walking Softly Like a Ninja
4h
175, 45
Himeji Castle
Cosplay as a Dark Knight
4h
175, 45
Large Mausoleum
Eat at Skip's Diner
4h
175, 45
Skip's Diner
As American as Apple Pie Pt. 4
Overpay for Sex on the Beach
4h
260, 70
Smooches on the Beach
Stay at the Swelldorado
4h
260, 70
Swelldorado
Try to Win at Blackjack
4h
175, 45
$ Casino
Vape and Drink
4h
175, 45
Darby O'Guzzlin's
Exchange Plunder for Booty
4h
175, 45
Plunderer Pete's
Drink and Babysit
4h
175, 45
The Boiled Potato
Run His Bar
4h
260, 70
CBGB
Eat a Dozen Bagels
4h
175, 45
The Doughy Dozen Bagels
Auction Off Wares
4h
175, 45
Springfield Swap Meet
Attend Parenting Seminars
4h
260, 70
Universal Panacea
Protest Recent Toy Designs
4h
175, 45
Whiz-Bang Toy Company
Buy a Wheelbarrow Full of Burritos
4h
175, 45
General Chang's Taco Italiano
Dine at the Swanky Fish
5h
300, 75
Swanky Fish
Swanky Fish Pt. 3
Interact with other Unsocial Intellects
5h
300, 75
Springfield Observatory
Watch and Despise a Movie
6h
350, 90
Aztec Theatre
Enjoy the Best Ramen in Town
6h
225, 55
Ramen Coma
Visit the Vast Waistband
7h
250, 60
The Vast Waistband
Assault the Bandit Fort
8h
420, 105
Bandit Fort
Visit the Java Server
8h
275, 70
The Java Server
They Have Internet on Computers Now? Pt. 2
Sleep in the Bad Dream House
8h
420, 105
Bad Dream House
Dance the Señor Burns
8h
420, 105
Chez Guevara
Look for Anime Show Information
8h
275, 70
Yo Yo's Cloud Palace
Eat a Buffet Meal
10h
525, 135
Up, Up and Buffet!
Cosplay
12h
420, 100
I'm a Super Hero
Find a Mirror That Makes You Look Thin
12h
420, 100
Hall of Mirrors
Get Car Upgraded
16h
500, 125
CarGo
Sell Comics
24h
600, 150
Android's Dungeon
A Life Well Spent
Krustyland Tasks
| Task | Time | Reward | Requires | Quest with the task | Animated? |
| --- | --- | --- | --- | --- | --- |
| Go Skating | 10m | 17, 5 | Simpsons' Skating Rink | | |
| Eat at Krustyland Burger | 30m | 12, 10 | Krustyland Burger | | |
| Visit the Gift Shop | 1h | 21, 17 | Gift Shop | The Krusty-est Place On Earth Pt. 17 | |
| Ride Radioactive Man Ride | 4h | 52, 45 | Radioactive Man: The Ride | The Krusty-est Place On Earth Pt. 22 | |
| Overload a Plate at the One Plate Buffet | 5h | 90, 75 | One Plate Maximum Buffet | | |
| Ride the Eyeballs of Death | 8h | 126, 105 | Eyeballs Of Death | | |
| Ride The Happy Elves Ride | 10h | 105, 90 | Happy Elves Ride | | |
| Ride Scratchy's Flea Dipper | 12h | 126, 100 | Scratchy's Flea Dipper | | |
| Ride the Twirl 'N' Hurl | 16h | 166, 125 | Twirl 'N' Hurl | | |
| Stay at Krustyland Hotel | 24h | 180, 150 | Krustyland Hotel | | |
Costumes
[
edit
]
Standalone
[
edit
]
Behind the Laughter
[
edit
]
Comic Book Guy was partly inspired by a clerk at the Los Angeles Amok book shop who often "[sat] on the high stool, kind of lording over the store with that supercilious attitude and eating behind the counter a big Styrofoam containerful of fried clams with a lot of tartare sauce." Matt Groening noted that: "I can't tell you how many times people have come up to me and said, 'I know who you based that comic book guy on. It's that comic-book guy right down the block.' And I have to tell them, "No, it's every comic-bookstore guy in America." Hank Azaria based Comic Book Guy's voice on a student who went by the name "F", and lived in the room next door at his college. Azaria also "loves that the character is an adult who argues with kids as if they're his peers."
A long-running gag on the show was never to reveal the character's name, with other characters referring to him as "Comic Book Guy". Finally, in the February 6, 2005 episode, "Homer and Ned's Hail Mary Pass", Comic Book Guy nonchalantly told Ned Flanders, "My name is Jeff Albertson, but everyone calls me 'Comic Book Guy'." Showrunner Al Jean remarked, "That was specifically done to make people really mad. We just tried to pick a generic name. It was also the Super Bowl show, so we did it so the most people possible would see it." Groening stated that he had originally intended him to be called Louis Lane and be "obsessed and tormented by" Lois Lane, but was out of the room when the writers named him.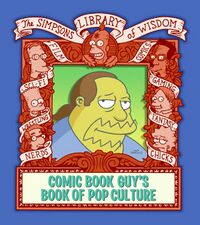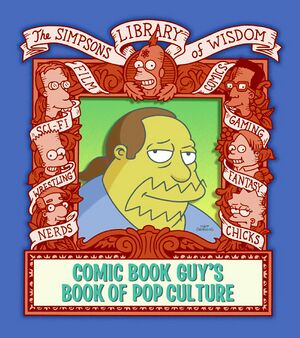 The comic book guy has also been seen in quite a few episodes but he has had very few episodes where he is a major character. He is rarely seen outside The Android's Dungeon store and most of his interactions are with Bart Simpson. The comic book guy wasn't seen very often early in the series of the show and has not been seen very much in the 19th season.
Comic Book Guy has an IQ of 170.
Merchandising
[
edit
]
Even though Comic Book Guy is just a recurring character, he still has some merchandise such as Comic Book Guy's Book of Pop Culture. He also appears on the cover of the twelfth season DVD.
Foreign dubs
[
edit
]
Appearances
[
edit
]
This article or section is incomplete.


Please improve the article, or discuss the issue on the talk page.

Episodes:
Specials:
Adverts:
Simpsons Comics:
Bartman:
Radioactive Man:
Treehouse of Horror:
Bart Simpson:
Futurama Crossover:
Comic Strips:
Holiday Humdinger:
Super Spectacular:
Winter Wingding:
Summer Shindig:
Comic Book Guy: The Comic Book:
Annuals:
One-Shot Wonders:
Other Comics:
Video Games:
Books:
Merchandise:
References
[
edit
]
Factfiles from Simpsons World the Ultimate Episode Guide: Seasons 1-20
Season 14
Rock Stars • Audrey McConnell, Third Grade Teacher • Dr. Velimirovic, Plastic Surgeon • Mitch Hartwell, the Reality Channel Producer • Junior (AKA Frank Grimes, Jr.) • Teacher of the Year Award Nominating Committee • Dexter Colt, Private Eye • The Mugger • Larry H. Lawyer, Jr. • Baby Stink-Breath • Booberella • Sara Sloane, Hollywood Movie Star • Cookie Kwan, Red Coat Realtor • Stark Richdale • Declan Desmond • Julio and Grady • Luke Stetson, Junior Wrangler • Suds McDuff, Spokesdog/Mascot for Duff Beer • Marriage Counselor • Jim Proudfoot • Don Castellaneta