A Star Is Torn
Wikisimpsons - The Simpsons Wiki
A Star Is Torn
Episode Information

A Star is Torn is the eighteenth episode of the season 16.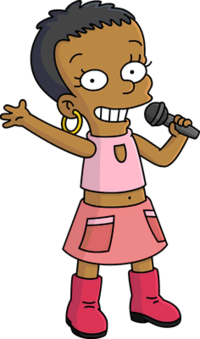 Aside from Lisa, everyone in the family contracts food poisoning after eating organic produce from The Farmers' Market. After nurturing the family back to health, Lisa agrees to participate in a Krusty sponsored "Li'l Starmaker" competition, with the first prize winner being animated into an Itchy and Scratchy episode. Lisa panics during the competition when a Christina Aguilera type performs a better rendition of "Hush, Little Baby" and Homer saves the day by hammering out a manipulative tune about Springfield that leads Lisa to victory.
With a win under his belt, Homer becomes a stereotypical star-crazed parent and manager who ultimately drives Lisa to fire him. A distraught Homer counters by taking Lisa's rival, Cameron, under his wing and grooming him for the finals. Lisa comes to realize that her relationship with Homer is more important than the competition and performs an apologetic song. Homer reunites with his daughter before Cameron performs an egotistical song Homer prepared to sabotage the young boy's performance. Lisa is grateful that Homer sabotaged Cameron for her. Homer states "I'll always be there, not even DEATH will stop me" while hugging Lisa.
Guest Stars
[
edit
]
Production
[
edit
]
| | |
| --- | --- |
| | This article about a Simpsons episode is a stub. You can help Wikisimpsons by embiggening it. |
---