Alone Again, Natura-Diddily
Wikisimpsons - The Simpsons Wiki
240
"Alone Again, Natura-Diddily"
"In many ways, Maude Flanders was a supporting player in our lives. She didn't grab our attention with memorable catch phrases or comical accents! But, whether you noticed her or not, Maude was always there... and we thought she always would be."
―Reverend Lovejoy at Maude's funeral
"Alone Again, Natura-Diddily"
Episode Information

"Alone Again, Natura-Diddily" is the fourteenth episode of season 11 of The Simpsons and the two-hundred and fortieth episode overall. It originally aired on February 13, 2000. The episode was written by Ian Maxtone-Graham and directed by Jim Reardon. It guest stars Shawn Colvin as Rachel Jordan.
Synopsis
[
edit
]
"When Maude Flanders dies in a freak accident, Homer takes it upon himself to help Ned rebuild his life and gets him back into the dating game. After several unsuccessful dates, Ned walks into church and finds himself interested in the lead singer of a Christian rock band."
Whilst out on a nature walk in the Springfield Nature Preserve, the family sees that a new speedway has been built and is opening that day. The family goes to the racetrack and are surprised to meet the Flanders family who have not come to see the race, but because Ned admires the safety equipment the racers use and Maude likes the fresh air and looking at the poor people in the infield. Not long after the two families sit down, a squad of cheerleaders called Fan-Demonium are giving out free T-shirts by firing them from cannons into the crowd, and Homer demands one. He takes off his own T-shirt, and waves it around, shouting, which irritates Ned and Maude, who are seated right behind him.
Needing a break from Homer's antics, Maude goes to buy some hot dogs. Homer draws a target on his chest and finally gets the cheerleaders' attention. The cheerleaders send a full salvo of T-shirts in Homer's direction, but rather than catch them, Homer bends down at the last second to pick up a bobby pin. The T-shirts hit Maude instead, just as she's returning from the hot dog stand. The shirts knock her from the top of the bleachers, and she falls to the ground several stories below. Dr. Hibbert is fortuitously at the race, but he's not able to do anything except pronounce Maude dead.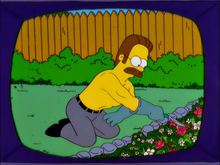 Homer and Marge get ready to attend Maude's funeral, with Marge telling Homer he's to be nice to Ned and the boys. The funeral is hosted by Reverend Lovejoy with the wake being held in the Simpson house. Bart is then made to go play with Rod and Todd since they are feeling down. After a session of playing Billy Graham's Bible Blaster, Bart feels better. After the wake, Homer takes Ned home and puts him to bed. Later that night, Ned throws stones at Homer's window, wanting to talk to him. Homer then decides to help Ned by making him a dating profile video via Video Matchmaking. In his usual bumbling fashion, Homer manages to include completely unnecessary and potentially harmful pieces of information about Ned, such as a close-up of Ned entering his PIN number at an ATM machine, and Ned taking a shower. Ned was hesitant to submit the video but later did so when he got lonely. Ned then had a few dates, with Lindsey Naegle, Edna Krabappel and Diane, but none of them went well.
One Sunday morning, Ned decides that he does not want to go to church, because he doubts the Lord for having taken Maude. Guilt-ridden, he later rushes to church (apologizing out loud to God the whole way) and arrives just in time to see Kovenant, a Christian rock band, starting to perform. As Ned walks in, he realizes that he likes the song, and finds himself attracted (both physically and spiritually) to the lead singer, Rachel Jordan. After the service, Ned helps Rachel load equipment into the band's van, and strikes up a conversation with her. It turns out that the attraction is mutual, and Rachel suggests that she and Ned get together after Kovenant gets back from touring with the Monsters of Christian Rock. Ned smiles and says, "Maybe we can. My name's Ned Flanders, and I'm here every week -- rain or shine!"
Production
[
edit
]
Due to Maggie Roswell leaving the show, the producers decided that it could be a way to explore more of Ned's character and do something different. It was then George Meyer's idea to kill off Maude.[1] The idea was then handed over to Ian Maxtone-Graham to write.[2] The producers wanted to get NASCAR drivers to make cameo appearances for the racecar bit, with them wanting Jeff Gordon in particular. However, not a single driver wanted to guest star due to the portrayal of the racing in the episode.[1] Gordon would later go on to guest star in the season 24 episode "Adventures in Baby-Getting".
The joke with Ian Maxtone-Graham's credit being huge was not his idea. Originally, the idea was for the joke to be about the credits ruining the first five minutes of an episode.[2] Director Jim Reardon watched a NASCAR race to prepare for the episode.[3] The episode was written backwards from them wanting to kill off Maude. They wanted Maude's death to be funny, but not horrifying.[1] Jim Reardon has a problem with Maude's death as the camera move when Maude gets hit is backwards. The camera was supposed to follow Maude but pans the wrong way and the shot never got retaken due to a clerical error.[3] Originally, Maude wasn't going to be declared dead and the scene would have been left on a cliffhanger through the ad break, but the producers felt the ad break would have ruined the suspense and left it looking bad.[1]
In the original script, there was a scene where Rod and Todd were to discuss their mother's death before the funeral, but it just came across as sad so it was cut.[2] They couldn't get out of it in a comedic way into the next scene without it making the episode too sad. The producers were unsure of how to jump from Maude's death to Ned dating again, and decided that Homer being the one to start it was the best idea as he is thoughtless. They also didn't want Ned to be ready to move on from Maude.[1]
Reception
[
edit
]
Robert Canning of IGN gave the episode a 7/10 rating, saying that the acts seemed disconnected from each other. Canning in particular felt that the episode was hurried. He said that the "episode made a poor choice by rushing through the mourning period and moving right into Ned dating".[4]
As of December 2019, the episode has a 7.7 rating on IMDb[5] and a 7.9 rating on TV.com.[6]
Criticism
[
edit
]
Lowe's Motor Speedway president Jerry Gappens expressed his concern over the episode, as the scene of Lenny being crushed by a tire appeared to parody an actual incident. During the aborted Indy Racing League IndyCar Series Visionaire 500k event, on May 1, 1999, flying tires in a Lap 62 crash killed three spectators, forcing the track to abandon the race before the halfway point. Lowe's Motor Speedway were even contemplating placing a complaint to Fox for the episode. WCCB, the Fox affiliate in Charlotte, North Carolina, home to Lowe's Motor Speedway, refused to show the promotional advertising for this episode.[7]
References
[
edit
]