The Fight Before Christmas
Wikisimpsons - The Simpsons Wiki
472
"The Fight Before Christmas"
"This tree reminds me of your father. Round in the middle, thinning up top and your hands get sticky when you touch him."
"The Fight Before Christmas"
Episode Information

"The Fight Before Christmas" is the eighth episode of season 22 of The Simpsons and the four-hundred and seventy-second episode overall. It originally aired on December 5, 2010. The episode was written by Dan Castellaneta and Deb Lacusta and directed by Bob Anderson and Matthew Schofield. It guest stars Martha Stewart as herself and Katy Perry as herself.
Synopsis
[
edit
]
"It's beginning to look a lot like Christmas in Springfield, but while Marge gets in the holiday spirit, it's bah humbug for the rest of the family. Disappointed that she is alone spreading the holiday cheer, Marge sends a letter to Martha Stewart to help her save the family Christmas. Martha comes to the rescue and transforms the house into the North Pole chalet Marge has always dreamed of, but when the family is noticeably absent from the perfectly trimmed holiday home, she realizes that it's Homer and the kids who make the holidays special. Meanwhile, the Simpsons get ready to sneak away for a tropical holiday vacation in Hawaii, but surprise visitors Mr. Burns and Moe's new girlfriend, Katy Perry delay their getaway."
Opening sequence
[
edit
]
It's Christmas Eve and Bart has his BB gun out to hurt Santa Claus as he hasn't given him a dirt bike. He falls asleep thinking about this...
Bart's dream
[
edit
]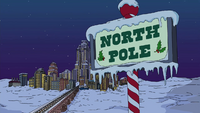 At midnight, the Polar Express, driven by Otto Mann, pulls up outside of the house and flies Bart to the North Pole where he works his way up through the ranks of the elves to reach Santa to ask why he hasn't gotten a dirt bike. After taking out two snowman guards (by turning up the thermostat), he enters the office of Santa to find that it is a run down dump. Santa tells Bart that he is poor due to handing out presents every year. When Bart leaves, Santa presses a button to reveal a disco like room and loads of girls come out.
Lisa's dream
[
edit
]
It is World War II and Marge is fighting on the front line while Homer is working in the Springfield Bomber Factory. Homer returns home with a Christmas tree and Lisa tells him to take it away as the last time she saw one, Marge got conscripted into the army. Homer then receives a telegram telling him that Marge is Missing in Action. Lisa blames the tree again and runs off. She ends up in the place she last saw Marge and Raphael reveals that Marge bought a tree last year but never took it. It looks like Marge. Lisa takes it home and Bart and Homer are taking it in turns to be sad. When they see the tree, they become happier and they decorate the tree.
Meanwhile, Marge is in Nazi-occupied France. She heads into a cinema where Nazis are watching a film of a flying elephant destroying London. Marge blows up the cinema, killing Hitler.
Marge's dream
[
edit
]
Marge is upset that Christmas will be bad. She writes a letter to Martha Stewart and she comes to help out, transforming the bed into a four poster. She then uses Maggie's head as a stencil to spray paint snowflakes on the window. When Marge asks about shampooing the paint out of Maggie's hair, Martha asks why. She turns Bart and Milhouse into nutcracker soldiers and tells them to march for an hour. She also turns Homer into a Christmas display, putting him to sleep with a chemical. Marge, upset with how the family is now, asks Martha to put everything back the way it was and she does so with her magic wand.
Maggie's dream
[
edit
]
Maggie has received a video called A Fluppet Christmas Special and in her dream the Simpson family and friends appear as puppet versions of themselves. The Simpsons are about to go to Hawaii and have arranged for Moe to house-sit. Moe takes advantage of the situation and passes 742 Evergreen Terrace off as his own bachelor pad in order to make a date with his hot new girlfriend, Katy Perry. Things are complicated by the arrival of Mr. Burns, to whom Homer had lied about being injured in order to take time off to go to Hawaii, and Katy Perry (appearing as her real-life self), who finds a family home instead of the bachelor pad Moe had led her to expect. Burns is initially angry about Homer's going to Hawaii under false pretences, but settles down and forgives Homer after Katy gives him a hug and kiss.
Closing Sequence
[
edit
]
They finally sing a song "The Thirty-Nine Days of Christmas". Moe tries to reach up and kiss Katy but can't so he decides to kiss her bellybutton but Katy tells him that what he is kissing is not her bellybutton. Moe breaks off the kiss but Katy says she did not ask him to stop.
Production
[
edit
]
In April 2010, Al Jean announced that the episode was written by Dan Castellaneta and his wife Deb Lacusta and would guest-star Martha Stewart.[1]
In September, it was revealed that pop-star Katy Perry would also guest-star as herself in a live-action puppet styled segment.[2]
Chiodo Bros. Productions were responsible for the live action/puppet work. They had previously created stop-motion segments in "HOMЯ", "The Girl Who Slept Too Little" and "'Tis the Fifteenth Season".[3]
Reception
[
edit
]
The episode gathered approximately 9.56 million viewers and a 4.2 18-49 rating/share.[4]
The episode received positive reviews from TV critics. A.V Club gave the episode a B- rating and compared the episode's format to that of the show's annual Treehouse of Horror series. Although criticizing Marge's visit from Martha Stewart as "one joke stretched too far", they gave praise to Bart's Polar Express riff deeming it "inspired" and "mostly funny," as well as calling Lisa's World War II flashback "genuinely sweet."[5] Huffington Post TV offered similar opinion. They highlighted the Muppet and Katy Perry segment as their favorite and concluded, "This episode started good and got progressively better, saving the best sketch for last. It showed a level of imagination that the recent Halloween episodes have been lacking."[6] TV Fanatic declared the episode's stories as "unique, creative and entertaining." They lauded Katy Perry's guest-appearance and appreciated the show's writers "trying to push the envelope for once." They awarded the episode a 3.5/5 star rating.[7] Firefox enjoyed the episode and called it "cute, superfluous and bubbly" and liked that it "packed a little bit of heart into the humor." They awarded the episode an averaged B- rating.[8]
Fan reaction was also positive. On No Homers, the episode has a majority 4/5 rating on the episode's fan poll. Fans used adjectives such as "fresh", "ballsy" and "creative" to describe the episode, with many deeming it "the best Christmas episode seen in years." However, some were less enthusiastic and criticized Katy Perry's segment, with one naming it "the biggest WTF scene in the show in quite a while," while others dismissed it as "forgettable."[9]
Gallery
[
edit
]
References
[
edit
]