The Simpsons Arcade
Wikisimpsons - The Simpsons Wiki
| | |
| --- | --- |
| | The contents of this article or section are considered to be non-canon and therefore may not have actually happened or existed. |
The Simpsons Arcade
Game Information
The Simpsons Arcade is an arcade beat 'em up-styled game developed by IronMonkey Studios, and published by EA Games for iOS on December 21, 2009. It was removed from the App Store at some point prior to October 2014.[1]
Gameplay
[
edit
]
The game consists of using the joystick on the touch screen to move Homer around in the game, using the bottom button to attack enemies, whilst the top button can be used to jump. Crates can be smashed to collect items and pick-ups. There is a score multiplier that goes up for every enemy Homer defeats without getting hit.
| Move | Method |
| --- | --- |
| Combo Attack | Attack three times. |
| Ground Attack | Attack a downed enemy. |
| Punch-Throw | Move over a dizzy enemy. Attack them. |
| Throw | Move over a dizzy enemy. Press another direction. |
| Charge attack | Hold and release attack button. |
| Belly Flop Attack | Jump then attack. |
Power-ups and weapons
[
edit
]
There are several power-ups and weapons in the game:
Donuts and sandwiches - restores health when eaten.
Giant mallet - a large wooden mallet that can deal a lot of damage.
Bart - Bart jumps onto Homer's shoulders and uses his slingshot to hit enemies.
Plutonium rod - throw the plutonium rod at an enemy to down them.
Lisa - Lisa shows up with her skipping rope and downs all the enemies.
Marge and Maggie - Marge uses the vacuum near Homer, and Maggie bonks him on the head with a toy hammer, riling him up and he starts swinging his arms.
Taser - shocks and downs enemies.
Baseball bat - knocks enemies back and down.
Exploding barrel - A barrel that explodes when it hits its target.
Boomerang - When thrown, deals damage then comes back to you.
Minigames
[
edit
]
Between levels, minigames are played.
Inflato Head - The player has to hit buttons to inflate their balloon. If they beat the opponent, they get a continue.
Donut Dream - The player tilts the device to eat donuts, but has to avoid broccoli. Every 12 donuts eaten earns a continue.
Mr. Burns organizes a secret cabal of Springfield's most powerful citizens, and Krusty. They entrust Waylon Smithers with a hidden microchip containing the plans to Project: Operation Mission, which was their plan to steal all of Springfield's natural resources or something, the narrator gives up coming up with a story at this point assuming the player has skipped it. The USB is hidden inside a donut and as Smithers exits the building, he bumps into Homer. Homer takes the unexpected donut from Smithers, but is then attacked by some goons who want it back. Mayor Quimby takes the donut and gets into a car and drives off. Homer decides that he must get the donut back
Downtown Springfield
[
edit
]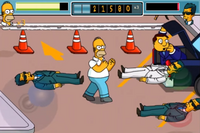 Throughout the level, Quimby will throw bombs at Homer from his car. Outside the Kwik-E-Mart, Homer encounters and fights Chief Wiggum. Wiggum attacks Homer with his baton and taser. Once Wiggum is defeated, Homer moves on to the next area. Eventually, Homer gets closer to Quimby's car and starts to chase after it as Quimby throws bombs. The car stops at Krusty Burger where Homer then fights off goons as Quimby hides in the trunk of the car. Homer has to pull Quimby out of the trunk to hurt him, but Quimby calls in more goons and goes back to hiding. The level ends once Quimby is defeated.
Springfield Mall
[
edit
]
Homer gets to Springfield Mall and continues to fight goons. The squeaky-voiced teen tries to stop Homer by throwing food at him. When Homer defeats the squeaky-voiced teen, he moves on and eventually makes it to a store with The Itchy & Scratchy Show logo on, where Roger Meyers, Jr. confronts Homer. Meyers uses an axe and a wooden mallet and throws out exploding Itchy and Scratchy dolls to try and stop Homer. Once Homer defeats Meyers, he moves on to the next level.
Channel 6 Studios
[
edit
]
Homer arrives at Channel 6 Studios and fights his way through more goons. Along the way, Homer has to avoid electrified wires that damage him. When Homer reaches the set of Smartline, he has to fight Bumblebee Man. Bumblebee Man uses a spinning attack with his maracas, which makes him dizzy after. Once Bumblebee Man is defeated, Homer moves on to the next area. Eventually Homer makes it to Kent Brockman who attacks Homer by spinning his microphone at him. Once Brockman takes enough damage, his microphone becomes electrified. When Brockman is defeated, the level ends.
Krustyland
[
edit
]
At Krustyland, Homer fights goons who are wearing Krusty masks. Bouncy balls with Krusty's face on are sent towards Homer too, which he has to dodge. The first boss of the level is Sideshow Mel, who attacks by throwing his bone and blowing his slide whistle. Once Mel is defeated, Homer continues to fight more goons until he eventually reaches Krusty. Krusty uses spring shoes and pies to fight. When on his next phase, Krusty inflates his hand to hit Homer. The level ends once Krusty is defeated.
GOP Headquarters
[
edit
]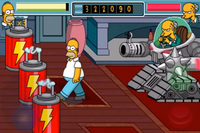 Upon reaching the GOP Headquarters, bats head towards Homer, which he has to dodge. Homer then continues fighting through the goons until he gets to The Rich Texan, who fires his guns into the air, causing a stampede of cattle to charge through. After defeating more thugs, Homer is attacked by Rainier Wolfcastle. Wolfcastle attacks with his bag of golf clubs. Eventually, Wolfcastle abandons the clubs and starts hitting Homer instead. Once Wolfcastle is defeated, Homer moves on until he encounters The Rich Texan again, who causes another stampede. Eventually, Homer has to run to avoid a large stampede of cattle whilst dodging falling debris. Eventually, he gets to The Rich Texan and they fight, with The Rich Texan shooting the ceiling, causing debris to fall, and causing stampedes to run through. Once he is defeated, the level ends.
Burns' Mansion
[
edit
]
Homer arrives at Burns' mansion where he is charged at by the hounds. Homer then continues fighting goons, some of which are revealed to be robots. Homer then gets to a room filled with landmines, and must navigate through them. Homer eventually comes across Smithers, who is wearing roller-skates and throws bombs at Homer. Once Smithers is defeated, Homer moves on and fights his way through more goons, dodging more hounds along the way. Eventually, Homer has to run from the hounds, dodging land mines along the way. He then gets to Mr. Burns who fights Homer from a mech. Homer has to break Burns' batteries before he can do damage to Burns. After damaging Burns, the batteries come back online. When enough damage to Burns' mech is done, the body breaks apart, leaving Burns in a flying pod. The pod shoots lasers at Homer, and Homer has to break the batteries again to do damage. Once Burns is defeated, Homer gets the donut and eats it, finding that it is a little bit crunchy.
References
[
edit
]
External links
[
edit
]