The League of Superheroes
Wikisimpsons - The Simpsons Wiki
The contents of this article are based on an issue of Simpsons Comics or another comic series and is considered to be non-canon and may not have actually happened/existed.

The reason behind this decision is: .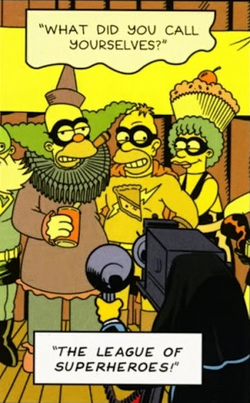 The League of Superheroes was a team of superheroes. Their nemesis was The Collector.
History
[
edit
]
The League of Superheroes worked together to take down The Collector at a bake-off, with Betty Firecrocker entering the competition. Betty won the bake-off and they found out who the Collector was.
Pastry Face was also a former member of The League of Superheroes.
Members
[
edit
]
Appearances
[
edit
]