Snowball V
Wikisimpsons - The Simpsons Wiki
This article is about the Snowball II who was in the series since "I, (Annoyed Grunt)-bot". For the previous Snowball II, see Snowball II.
Snowball V
Animal Information
Snowball V, commonly referred to as Snowball II, is the Simpsons' fifth cat and looks exactly like the original Snowball II, who died when a truck hit her. Crazy Cat Lady throws the cat at Lisa while she is mourning the deaths of the other cats she kept (Snowball III and Coltrane). She and Santa's Little Helper are the two current pets of the Simpson family.
Biography
[
edit
]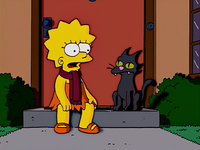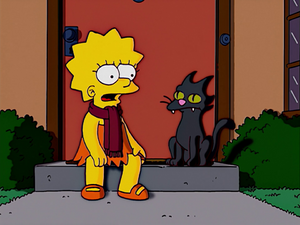 After the Crazy Cat Lady drops the cat at her feet, Lisa tells it to leave, because any cat she owns is unlucky and certain to be killed. As the cat starts to cross Evergreen Terrace, Gil drives by in his car. Gil swerves to miss the cat, hits a tree, and his car bursts into flames, which means Gil will be able to use the insurance money to buy food. Since the cat is unhurt, Lisa takes it as a sign of good luck and adopts her.[2]
Lisa renames Snowball V "Snowball II," in her words, "to save money on a new dish." She also vows to pretend the whole thing never happened (i.e., two adopted cats dying in quick succession). Principal Skinner, who happens to be walking by and overhears Lisa talking to the cat, asks "Isn't that a cheat?", to which Lisa replies "I guess it is, Principal Tamzarian" (referring to when he admitted he was not the real Seymour Skinner).[3]
The cat later became overweight after abandoning the Simpsons for brief periods to visit a different family. At the other family's house, she was fed, taught tricks and given the name "Smokey".[4]
Non-canon
[
edit
]
| | |
| --- | --- |
| | The contents of this article or section are considered to be non-canon and therefore may not have actually happened or existed. |
Lisa found Snowball pawing at a secret door in the house. She followed him then Snowball started speaking to her. Snowball started talking about how the cat was the symbol of intelligence before getting distracted by the light of Lisa's flashlight. Snowball then showed Lisa to her other family, who had buttons for eyes. Later, Snowball took Bart to the other family, and Lisa revealed to Bart that Snowball could talk. Later, he told Homer that he had lost his family, and that he could speak on the non-button side, he just didn't like to as it made Santa's Little Helper feel inferior.[1]
The Simpsons: Tapped Out
[
edit
]
Snowball II
[
edit
]
This section is transcluded from The Simpsons: Tapped Out characters/More Animals and Pets. To edit it, please edit the transcluded page.

Snowball II
Image
Cost
Unlock method
Unlock message
1,000
Friend Points
Friendship Level 3
Action
Goes to sleep when tapped.
Appearances
[
edit
]
This article or section is incomplete.


Please improve the article, or discuss the issue on the talk page.

Also see Snowball II's appearances
References
[
edit
]
See also
[
edit
]
External links
[
edit
]
| | |
| --- | --- |
| | Wikisimpsons has a collection of images related to Snowball V. |
Simpson family
Main family

Homer Simpson
•

Marge Simpson
•

Bart Simpson
•

Lisa Simpson
•

Maggie Simpson

Santa's Little Helper
•

Snowball II