The Itchy & Scratchy Store
Wikisimpsons - The Simpsons Wiki
The Itchy & Scratchy Store
Location Information

The Itchy & Scratchy Store is a store that sells a wide range of merchandise and souvenirs from the hit cartoon of the same name. T-Shirts, toys, and other Itchy & Scratchy collectibles, as well as discounted Poochie merchandise, are on sale here.
Non-canon
[
edit
]
| | |
| --- | --- |
| | The contents of this article or section are considered to be non-canon and therefore may not have actually happened or existed. |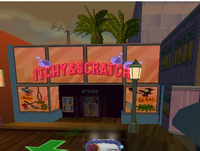 It sells the Itchy & Scratchy Adventures Comic and possibly the Itchy & Scratchy Corncob Holders.
The Simpsons: Tapped Out
[
edit
]
This section is transcluded from The Simpsons: Tapped Out buildings/Squidport buildings. To edit it, please edit the transcluded page.

The Itchy and Scratchy Store
Image
Cost
Build time
Reward
Sell price
Conformity increase
Availability
Unique?
Dimensions -

D

x

W

12,000
3h
1,200
3,000
Consumerism +10
Level 15
Squidport Pt. 5
4 x 5
Task
Time
Reward
/h
/h
Stitching And Patching Itchy and Scratchy
4h
90, 10
22.5
2.5
Appearances
[
edit
]
This article is covered by multiple navigation templates. Click "show" to view.