Please Homer, Don't Hammer 'Em
Wikisimpsons - The Simpsons Wiki
381
"Please Homer, Don't Hammer 'Em"
"Homer, it's time people knew the truth: I'm doing the work and I want the credit."
"Please Homer, Don't Hammer 'Em"
Episode Information
Episode number:
381
Season number:
S18 E3
Production code:
HABF20
Original airdate:
September 24, 2006
Couch gag:
We see a vending machine with the family and several other characters inside of it instead of candy. Ralph walks up and orders Homer, bites off his head and leaves.
Showrunner(s):
Al Jean
Written by:
Matt Warburton
Directed by:
Mike B. Anderson
Co-director: Ralph Sosa

"Please Homer, Don't Hammer 'Em" is the third episode of season 18 of The Simpsons and the three-hundred and eighty-first episode overall. It originally aired on September 24, 2006. The episode was written by Matt Warburton and directed by Mike B. Anderson and Ralph Sosa.
Synopsis
[
edit
]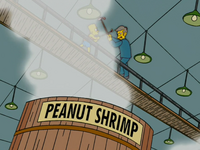 The Simpson family make a trip to the Springfield Mall, which is derelict and run down due to Mayor Quimby's father being killed there. As they go past several run down stores, they arrive at the remains of a JCPenney's, which has now become a collection of candle kiosks and Persian CD stores. A Persian man then approaches the family, trying to sell a copy of Uma Shang Shang: The Flower Song by Nabil, singing the title song from the album. Homer is unconvinced at first buy purchases it after he throws in a free tube of Sunni Smile. Meanwhile, Bart went to Captain Blip's Zapateria where he played Triangle Wars. After Homer and Marge popped into a sweet shop where Homer bought old gummy worms, they visit Rock Bottom Remainders, a book shop. Whilst here, Homer buys The Time Life Carpenter's Library, which excites Marge as she thinks Homer is going to start being handy around the house.
At home, Marge gets a letter from the school telling students not to bring peanut-based food in as someone in school is deathly allergic to peanuts. Marge then goes through Bart's lunchbox and removes all peanut-based food, and a copy of Good Grief, More Peanuts. In the living room, Homer is watching TV, with his feet up on his new books, claiming that he made a footrest. Marge gets annoyed at Homer not following through on anything and goes upstairs to their bedroom. In the bedroom, Marge stands on a loose floorboard which knocks over the nightstand so Marge uses one of the carpentry books to help repair them both. Upon realizing she was good at this, she started to build other objects from the books. Marge then decides to start a carpentry business, but when every customer realizes that she's a woman, they refuse her services.
In bed that day, Marge comes up with a plan to have Homer pretend to be the carpenter and Marge does all the work whilst the customers aren't around. The two of them do work for Professor Frink and Kent Brockman. After finishing Brockman's gazebo, Homer asks him how he would feel if a woman had done all the work, and Brockman reacted negatively to it. At school, Bart tries to find out who the kid with the peanut allergy is. He then finds from Willie that it was Principal Skinner and spies on Skinner and Willie in Skinner's office. Whilst this is happening, Marge is shopping at Builders' Barn when Helen Lovejoy and Lindsey Naegle tease her about helping Homer rather than doing the work, which angers Marge. At home, Marge tells Homer that she is annoyed with how much credit Homer is taking for the work.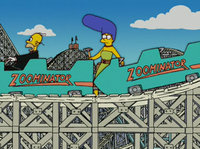 At school, Bart goes bowling with trophies, which angers Skinner. As Skinner gets ready to punish Bart, Bart pulls out a peanut on a stick to torment him with. Bart puts Skinner through humiliating experiences whilst scaring him with the peanut. Meanwhile, Marge was working on making a windmill for Lenny. As Lenny and Carl approach, Marge gets back into the toolbox and Lenny and Carl talk badly about women, which angers Marge. After this incident, Marge decides that she's had enough and Homer has to give her credit, which he refuses to do. Homer also mentions that they had been hired to repair The Zoominator, a wooden roller coaster. Marge refuses to help, so Homer tries to hire contractors. Once the contractors he hires find out that he doesn't have money, they leave Homer to fix the roller coaster himself.
That night, Principal Skinner had a nightmare involving Mr. Peanut. Later that day, Bart made Skinner go to The Android's Dungeon to breastfeed Bilbo Baggins in the shop window. In the store, Comic Book Guy tells Skinner about Superman's Kryptonite, which gives Skinner the idea to find what Bart is allergic to. Skinner breaks into Dr. Hibbert's office and finds that Bart is allergic to shrimp, which he uses to stop Bart from forcing him to do stuff. The two of them then have a fight across town, riding on the top of the school bus, until they enter a Thai Food Factory. The factory had a vat of Peanut Shrimp which they both fall into, both getting allergic reactions. Meanwhile, Homer unveils the newly repaired Zoominator, which immediately starts to fall apart again. Annoyed at everyone's reactions, Homer decides to get on the roller coaster to prove them all wrong. However, the tracks start to break, which Marge jumps to repairing. As the roller coaster reaches the end, it collapses and falls onto Homer.
In hospital, Marge forgives Homer for everything that happened between them. She also tells Bart not to risk his own life saving his principal, which Skinner objects to as that wasn't how it happened. Bart and Skinner then start throwing peanuts and shrimp at each other, leaving Marge to go look at the new babies instead of dealing with it.
Production
[
edit
]
One of the first jokes that was written for the episode involved the decrepit mall.[1] The episode was co-directed by Ralph Sosa, who was originally the assistant director. This was because main director Mike B. Anderson had to work on The Simpsons Movie during production of the episode, leaving no assistant director for the episode.[2] Sosa took over as the director after storyboards were completed and they were moving onto layouts. The episode was Ralph Sosa's first time directing and not having an assistant director was a handicap.[3] Sosa and animation timer Robert Ingram worked to finish off the show, and were nervous about showing off the final product.[2]
The name of the Rock Bottom Remainders book store is a reference to the band Rock Bottom Remainders, which featured Matt Groening.[1] The episode is loosely based on Big Eyes, which was about a man taking credit for his wife's paintings.[4] Before the episode, Al Jean had to tell people to not feature butt cracks or cleavage so much after the Super Bowl XXXVIII halftime show controversy. So director Mike B. Anderson had to work to make Homer's butt crack look less like a butt crack. This led to them compromising with a double-cleavage butt crack.[2]
The producers licensed the song "Duel of the Fates" from Star Wars: Episode I – The Phantom Menace to be used in the episode. "We Will Rock You" by Queen was also licensed.[1] After the Zoominator collapses on Homer, Moe shows up. He was supposed to have a line, but it was cut.[1]
Reception
[
edit
]
Dav Iverson of IGN said that the episode was "yet another good episode from the season that critics were all worried about". He praised the main Homer and Marge story, saying that it could have been "preachy and boring" but the show "handled the issue in a silly enough fashion that it didn't feel like you were being hit over the head with the theme". However, Iverson also thought that the Bart and Skinner storyline "wasn't as entertaining".[5]
As of February 2020, the episode has a 6.7 rating on IMDb[6] and an 8.2 rating on TV.com.[7]
References
[
edit
]