Lou
Wikisimpsons - The Simpsons Wiki
This article is about the character. For Bart's cow in "Apocalypse Cow", see Lou (Apocalypse Cow). For the relative of the Simpson family, see Lou Simpson.
Lou
Character Information
Lou is a police sergeant, and, by far, the most intelligent and competent officer of the Springfield Police. He is a foil to Chief Wiggum, and often takes the time to point out Wiggum's mistakes (often while a crime, or the pursuit of a criminal is still in progress).
Biography
[
edit
]
Lou speaks more than his counterpart Eddie. Although he rarely comes up, when he does he is in a police uniform. Lou once said he wants to leave the force as there is more money in private security, nothing ever becomes of this though.[3] His favorite on duty beverage is beer.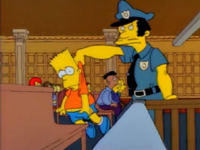 Education
[
edit
]
Although he has never stated so explicitly, other people around Springfield have insinuated that he is a graduate of Princeton University. Following his undergraduate career, Lou applied and was accepted to law school at an unspecified university, but was forced to drop out as he could not afford the tuition. His talents are abusing power and intimidating suspects.
Lou was married to a woman named Amy, but later divorced.[4] He complains occasionally that Eddie has been seeing his ex-wife, causing Chief Wiggum to act as mediator. Lou became the temporary owner of Santa's Little Helper, who was trained to be a police dog.[5] At around this time, it was revealed that Lou has a girlfriend named Charquelle who had wanted to party with him. Lou once joined a GRUNGE band with Homer Simpson, Lenny Leonard and Carl Carlson called "Sadgasm", which broke up later.[6] His unintelligible joy is hot and cold running chicks.
At some point he had a relationship with Mrs. Muntz.[7]
Non-canon
[
edit
]
| | |
| --- | --- |
| | The contents of this article or section are considered to be non-canon and therefore may not have actually happened or existed. |
The Simpsons: Tapped Out
[
edit
]
This section is transcluded from The Simpsons: Tapped Out characters/Civil Servants. To edit it, please edit the transcluded page.
Permanent Tasks
| Task | Time | Reward | Requires | Quest with the task | Animated? |
| --- | --- | --- | --- | --- | --- |
| Go Skating | 10m | 17, 5 | Simpsons' Skating Rink | | |
| Trip to Lard Lad | 5m | 15, 5 | Lard Lad Donuts | | |
| Study Evidence | 60m | 70, 17 | Police Station | | |
| Security Work | 3h | 135, 35 | Nero's Palace Casino | | |
| Pursue Criminals | 4h | 175, 45 | | Unusual Suspects Pt. 2 | |
| Drink Colorful Booze | 4h | 175, 45 | Ye Olde Magick Shoppe | | |
| Overpay for Sex on the Beach | 4h | 260, 70 | Smooches on the Beach | | |
| Stay at the Swelldorado | 4h | 260, 70 | Swelldorado | | |
| Try to Win at Blackjack | 4h | 175, 45 | $ Casino | | |
| Drink and Babysit | 4h | 175, 45 | The Boiled Potato | | |
| Attend Parenting Seminars | 4h | 260, 70 | Universal Panacea | | |
| Teach Dogs to Aim Guns | 6h | 225, 55 | Springfield Animal Police Academy | | |
| Drink at Moe's | 8h | 275, 70 | Moe's Tavern | | |
| Dance the Señor Burns | 8h | 420, 105 | Chez Guevara | | |
| Interview Suspects | 12h | 420, 100 | Random Houses | Unusual Suspects Pt. 5 | |
| Stake Out in the S.W.A.T. Van | 24h | 600, 150 | S.W.A.T. Van | | |
Behind the Laughter
[
edit
]
Appearances
[
edit
]
References
[
edit
]
| | |
| --- | --- |
| | Wikisimpsons has a collection of images related to Lou. |
Factfiles from Simpsons World the Ultimate Episode Guide: Seasons 1-20
Season 14
Rock Stars • Audrey McConnell, Third Grade Teacher • Dr. Velimirovic, Plastic Surgeon • Mitch Hartwell, the Reality Channel Producer • Junior (AKA Frank Grimes, Jr.) • Teacher of the Year Award Nominating Committee • Dexter Colt, Private Eye • The Mugger • Larry H. Lawyer, Jr. • Baby Stink-Breath • Booberella • Sara Sloane, Hollywood Movie Star • Cookie Kwan, Red Coat Realtor • Stark Richdale • Declan Desmond • Julio and Grady • Luke Stetson, Junior Wrangler • Suds McDuff, Spokesdog/Mascot for Duff Beer • Marriage Counselor • Jim Proudfoot • Don Castellaneta