The Snuffs
Wikisimpsons - The Simpsons Wiki
The Snuffs The Snuffs in the present day.
Band Information
The Snuffs are an English rock band.
History
[
edit
]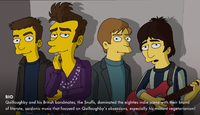 Lisa found The Snuffs music on Slapify and enjoyed it. She then decorated her room with The Snuffs merchandise.
The Snuffs later played at the Bummershoot Festival. Lisa and the imaginary Quilloughby went to see them play. However, they found out that the real Quilloughby had become a much worse person as he had gotten older. Quilloughby was then chased off the stage and the band never performed.
One of their albums is called Hamburger Is Homicide and they performed the song "Hamburger Homicide" on it.[1]
Shauna had a poster of The Snuffs on her bedroom wall.[2]
Behind the Laughter
[
edit
]
The Snuffs are a parody of The Smiths.
Appearances
[
edit
]
References
[
edit
]