The Beatles
Wikisimpsons - The Simpsons Wiki
The Beatles
Band Information
The Beatles were a British pop/rock group formed in 1960. They disbanded in 1970. The Beatles have been referred to as the greatest band of all time.
History
[
edit
]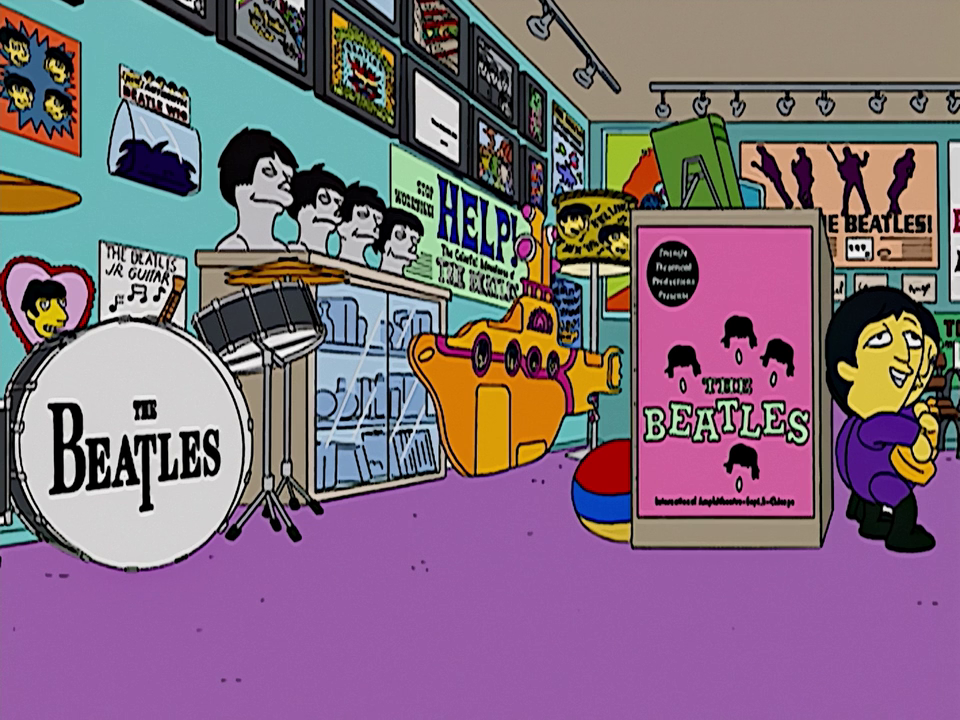 When Lisa got braces, while she was under the anesthetic she had a surreal vision of The Beatles floating across a bizarre landscape in a purple submarine.[1]
Marge once wrote a letter to Ringo Starr, who replied years later, apologizing for his lateness. When Homer found a picture of him Marge told him that when she was a schoolgirl and The Beatles were very popular. When Mr. Burns was told that Ringo was the drummer of the Beatles he told him that he remembered their off-key caterwauling on the old Sullivan show.[2]
George Harrison met Homer after The Be Sharps won a Grammy. He pointed Homer towards a pile of brownies.[3]
The Beatles met Apu in India, and they became good friends. Years later, after Apu moved to Springfield, Paul McCartney and his late wife Linda visited occasionally to spend time with Apu and relax in his rooftop garden at the Kwik-E-Mart. On one of those visits, they met Lisa and encouraged her as she was struggling with her decision to become a vegetarian.[4]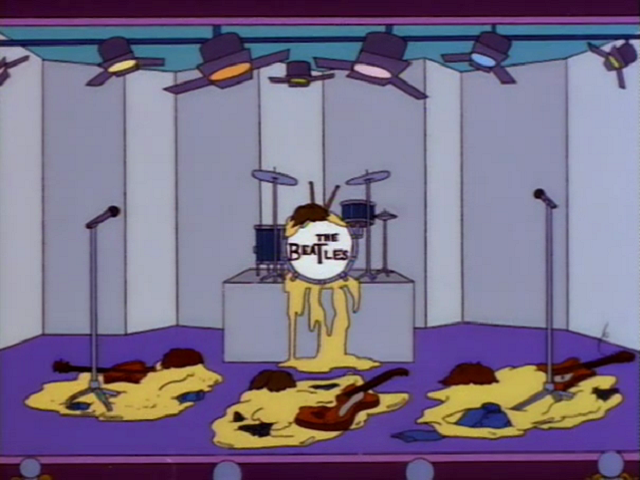 Ned Flanders is a big fan of The Beatles and had a whole room in his house filled with Beatles memorabilia, until Bart and Milhouse wrecked it.[5]
The Beatles appeared as wax statues in a display at the Springfield Wax Museum. The Squeaky-voiced teen, leading a tour group, said that they were "exactly as they looked performing on The Ed Sullivan Show", but the statues had melted due to a spell of very hot weather in Springfield.[6]
Their album Sgt. Pepper's was used to recruit people for the navy.[7]
When Springfield tried set the world record for tallest human pyramid they was enthusiastic about the chance to give Springfield a real claim to fame, as opposed to their old claim about being the birthplace of the Beatles.[8]
When Mr. Burns was in prision he joined a Beatles tribute band, The Stabfour.[9]
Bart once told Krusty that people also love a quitter, such as Sarah Palin and The Beatles.[10]
Just before Marge started playing the Blue-Haired Beauty album she told to Homer that for years she wondered why The Beatles' "Yellow Submarine" had so many swear words in it. It turns our the D.J. who aired the song when Homer made the mix-tape hadn't realized his microphone was on, and was swearing.[11]
Comic Book Guy said that he was not budging, like the door of Superman's Fortress of Solitude when The Beatles tried to visit.[12]
Non-canon
[
edit
]
| | |
| --- | --- |
| | The contents of this article or section are considered to be non-canon and therefore may not have actually happened or existed. |
30 years in the future, The Beatles have become saints and the St. Beatles Cathedral in London has been named after them.[13]
Behind the Laughter
[
edit
]
Several Beatle members: Paul McCartney, George Harrison and Ringo Starr have all made a separate special guest voice appearance in three The Simpsons episodes. The only Beatle to never make an appearance is John Lennon, who was murdered in 1980, nine years before the show started.
Appearances
[
edit
]
This list shows appearances of The Beatles as a group. For appearances of individual members, see the members' respective articles.
References
[
edit
]
External links
[
edit
]
---