Disgruntled Goat
Wikisimpsons - The Simpsons Wiki
Disgruntled Goat
Animal Information

Disgruntled Goat is a fictonal cartoon character who at one point appeared on The Itchy & Scratchy Show. He was also one of the characters who appeared on the short-lived Itchy & Scratchy and Friends Hour.[1]
History
[
edit
]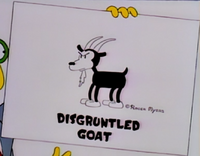 A Disgruntled Goat doll (with an updated appearance) was seen being sold in a gift shop at Itchy & Scratchy Land, alongside Uncle Ant and Klu Klux Clam.[1]
During the events of the trial between Chester J. Lampwick and Roger Meyers, Jr. the Blue-haired lawyer, who was working for Meyers, pulled up a number of "original" character drawings signed by Roger Meyers, Sr. Among the characters shown was Disgruntled Goat. He was one of the many characters Roger Meyers, Sr. had stolen, presumably from Chester Lampwick.[2]
Non-canon
[
edit
]
| | |
| --- | --- |
| | The contents of this article or section are considered to be non-canon and therefore may not have actually happened or existed. |
The Simpsons: Tapped Out
[
edit
]
This section is transcluded from The Simpsons: Tapped Out decorations/Stalls and carts. To edit it, please edit the transcluded page.

Disgruntled Goat
Image
Cost
Reward
Sell price
Conformity increase
Availability
Unique?
Dimensions -

D

x

W

FREE
N/A
Vanity +100
Moe's Ark Teaser
Disgruntled Producer
3 x 4
1
Dog Days
Animal Kingdom Mystery Box
1
A Christmas Peril
Shattered Dreams Mystery Box (after event completion)
Appearances
[
edit
]
References
[
edit
]