The Simpsons Game abilities
Wikisimpsons - The Simpsons Wiki
| | |
| --- | --- |
| | The contents of this article or section are considered to be non-canon and therefore may not have actually happened or existed. |
This is a list of abilities that the playable characters have in The Simpsons Game.
Homer's Burp is Homer's super-attack. He needs to collect power balls to get enough power to do a massive burp to defeat near enemies. On the PlayStation 3 and/or Xbox 360 versions, Homer's power burp is fire while in the PS2 version of the game, his burp is just extended green gas.
Homer Ball
[
edit
]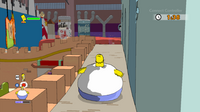 Homer Ball Homer's original power. He needs to eat food to gain enough power to become a big ball that can roll on the floor. As Homer Ball, Homer can use the "Homer Ball boost" to boost into enemies and walls, and also the "Homer Ball super-boost", in which he can jump and splat on the floor. While doing this, he loses power, so he has to eat to stay in his Homer Ball form. The first level in which Homer uses it is "The Land of Chocolate", but he discovers it in "Around the World in 80 Bites".
Heli-Homer
[
edit
]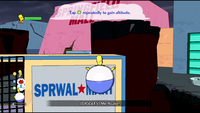 Homer has another power called Heli-Homer. He can inhale helium to become a gas ball and float onto the air while he has enough power. As Heli-Homer, Homer can use the "Heli-Homer boost" to boost into the air and cross certain areas quicker. The first level in which Homer uses it is "Shadow of the Colossal Donut", one of the levels that introduces the family's power upgrades.
Gumi-Homer
[
edit
]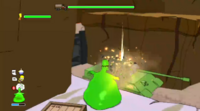 Homer has one more power called the Gumi-Homer. He needs to eat Gummi Venus de Milo to gain enough power to become a big, green gumi ball that can shoot gumi-balls to further enemies and use the "Gumi-Boost" to do a boost on the floor to launch gumi pieces to the enemies. While doing this, Homer loses power, so he has to eat Gumis to keep transformed into Gumi-Homer. The first level in which Homer uses it is "NeverQuest", but he learns how to use it before in the game engine, where Professor Frink teaches him about how to properly use the power. In this form, Homer is always facing forward; the player can't see his face while he's in this form.
Insanity Pepper
[
edit
]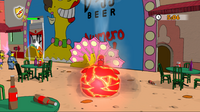 Homer can eat an Insanity Pepper to turn stronger and invincible temporarily. This power up turns him into a giant red and orange version of Homer Ball.
Slingshot
[
edit
]
The Slingshot is Bart's basic ability. Bart can collect ammo and use it to shoot at enemies and objects. He will also be able to shoot targets which can activate or stop things.
Bartman
[
edit
]
Bartman is a temporary transformation that Bart can get when he is gliding or climbing up objects. Bartman allows Bart to glide to far away platforms. He first discovers this ability in "Bartman Begins".
In "Enter the Cheatrix", Bartman gets a grappling hook upgrade. This allows him to swing to hooks.
RoboBart
[
edit
]
RoboBart is a temporary powerup Bart can obtain through a metal helmet shaped like his head. Picking up the helmet turns Bart into RoboBart which grants him invincibility and a laser beam.
Saxophone
[
edit
]
Lisa's Saxophone is Lisa's main ability. She can use the saxophone to stun enemies and charge the attack to take out groups of enemies.
In "Enter the Cheatrix", an upgrade is obtained so that the saxophone can be used to turn enemies against each other.
Hand of Buddha
[
edit
]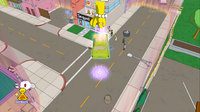 Hand of Buddha is one of Lisa's abilities. In levels with Lisa as a playable character, there are several gold Buddha statues on top of small Bodhi Trees in a specific place. This is a meditation point Lisa can enter and concentrate in. When she does so, the camera goes to air view and magical pink walls appear in the area, with Lisa's hand appearing on top. A green circle appears on the floor right under Lisa's hand and when it is positioned on something than can be grabbed, that thing grows a green light. Using her mind, Lisa can move her hand, pick things up and drop them wherever she wants, within the limits of the pink walls and without moving out of the meditation point. Among the most common things Lisa can pick up are rocks to drop them on enemies, cars or other useful thing to solve puzzles.
Her power is improved in the level "Enter the Cheatrix", in which Lisa finds a page for a Simpsons Game guide that explains new powers. Starting from this level, she can also flick enemies using her hand. This power is improved again in "The Game Engine", where Professor Frink teaches Lisa a new power. Starting from the level "Grand Theft Scratchy", Lisa can use the Hand of Buddha to electrocute and freeze enemies with her hand from above. When she freezes an enemy, he turns into a big ice block Lisa can pick up and drop to destroy it.
Lisa discovers her powers in the "Lisa the Tree Hugger" level.
Clobber Girl
[
edit
]
Clobber Girl is a temporary power up that Lisa can obtain through a Clobber Girl comic book. Collecting this power up turns Lisa into Clobber Girl, which makes Lisa stronger and invincible.
Megaphone
[
edit
]
The Megaphone is Marge's main ability. The megaphone can be used to order people to do what Marge wants. Marge can recruit people by using the megaphone in their direction. At the beginning, Marge can order her mob to destroy things, build things, step on platforms and attack enemies. Later, she gets an improvement from Professor Frink, the "mega-megaphone", which will make the mob attack enemies from further areas by throwing them rocks or other things. From the level "NeverQuest", she can order her mob to fix things.
Marge carries Maggie with her everywhere. Maggie can be used to crawl through vents to get to areas the other characters can't. Maggie is often used to press buttons, turn valves and collect Try-N-Save Coupons.
Cop Marge
[
edit
]
Cop Marge is a temporary power up that Marge can obtain through a police hat. Getting the Cop Marge power up makes Marge stronger and invincible.