Margical History Tour
Wikisimpsons - The Simpsons Wiki
324
"Margical History Tour"
"Margical History Tour"
Episode Information
| | |
| --- | --- |
| Episode number: | 324 |
| Season number: | S15 E11 |
| Production code: | FABF06 |
| Original airdate: | February 8, 2004 |
| Couch gag: | The couch is replaced by a giant microwave. Someone puts a tray inside and presses a button. The Simpsons rise from the tray as it cooks. |
| Showrunner(s): | Al Jean |
| Written by: | Brian Kelley |
| Directed by: | Mike B. Anderson |

"Margical History Tour" is the eleventh episode of season 15 of The Simpsons and the three-hundred and twenty-fourth episode overall. It originally aired on February 8, 2004. The episode is written by Brian Kelley and directed by Mike B. Anderson.
Synopsis
[
edit
]
"When the Springfield Library becomes low on books, the children of Springfield Elementary don't have enough resources to do research for their history papers. To help out, Marge gives the kids verbal anecdotes about historical figures including tales of King Henry VIII, Sacagawea's assistance to the Lewis and Clark Expedition and a very Bart-like Mozart feuding with his sister Salieri."
Marge takes the kids and Milhouse to the Springfield Public Library to study. They realize that there are very few books at the library, most of which are noneducational. Milhouse complains because he needs to write a book report on Henry VIII. So, Marge decides to tell the story to him to help him.
Henry VIII
[
edit
]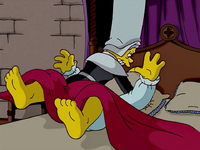 King Henry VIII (played by Homer) is unhappy because he can't sire a son, despite he and his wife, Margarine of Aragon (played by Marge), trying frequently. One day, Henry VIII is checking himself out in the mirror when he is complimented by Anne Boleyn, who has been dubbed "Anne of the Child-Bearing Hips" by Wench Magazine. Henry VIII immediately wants to marry her instead in an attempt to have a son. Margarine takes Henry to a marriage counselor (played by Dr. Hibbert) before Henry decides to go to see Sir Thomas More (played by Ned Flanders) to see about getting a divorce. After being told he is not permitted to do so as a Catholic, he founds his own church to allow him to get a divorce. Henry and Margarine divorce and Henry gets married to Anne Boleyn instead. Nine months later, Anne gives birth to a daughter and Henry has her executed.
After Anne Boleyn's execution, Henry VIII meets Jane Seymour and immediately decides to marry her. Just after they marry, Henry realizes that her voice and speaking mannerisms are really annoying and has her executed. (In real life, Jane Seymour died in childbirth.) After this, he had another couple of wives executed before married the ninety-five year old Anne of Cleves, due to her track record of having ten sons. (In real life, he and Anne of Cleves, who never had any children, divorced amicably after a brief union.)
Shortly after this, Henry's advisor, Moe, tells him that they are out of pikes for heads. Henry has him executed before checking the pike storage. Years later, on Henry's death bed, Margarine comes back to see him. Henry apologizes to her for locking her away and asks her to take him back. Margarine then grabs his pillow and suffocates him to death.
After the story, Milhouse thanks Marge and walks away, only for Nelson to trip him up and steal his notebook. Lisa then complains that she can't find anything about Sacagawea, only books about baseball player Ron Santo. Marge then tells her the story of Sacagawea.
Lewis and Clark and Sacagawea
[
edit
]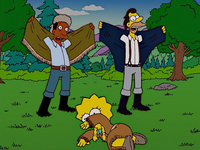 In 1804, President Thomas Jefferson (played by Mayor Quimby) sent Meriwether Lewis (played by Lenny Leonard) and William Clark (played by Carl Carlson) to find the Northwest Passage. They went to a Native American village to seek help from them. The Native American Chief gave them his daughter, Sacagawea, to help them on their expedition, with Sacagawea's husband, Charbonneau (played by Milhouse), also joining them. Sacagawea warns the expedition about many poisonous things they were trying to eat or use, which annoyed the expedition. One of the members, Tweedleburger (played by Otto Mann), ate some berries to spite her and quickly died. As the expedition went on, the explorers became more and more annoyed at Sacagawea's bossiness.
Eventually, the expedition comes across a group of Native Americans led by Sacagawea's brother (played by Bart). Sacagawea's brother kills Charbonneau and the expedition moves on, eventually reaching the Columbia River. When Clark mentions that he wants to get to the Pacific Ocean to have mermaid sex, Sacagawea tells him that they were salmon. Lewis and Clark then get annoyed at Sacagawea, telling her that she should be grateful for civilizing her. Sacagawea then storms off and lays down on a warm, woolly rock, which turns out to be a mountain lion. Lewis and Clark then come along and save her, showing that they had listened to her advice during the journey. She then rejoins them and they find their way to the Pacific Ocean and name the area Eugene, Oregon.
After the story, Marge asks Bart what historic figure he wants to write about. When he doesn't give a proper answer, Marge talks about Mozart.
Mozart and Salieri
[
edit
]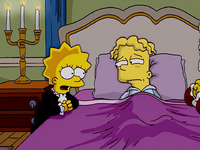 Mozart (played by Bart) plays a show to his fans. After the show, his sister, Sally Salieri (played by Lisa) asks their father (played by Homer) if she can headline a show too. She is refused and told to play with the other untalented members of the family, Randy, Tito and Jermaine. Mozart pulls pranks on Salieri and teases her, which just annoys her more. At the Vienna Concert Hall, Mozart wins an award for outstanding composer aged ten and under, which makes Salieri jealous. Later, Mozart plays an opera, "The Musical Fruit", at the Vienna Opera House. During the show, Salieri puts a sleeping potion in Emperor Joseph II's (played by Mr. Burns) wine. When the audience notices the Emperor falling asleep, they assume he is bored and also act bored. After this show, Mozart is left disgraced.
Mozart begins living on the streets and gets depressed, and eventually ill. He eventually makes his way back home where Salieri gets him the best doctor in Austria (played by the inept medical practitioner Dr. Nick), who applies leeches to his face. On Mozart's deathbed, Salieri apologizes to him. Mozart tells him that he thought Salieri's music would always go down best in history but since he was dying young, he would be cool forever. He then tells her to "eat my pantaloons" before he dies. After this, Salieri goes to see the Emperor, thinking of herself as the greatest composer alive now. However, the Emperor was with Ludwig van Beethoven (played by Nelson) at the time. Seeing this, Salieri goes insane and gets into a wagon heading to the asylum.
Epilogue
[
edit
]
At the end, Homer says that the guy who played Mozart was also in Animal House and starts singing "Animal House", singing that it was a great movie which ended like American Graffiti. The episode then wraps up in a similar way, showing:
Henry VIII still holds the world turkey-leg-eating record.
Sacagawea went on to great riches posing for butter boxes.
Mozart's burial site is now the most popular gas station in Vienna.
That night, Homer watched 'Animal House' again. He went to work the next day in a toga.
Production
[
edit
]
Al Jean asked Brian Kelley to write the episode.[1] The backgrounds of the castle in Henry VIII were based on Windsor Court.[2] Puppets of characters are hard to animate. They have to make it animate like a puppet rather than a character.[3]
Writing segments based on female characters for Lisa is hard, due to there being so few well known women documented through history.[2] The scene where Clark blows his nose on a squirrel had to be animated three times to get it right.[3] It was Brian Kelley's idea to base the Mozart segment on Amadeus. Al Jean liked the idea because using the music is free.[2] Trevor Johnson and Gerald Rey did the backgrounds for the Mozart segment. The crowd of fops and dandies was all drawn by Orlando Gumatay. To get the animation on the candles in the scene where Mozart is dying, they had to do a superimposition, animate a hotter center. The animators had to do two or three passes to show the glow.[3]
Reception
[
edit
]
As of September 2018, the episode has a 7.2 rating on IMDb[4] and a 8.0 rating on TV.com.[5]
References
[
edit
]