Treehouse of Horror VI
Wikisimpsons - The Simpsons Wiki
134
"Treehouse of Horror VI"
VI
"Treehouse of Horror VI"
"Treehouse of Horror VI"
Episode Information

"Treehouse of Horror VI" is the sixth episode of season 7 of The Simpsons and the one-hundred and thirty-fourth episode overall. It is also the sixth installment in the Treehouse of Horror series and consists of three parts. It originally aired on October 29, 1995. The episode was written by John Swartzwelder, Steve Tompkins and David X. Cohen and directed by Bob Anderson. It guest stars Paul Anka as himself.
Synopsis
[
edit
]
"As with the other Treehouse of Horror episode, it contains three self-contained segments. In "Attack of the 50-Foot Eyesores", a freak storm brings Springfield's oversized advertisements and billboards to life and they begin attacking the town. The second segment, "Nightmare on Evergreen Terrace" is a parody of the "A Nightmare on Elm Street" film series, in which Groundskeeper Willie attacks schoolchildren in their sleep. In the third and final segment, "Homer³", Homer finds himself trapped in a three dimensional world."
Opening sequence
[
edit
]
Krusty is the Headless Horseman from The Legend of Sleepy Hollow, holding his laughing head, and hurling it at the camera, which makes the show's title appear on screen in blood. We hear Krusty do his trademark groan.
Attack of the 50-Foot Eyesores
[
edit
]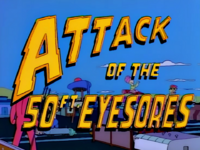 When Homer goes to Lard Lad Donuts to get a "Colossal Donut", he denounces their advertising when he realizes that the "colossal donuts" aren't very colossal. So, in revenge, he steals the Lard Lad mascot's metal donut. In the midst of a freak storm, Lard Lad and other giant advertising figures come to life to terrorize Springfield. Homer eventually returns the donut, but Lard Lad and his friends simply keep right on destroying. Finally, Lisa goes to an ad agency, and an executive suggests not to look at the monsters. He tries to write a song, but suggests it would actually sound better coming out of Paul Anka, who performs the song "Just Don't Look" with Lisa. The citizens of Springfield do not look at the monsters, who lose their powers and become lifeless. But Homer is still paying attention to Lard Lad and the metal donut, everyone tells him to look away but he is more interested in the donut until Bart and Lisa pull him away, causing Lard Lad to collapse.
Nightmare on Evergreen Terrace
[
edit
]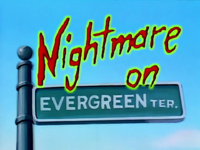 Bart has a nightmare that Groundskeeper Willie tries to kill him (using the styles of Freddy Krueger). He is slashed with a rake, and the scratches are still on his body after he wakes up. Many other kids at Springfield Elementary School also say they were terrorized by Willie in their nightmares, and what he did actually affected them. Lisa was attacked with hedge clippers that chopped off two pieces of her hair. Nelson was ran over with a floor buffer. And Sherri and Terri have been slashed across their chests like Bart. When the students take a test, Martin finishes early and falls asleep and is killed by Willie, who cracks a joke about Martin's situation, similar to how Freddy taunts his victims. Martin dies in class. Bart and Lisa tell Marge about the monster. She says that Willie was killed in a furnace explosion because Homer turned up the thermostat (even when there was a note saying don't touch) on "the thirteenth hour of the thirteenth day of the thirteenth month" (the school misprinted their calendars, causing "Smarch" to appear after December). He burned to death while the parents of the students looked on and did nothing, and that he told the parents he would get his revenge by killing the children in their dreams. Bart decides that he's going to go to sleep and dream of fighting Willie. Lisa is supposed to stay awake and wake him up if he seems to be in trouble. Bart appears in his dream and attempts to get Willie, who can also transform into other things. Willie turns into a bagpipe spider and is about to kill Bart, when Lisa enters, trying to wake him up. But since she's in the dream, that means she has also fallen asleep (she claimed that she was just resting her eyes). They're about to lose the battle when Maggie appears and uses her pacifier to clog the bagpipe chimney, causing Willie to explode. The next day, everything is back to normal, and Willie doesn't have dream powers anymore, much to the children's relief.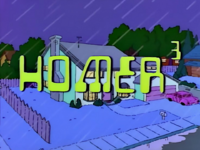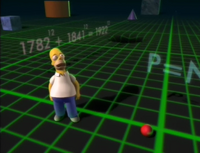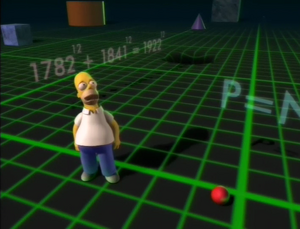 Patty and Selma visit the Simpsons, driving Bart, Lisa, and even the pets to evade them and consequently leave almost no place for Homer to hide. Desperate to avoid his wife's sisters, he looks behind a bookcase and enters a mysterious new world in which everything is in 3D. Homer explores the peculiar area, and finds that he is trapped within (only his voice can be heard to Marge and the others). He seeks help from them, but their attempts to rescue him are fruitless.
After a cone hits Homer, he throws it into the floor and accidentally pierces the fabric of the space-time continuum, causing it to collapse into a wormhole threatening to pull Homer and the rest of the dimension into a black hole. Bart takes command and enters the third dimension to save Homer. Bart is unable to help, however, and the universe collapses on itself. Bart is pulled back into the house and Marge is sad that her husband is gone; Reverend Lovejoy attempts to appease her by saying he has gone to "a better place". Homer is sent into the real world, landing in a dumpster in a live-action Sherman Oaks, Los Angeles. He walks around, frightened as people stare at him, but then is pleased to find an erotic cake store.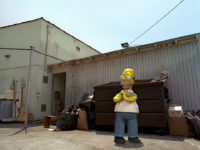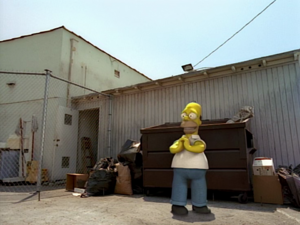 Production
[
edit
]
The first version of the episode was very long, so it featured a very short opening sequence and did not include several trademarks established in previous Treehouse of Horror episodes. "Homer3", pitched by executive producer Bill Oakley, features three dimensional computer animation provided by Pacific Data Images (PDI). In the final scene of the episode, Homer is sent to the real world in the first ever live-action scene in The Simpsons. It was filmed on Ventura Boulevard in Studio City and directed by former executive producer David Mirkin. "Attack of the 50-Foot Eyesores" includes a cameo appearance from Paul Anka, who sings the song "Just Don't Look".
Reception
[
edit
]
"Treehouse of Horror VI" was nominated for a Primetime Emmy Award for Outstanding Animated Program in the 48th Primetime Emmy Awards. However, it lost to A Pinky and the Brain Christmas.[1]
Gallery
[
edit
]
References
[
edit
]