Bernice Hibbert
Wikisimpsons - The Simpsons Wiki
Bernice Hibbert (née Dupree[1]) is Dr. Hibbert's recovering alcoholic wife.
History
[
edit
]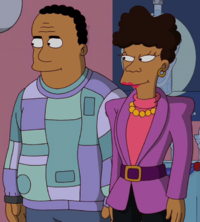 A heavy drinker, she fainted along with the other drunks when prohibition was announced.[2] When the whole town became addicted to SpringFace, Lenny pointed out that Bernice kept liking Bumblebee Man's posts and then said "that's how it starts".[3]
Non-canon
[
edit
]
| | |
| --- | --- |
| | The contents of this article or section are considered to be non-canon and therefore may not have actually happened or existed. |
Whilst exploring the town in The Simpsons Game, Bernice can sometime be seen having a conversation with Carl Carlson; discussing a past relationship they had before she was married to Dr. Hibbert.
The Simpsons: Tapped Out
[
edit
]
This section is transcluded from The Simpsons: Tapped Out characters/Hibbert Family. To edit it, please edit the transcluded page.

Permanent Tasks
Task
Time
Reward
Requires
Quest with the task
Animated?
Go Skating
10m
17, 5
Simpsons' Skating Rink
Attend Duff Gardens
5m
15, 5
Duff Gardens
Attend an AA Meeting
60m
70, 17
First Church of Springfield
Pick on Marge
4h
350, 90
Marge
Simpson House
Vulgari Aspirations Pt. 2
Accessorize Accessories
4h
175, 45
Vulgari Jewelry Store
Overpay for Sex on the Beach
4h
260, 70
Smooches on the Beach
Stay at the Swelldorado
4h
260, 70
Swelldorado
Try to Win at Blackjack
4h
175, 45
$ Casino
Enjoy a Night Without Kids
4h
175, 45
Resort Hotel
Drink and Babysit
4h
175, 45
The Boiled Potato
Spy on Kids
4h
260, 70
Giant Ferris Wheel
Attend Coffee Meetup
4h
175, 45
Jittery Joe's Coffee
Hang at the Ha-Ha Spa
4h
260, 70
Klub Krusty Adult Retreat
Go Fancy Shopping
4h
175, 45
Carnaby Street
Look for a New Power Suit
6h
225, 55
Banana Dictatorship
Argue with her Husband
8h
550, 140
Dr. Hibbert
Vulgari Aspirations Pt. 3
Test her Credit Limit
8h
275, 70
Vulgari Jewelry Store
Dance the Señor Burns
8h
420, 105
Chez Guevara
Fall Off the Wagon
12h
420, 100
Vulgari Aspirations Pt. 6
Shop the Day Away
24h
600, 150
Vulgari Jewelry Store
Behind the Laughter
[
edit
]
In The Simpsons: Virtual Springfield, she is seen twice, once called Mary Hibbert and once, in a yearbook, called Clarice Rashad in a takeoff on the Clair Huxtable character on The Cosby Show, and Phylicia Rashād, the actress who played her.
From the season 32 episode "Uncut Femmes" onwards, Bernice is voiced by Dawnn Lewis.
Appearances
[
edit
]
This article or section is incomplete.


Please improve the article, or discuss the issue on the talk page.

Episodes:
Specials:
Adverts:
Simpsons Illustrated:
Simpsons Comics:
Radioactive Man:
Treehouse of Horror:
Bart Simpson:
Futurama Crossover:
Super Spectacular:
Winter Wingding:
Summer Shindig:
Homer for the Holidays:
One-Shot Wonders:
Video Games:
Books:
References
[
edit
]
↑

Her brother's last name is Dupree