A Star Is Burns
Wikisimpsons - The Simpsons Wiki
"Schindler es bueno, Señor Burns es el diablo."
"A Star Is Burns" is the eighteenth episode of season 6. It originally aired on March 5, 1995. The episode was written by Ken Keeler and directed by Susie Dietter. Phil Hartman, Jon Lovitz and Maurice LaMarche guest starred.
Synopsis
[
edit
]
"In order to boost the town's sagging popularly, the people of Springfield hold a Film Festival to attract more tourists. Marge invites Jay Sherman to guest judge."
After Kent Brockman broadcasts a story about a national survey ranking Springfield as the least popular city in America, the town adopts Marge Simpson's proposal to launch a film festival to boost Springfield's image, and Marge is placed on a panel to judge each short film produced by the townspeople.
Also on the panel is New York City critic Jay Sherman, who hosts a cable movie review show called Coming Attractions. Sherman's stay at the Simpsons' house creates some difficulties in the household, as Sherman proves to be able to out-belch Homer (to Homer's chagrin), and Homer begins to suspect Marge does not really respect him. He confides his concern to Marge, who gives him a spot on the judges' panel.
On the night of the festival, the films are shown and the panel votes on which one is the best. Mayor Quimby and Krusty the Clown support Mr. Burns' poorly made and ego-driven A Burns for All Seasons because they've been bribed by Burns to vote for his film. Marge and Jay honestly support Barney Gumble's touching film about alcoholism, titled Pukahontas. The tie is left for Homer to break, and he enthusiastically votes for Hans Moleman's film Man Getting Hit by Football, which he found to be hysterically funny and repeatedly referred to as "Football in the Groin!" Marge and Jay have a discussion with Homer, with Jay mentioning that there are some things in life that are more important than seeing a man get hit in the groin with a football.
Homer is left to do some serious thinking, and he re-watches both Barney's and Moleman's movies. After some vacillation ("Barney's movie had heart, but 'Football in the Groin' had a football in the groin"), he finally votes for Barney's movie. After being announced as the winner, Barney declares he will become clean and sober ... that is, until his prize is revealed to be a lifetime supply of Duff Beer.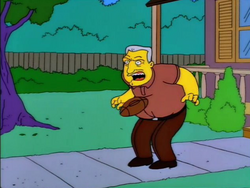 The scene then shifts to six months later at the
Academy Awards
, where Burns' film has been nominated for an Oscar. Burns feels he's sure to win, having bribed everyone in Hollywood. However, his hopes are dashed when the winner turns out to be a remake of Moleman's
Man Getting hit by Football
, now starring
George C. Scott
.
See also
[
edit
]
---