A Star Is Burns
Wikisimpsons - The Simpsons Wiki
"No, Homer, I won't make fun of you. But I will suggest that there may be better things in life than seeing a man get hit in the groin with a football."

"A Star Is Burns" is the eighteenth episode of season 6 of The Simpsons and the one-hundred and twenty-first episode overall. It originally aired on March 5, 1995. The episode was written by Ken Keeler and directed by Susie Dietter. It guest stars Phil Hartman as Charlton Heston, Jon Lovitz as Jay Sherman and Maurice LaMarche as George C. Scott.
Synopsis
[
edit
]
"In order to boost the town's sagging popularly, the people of Springfield hold a Film Festival to attract more tourists. Marge invites Jay Sherman to guest judge."
The Simpson family are watching an episode of Eye on Springfield where Kent Brockman reveals that Springfield is the least popular city in America. To rectify this, a town meeting is called together where Marge puts forward the idea of a film festival, where the people can submit their own films. The townspeople like this idea and agree to do it, to Marge's surprise. Excited by the prospect of having their films featured, the people of Springfield get to work making their films.
Meanwhile, Marge is tasked with putting together the jury to judge the Springfield Film Festival. She watches film critics on television until she decides on Jay Sherman, star of the show Coming Attractions. Marge and Lisa like Jay as he comes across as smart, sensitive and isn't obsessed with his physical appearance. Marge then writes a letter to Jay, inviting him to the film festival. Jay receives the letter in New York City and, after making a getaway from an angry Rainier Wolfcastle, gets a flight to Springfield where he meets the Simpsons.
At the Nuclear Power Plant, Mr. Burns is annoyed that the plant's profits have dropped by 37%. Smithers then suggests that Burns enter a film into the film festival to make people like him more. After finding out that Steven Spielberg is unavailable, Burns hires Spielberg's non-union Mexican equivalent, Señor Spielbergo, to direct his film. At this time, Jay is settling in with the Simpsons, and he and Homer became confrontational. At dinner, Homer wants the last pork chop, but Marge insists that Jay get it since he is the guest. After Jay shows off his awards, Homer smugly states that he had won the belching contest at work, only for Jay to unleash a long, loud burp that put Homer's to shame, leading to the kids giving Jay Homer's trophy. Shortly after this, Patty and Selma show up.
Jay starts to dish out information on celebrities to Patty and Selma, including revealing who in Hollywood is gay. When Homer tells Jay to tell Patty and Selma that MacGyver is gay, the twins hang Jay on the house by his underwear, to Homer's glee. That night, Homer asks Marge if she respects him. After many pauses, and revealing that she is humoring him, Homer gets upset and says that he knows that Jay is more witty than him. He then asks if Jay know all the lyrics to the Oscar Mayer song, only for Jay, Bart and Lisa to start singing the song together. After this, Homer tells Marge to sleep with Jay before taking a lock of her hair. Seeing how much this is affecting Homer, Marge puts Homer on the film festival jury.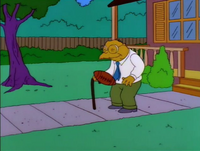 During this, Mr. Burns is holding auditions for the actor who would play him in his film, before deciding to fill the role himself as nobody is good enough. After this, the film festival starts, hosted by Jay. Jay shows off the first few films, Bright Lights, Beef Jerky by Apu, Moe Better Booze by Moe and Man Getting Hit by Football by Hans Moleman. After Moleman's film, Homer roars with laughter and tells the audience to just hand Moleman the prize. After this, Barney's film, Pukahontas, starts, which moves the entire audience, except Homer who misses it. Finally, Burns' film, A Burns for All Seasons, plays, which disgusts the audience with how egotistic and self-indulgent it is.
In the jury room, Krusty and Mayor Quimby vote for A Burns for All Seasons, having been bribed by Burns to vote for it, whilst Jay and Marge vote for Pukahontas. Homer decides to vote for Man Getting Hit by Football, which annoys Marge. During a break from judging, Marge and Jay have a word with Homer and ask him to watch Barney's film and consider it. After doing so, Homer changes his vote and Barney wins. During his speech, Barney says that he would go sober and never drink again, before being given a lifetime supply of Duff Beer.
Six months later, Burns submits his film to the Academy Awards after having bribed "everyone in Hollywood". However, it loses to a remake of Man Getting Hit by Football, starring George C. Scott.
Production
[
edit
]
The episode was conceived by James L. Brooks to be a funny episode and to launch The Critic on Fox. Brooks suggested that they do a film festival for the Critic to come and judge.[1] The producers of The Simpsons went to Jon Lovitz and told him they had an idea for an episode with him before they had written the script.[2] Rainier Wolfcastle's line "On closer inspection, these are loafers." was ad libbed by Dan Castellaneta who was standing in for Harry Shearer.[3] The scene Bart telling Jay that he really loved his show was written by Al Jean.[4]
In Barney's film, the curtains were done in airbrush and were not fully exposed so that they appeared transparent.[5] The Itchy & Scratchy Show cartoon "Four Funerals and a Wedding" was written after the rest of the script. They came up with the title first and the episode was written in rewrites.[3]
Reception
[
edit
]
As of August 2019, the episode has an 8.5 rating on IMDb[6] and a 9.0 rating on TV.com.[7]
References
[
edit
]
↑ Jean, Al (2005). Commentary for "A Star Is Burns", in The Simpsons: The Complete Sixth Season.
↑ Lovitz, Jon (2005). Commentary for "A Star Is Burns", in The Simpsons: The Complete Sixth Season.
↑ 3.0 3.1 Reiss, Mike (2005). Commentary for "A Star Is Burns", in The Simpsons: The Complete Sixth Season.
↑ Keeler, Ken (2005). Commentary for "A Star Is Burns", in The Simpsons: The Complete Sixth Season.
↑ Dietter, Susie (2005). Commentary for "A Star Is Burns", in The Simpsons: The Complete Sixth Season.