Party Posse
Wikisimpsons - The Simpsons Wiki
Party Posse
Band Information
The Party Posse are a boy band consisting of Bart Simpson, Milhouse Van Houten, Nelson Muntz, and Ralph Wiggum.
History
[
edit
]
When Bart was trying to escape from an angry mob, L.T. Smash pulled up in his car and saved him, taking him back to Bart's house. He then told the family he liked Bart's bad boy attitude and wanted Bart as part of the Party Posse, a boy band he was setting up. Bart agreed and Bart and Homer got Marge to reluctantly agree to sign the contract. Bart was then introduced to his fellow band members at Classified Records; Milhouse, Nelson and Ralph.
The group started to go through training, being taught dance moves. They then went to their first recording session where Smash used a NASA-made voice enhancer to make the group sound good. After this, they put on a show at Springfield Elementary School where they became a hit with the kids. 'N Sync then showed up because they saw the band formation notice and wanted to deliver them a gift basket.
Later, their first music video for their song "Drop Da Bomb" was shown on TV. Lisa found the video and song suspicious and played it back to find subliminal messaging within the video to get people to join the Navy. Lisa went to L.T. Smash to reveal this to him only to find that L.T. Smash was really Lieutenant Smash of the US Navy and that he was behind it. The Party Posse then had a performance on the USS Sea Spanker. However, an admiral told them that he was shutting down the boy band program as Mad magazine was about to release an issue mocking the Party Posse. Angry at this, Lt. Smash hijacked the ship and took it to New York City so he could destroy Mad Magazine Headquarters. 'N Sync then showed up to teach the Party Posse a new song and dance routine to diffuse the situation but they were too late and Smash destroyed the building.[1]
Non-canon
[
edit
]
| | |
| --- | --- |
| | The contents of this article or section are considered to be non-canon and therefore may not have actually happened or existed. |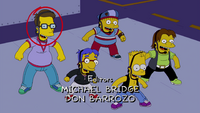 In a Chip Davis tribute, appears a photo where the late Chip, appears singing with the Party Posse on the USS Sea Spanker at the Springfield Squidport.[2]
Members
[
edit
]
Non-canon member
[
edit
]
Songs sung
[
edit
]
Non-canon songs sung
[
edit
]
Non-canon discography
[
edit
]
Appearances
[
edit
]
References
[
edit
]