Party Posse
Wikisimpsons - The Simpsons Wiki
Party Posse
Band Information
The Party Posse are a boy band consisting of Bart Simpson, Milhouse Van Houten, Nelson Muntz, Ralph Wiggum and the late Chip Davis (non-canon).
History
[
edit
]
They were discovered/founded by L.T. Smash, who used a NASA-built voice modulator to change their voices into that of a typical boy band. Their new voices made them an instant hit with the children of Springfield.
Their music video "Drop Da Bomb" featured the line "Yvan eht nioJ", which reads "Join the Navy" when read backwards.
The Party Posse was disbanded after L.T. Smash was revealed to be Lieutenant L.T. Smash, attempting to recruit people into the Navy via the band's subliminal messages. Smash decided to destroy the MAD Magazine headquarters after learning that MAD was planning to lampoon the Party Posse, which would destroy the recruitment ability of the band. He was arrested shortly after destroying the building.[1]
Non-canon
[
edit
]
| | |
| --- | --- |
| | The contents of this article or section are considered to be non-canon and therefore may not have actually happened or existed. |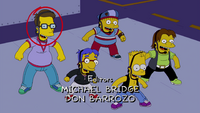 In a Chip Davis tribute, appears a photo where the late Chip, appears singing with the Party Posse on the USS Sea Spanker at the Springfield Squidport.[2]
Members
[
edit
]
Non-canon member
[
edit
]
Songs sung
[
edit
]
Non-canon songs sung
[
edit
]
Non-canon discography
[
edit
]
Appearances
[
edit
]
References
[
edit
]
---