The Simpsons Uncensored Family Album
Wikisimpsons - The Simpsons Wiki
The Simpsons Uncensored Family Album
Book Information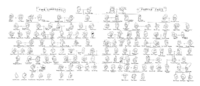 The Simpsons Uncensored Family Album (ISBN 0-06-096582-7) is a book, written by Matt Groening, that mimics a family album that the Simpson family would have. Among the things it reveals is the birth date of Bart Simpson, as well as the family trees of the Bouvier and Simpson families. Despite the fact that these family trees have never been directly contradicted in the show their canonicity is still unknown.
The Simpson tree can be found on the inside of the front cover, while the Bouvier family appears on the inside of the back cover. An interesting note is that Charles Montgomery Burns is included in the Simpson tree as Grandpa's fourth cousin via marriage. Homer is descended from Scandinavians and American Indians, which was even mentioned in the episode "Little Big Girl", while Marge is descended from the French. Another interesting note is that despite Amos Graycomb and Moselle Stemple marrying and having four children together, they are in fact second cousins.
The album is narrated by Marge. It begins with photographs and memorabilia from the ancestors of the two families, and then progresses with baby photos of Homer and Marge, and then profiles them as they grow up and fall in love. Finally it shows photographs and memorabilia from Bart's, Lisa's and Maggie's childhoods.
Alternate versions
[
edit
]
There are two different versions of The Simpsons Uncensored Family Album. One release has a picture of Bart on the cover, and another release has Homer on the cover.