Arthur Fonzarelli
Wikisimpsons - The Simpsons Wiki
Arthur "The Fonz" Fonzarelli
Character Information
Arthur "The Fonz" Fonzarelli (aka Fonzie) is part owner of a restaurant in Happy Days played by Henry Winkler.
History
[
edit
]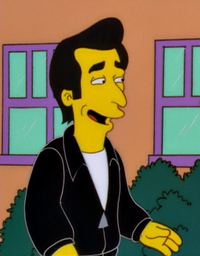 When Patty and Selma wanted Homer to do a quiz on fathers, they said to Marge that Henry Winkler was a father and then Winkler told a close friend "I don't always keep my cool like the Fonz but my love for my kids has given me plenty of happy days."[1]
When Homer was annoyed at Otto, who was living in their house, he said "This is not Happy Days and he is not The Fonz".[2]
When Lisa was a baby, Homer read to her from the TV guide. He read about an episode of Happy Days where The Fonz, played by Henry Winkler, is worried that he's losing his cool.[3]
When Homer and Marge were going to their reunion, Homer said that it would be great to see the old gang again, Potsie, Ralph Malph and the Fonz. Marge then told Homer that that was Happy Days. Homer then told Marge that they weren't all happy days. Like the time Pinky Tuscadero crashed her motorcycle or the night Richie Cunningham lost all his money to those card sharks and his dad, played by Tom Bosley, had to get it back.[4]
The Smithsonian Traveling Exhibit had the "Fonzie" jacket beside "The Bill of Rights". Homer was interested in the jacket and Bart asked him who Fonzie was. Homer was surprised, asking him if they taught them anything in school, explaining that Fonzie freed the squares.[5]
When the jukebox in Moe's Tavern started skipping, Homer hit the machine with his fist, just like Fonzie. Instead of fixing the machine, however, he just broke the glass and got a large cut on his hand.[6]
Arthur Fonzarelli turned up at Springfield Elementary School when students Mrs. Krabappel hadn't seen in years turned up, showing that he had been a student at the school.[7]
A picture of Fonzie was in a locket.[8]
A picture of Fonzie was seen on an old TV Guide cover.[9]
Non-canon
[
edit
]
| | |
| --- | --- |
| | The contents of this article or section are considered to be non-canon and therefore may not have actually happened or existed. |
Fonzie's jacket is seen in the Smithsonian Museum.[10]
Behind the Laughter
[
edit
]
In real life, the Smithsonian Institution does have one of the jackets used on Happy Days.
Appearances
[
edit
]
References
[
edit
]
External links
[
edit
]