Plopper
Wikisimpsons - The Simpsons Wiki
Spider-Pig redirects here. For the song, see Spider-Pig (song).
Plopper
Animal Information

Plopper, also known as Spider-Pig, Harry Plopper and Pig, is Homer Simpson's pet pig. Homer first meets Plopper when he and Bart are in Krusty Burger during the filming of a television advertisement starring Plopper for Krusty the Clown's new burger, The Clogger. After the filming is finished, Krusty orders the pig to be killed. Homer overhears these orders and decides to adopt Plopper against Marge's wishes.
Homer and Plopper become increasingly close to each other, often to the point of Homer treating Plopper more like a son than Bart, which adds to Bart's disliking of Homer and the pig. It is Plopper's "pig crap" and Homer's negligence which tips the pollution in Lake Springfield over the edge, causing one of the worst moments in Springfield's history.
History
[
edit
]
Before he became a member of the Simpson household, the nameless pig was previously an actor in a television commercial for Krusty Burger where he and Krusty promoted the release of the company's latest product, The Clogger. It was during the filming of this commercial at one of the Springfield locations that Homer came to notice him, and after Krusty ordered the pig to be killed, Homer decided to adopt the pig.
Although Marge Simpson wanted Homer to get rid of the pig because of a prophetic vision about a "twisted tail" received by the seemingly senile Abraham Simpson, Homer kept the pig and named him Spider-Pig, a play on the superhero Spider-Man. The two regularly played together, during which Homer would sing the lyrics to the "Spider-Pig song" as he walked Spider-Pig across the ceiling to mimic Spider-Man. Homer later renamed the pig several times, giving him the name Harry Plopper (a play on the character Harry Potter), and eventually settling on just Plopper. Homer also began storing the pig's droppings in an overflowing silo labeled "pig crap" in the backyard which Marge told him to dispose of. Homer disposed of the silo in Lake Springfield, causing the lake's water to become mutagenic and leading to a giant glass dome being placed over Springfield to contain the pollution. In the wake of the disastrous pollution in Springfield, Plopper fulfilled a part of Abraham Simpson's prophetic vision because of his twisted tail.[1]
Later, Plopper was inducted into the Springfield Wall of Fame[2] and was seen being placed as a present from one of Cletus's relatives at Bart and Mary's wedding.[3] He was also at one point borrowed by Luigi Risotto, who used him to look for truffles.[4]
Marge told Homer that he had to give up Plopper, who had been living in the Simpsons' back yard since the family moved back to Springfield after Trappuccino, because Plopper no longer bought him joy. Homer posted an ad on Gregslist and wanted to give him to a decent home. However, Homer decided he couldn't part with Plopper and decided to keep him as a therapy animal for anxiety, which he faked. This meant he could take Plopper wherever he wanted, including work.
Marge was unhappy at first but after seeing how Plopper made Homer, was happy to let Homer keep him. At a party at Burns' manor, Plopper got covered in barbecue sauce then attacked by the hounds. Lionel Budgie treated him in Burns' own medical facility and Mr. Burns decided that he wanted to keep Plopper and temporarily had him as a pet. Eventually, Homer broke in to steal him back and Smithers let him go back with Homer, as Smithers was jealous of Plopper's relationship with Burns.[5]
Non-canon
[
edit
]
| | |
| --- | --- |
| | The contents of this article or section are considered to be non-canon and therefore may not have actually happened or existed. |
At some point, Plopper nearly endangered the town again, although this time by somehow causing a nuclear meltdown that would happen in approximately thirty minutes. Just like Trappucino, this also resulted in most of the townsfolk forming an angry mob and attempting to kill Homer, as he was technically responsible due to his ownership of Plopper. Homer eventually managed to prevent the disaster from happening.
The Simpsons: Tapped Out
[
edit
]
This section is transcluded from The Simpsons: Tapped Out characters/Superheroes. To edit it, please edit the transcluded page.

Permanent Tasks
Task
Time
Reward
Requires
Quest with the task
Animated?
Pig Out
60m
105, 26
Simpson House
Roll Around in Muck
4h
260, 70
Crap Silo
Does Whatever a Spider-Pig Can Pt. 1
Do Whatever A Spider Can
8h
420, 105
Crap Silo
Does Whatever a Spider-Pig Can Pt. 3
Train for Future Conflict
10h
525, 135
Radioactive Man Statue
Enjoy a Tummy Rub
12h
1,020, 250
Homer
Simpson House
Does Whatever a Spider-Pig Can Pt. 5
Accept Great Power/Responsibility
12h
600, 150
Simpson House
Make a Deposit
24h
1,000, 225
Crap Silo
Behind the Laughter
[
edit
]
Plopper was voiced by Tress MacNeille in The Simpsons Movie. The "Spider-Pig" song gag which parodies the Spider-Man theme is arguably the most remembered and popular scene in the movie. It was featured in many of the promotional trailers for the film, but according to the writing staff, it was one of the latest additions to the film.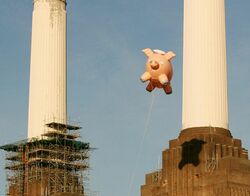 Plopper could also be a reference to the Marvel superhero Spider-Ham. His Italian name when Homer puts glasses on him is "Harry Porker" (Harry Plopper in English), a reference to both Spider-Ham real name, Peter Porker, and the Italian comic Harry Porker, a parody of Harry Potter as a boar.
During the film, when the Simpsons escape Springfield, Chief Wiggum shoots at the sinkhole that the Simpsons escaped through. This causes the house to get sucked in and demolished by the sinkhole. It was believed that Plopper possibly died during the destruction of the house, but the DVD release of the film shows a slightly alternate ending in which Plopper is seen helping out with the reconstruction of Santa's Little Helper's doghouse, along with the multi-eyed squirrel and Santa's Little Helper. In addition, he is featured in the couch gag in "He Loves to Fly and He D'ohs"; Homer cuddles the pig and refers to him as his "summer love." He has also made brief cameo appearances in the Heck House segment of "Treehouse of Horror XVIII", and later appears in "All About Lisa" and "Apocalypse Cow".
To promote the film's DVD release, producers of the series arranged to have a giant Plopper balloon recreate the iconic cover to Pink Floyd's 1977 concept album, Animals, by having Plopper float above the Battersea Power Station in the same manner of Pink Floyd's "Algie" pig balloon. Producers also arranged for a sharpshooter to stand by in the event of the balloon becoming accidentally untethered and drifting away — something that had happened to "Algie" during the 1976 photoshoot for Pink Floyd's Animals cover.
Appearances
[
edit
]
References
[
edit
]
Simpson family
Main family

Homer Simpson
•

Marge Simpson
•

Bart Simpson
•

Lisa Simpson
•

Maggie Simpson

Santa's Little Helper
•

Snowball II