Tabitha Vixx
Wikisimpsons - The Simpsons Wiki
Tabitha Vixx is a professional singer. She is married to baseball player Buck Mitchell.
History
[
edit
]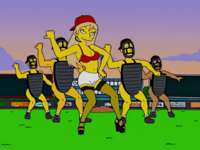 Tabitha Vixx performed the national anthem before a Springfield Isotopes game. She then turned the performance into her own song, "Trouble-istic". This performance was very provocative and included her stripping her clothes off. This embarrassed and angered her husband, Buck Mitchell, who played for the Isotopes. When Buck started to play badly due to these feelings, Howard K. Duff VIII and Duffman turned on the Kiss Cam as a distraction. Homer and Marge were among the couples on the Kiss Cam and they gave Buck an idea to save his marriage.
That night, Buck went to the Simpsons and asked them to help save his marriage as it wasn't going too well. Homer and Marge became counselors to Buck and Tabitha and tried to help them get over their problems. After Homer flirted with Tabitha, Marge decided to end the first counseling session. Homer then asked Buck to sign a load of baseballs.
The next counseling session took place at Buck and Tabitha's mansion. Marge and Homer start to make some progress with them, telling the couple to spend more time with each other. The two of them started to get along better and Tabitha wrote a new song, "Sexy Marriage Land". She performed the song on stage, once again stripping down. After the performance, Homer went to see her in her dressing room and Tabitha flirted with him. As Homer was eating fried chicken, Tabitha asked Homer to give her a chicken grease neck massage. Buck overheard this happening and stormed in to confront them about it. Buck then knocked Homer out and ended his counseling sessions.
Due to the fact Homer messed up Buck and Tabitha's relationship, and Buck started to play badly again, Homer and Bart started getting beaten up. Homer then tried to get Marge to help fix their relationship again, but Marge refused because Homer shouldn't have given Tabitha a neck massage. Homer went off alone to fix the relationship. After he left, Tabitha went to see Marge and told her that she had broken up with Buck. At the Isotope Stadium, Homer hijacked the Duff Blimp and made it display a message, supposedly from Tabitha, saying that she loved Buck. This caused Buck to hit the next ball really hard, and into the blimp. As it went crashing down, Homer bailed out. However, Buck thought that Tabitha was in the blimp and tried to find her. When he realized that she was never there, he confronted Homer once more. Tabitha then appeared on the big screen and told Buck that she would take him back if Buck could guess the attendance at the game. Buck and Tabitha then reunited once more.
Non-canon
[
edit
]
| | |
| --- | --- |
| | The contents of this article or section are considered to be non-canon and therefore may not have actually happened or existed. |
The Simpsons: Tapped Out
[
edit
]
This section is transcluded from The Simpsons: Tapped Out characters/No Bucks Given. To edit it, please edit the transcluded page.

Permanent Tasks
Task
Time
Reward
Requires
Quest with the task
Animated?
Go Skating
10m
26, 7
Simpsons' Skating Rink
Record Next Hit Solo
60m
105, 26
Sungazer Studio or
Krustylu Studios or
Mitchell Mansion or
Tabitha Vixx Stage
Overpay for Sex on the Beach
4h
260, 70
Smooches on the Beach
Stay at the Swelldorado
4h
260, 70
Swelldorado
Try to Win at Blackjack
4h
260, 70
$ Casino
Drink and Babysit
4h
260, 70
The Boiled Potato
Attend Coffee Meetup
4h
260, 70
Jittery Joe's Coffee
Throw the First Pitch
4h
260, 70
Tabitha Vixx Quest Pt. 3
Dance the Señor Burns
8h
420, 105
Chez Guevara
Watch Her Past Performances
8h
420, 105
Mitchell Mansion or
Tabitha Vixx Stage
Tabitha Vixx Quest Pt. 2
Perform "Sexy Marriage Land"
12h
600, 150
Tabitha Vixx Stage
Tabitha Vixx Quest Pt. 4
Enjoy a Night at the Theater
12h
600, 150
Springfield Playhouse
Post Photos Online
24h
1,000, 225
Mitchell Mansion or
Tabitha Vixx Stage
Personality
[
edit
]
Tabitha Vixx leans heavily into her looks and assets, using them to be provocative during her performances. This led to problems in her marriage, as Buck didn't like her flaunting her assets so much for everyone to see. Tabitha also wanted to keep her singing career going, even though Buck didn't want her to after they got married.
Behind the Laughter
[
edit
]
Tabitha Vixx was originally called Fiona Vixx, but someone on the writing team thought it sounded too similar to Fiona Apple.[1]
Appearances
[
edit
]
References
[
edit
]