Treehouse of Horror XXII
Wikisimpsons - The Simpsons Wiki
489
"Treehouse of Horror XXII"
XXII
"Treehouse of Horror XXII"
"Treehouse of Horror XXII"
Episode Information

"Treehouse of Horror XXII" is the third episode of season 23 of The Simpsons and the four-hundred and eighty-ninth episode overall. It is also the twenty-second installment in the Treehouse of Horror series and consists of three parts. It originally aired on October 30, 2011. The episode was written by Carolyn Omine and directed by Matthew Faughnan. It guest stars Aron Ralston as 911 dispatcher and Jackie Mason as Hyman Krustofsky.
Synopsis
[
edit
]
"In the spooky opener, Homer takes a dangerous dive into an isolated canyon on Candy Eating Peak, but when a crashing boulder traps his arm, he tries to bite off his arm. In "The Diving Bell and Butterball", the first of three hair-raising Halloween tales, a venomous spider bite leaves Homer paralyzed, but when Lisa discovers Homer's ability to communicate through natural gases, he is able to express his love for Marge. The killer spells continue in "Dial D for Diddly", when Ned Flanders, devout preacher by day, transforms into a cold-blooded vigilante by night, when Homer pretends to be God to tell Ned to murder Homer's enemies. In the final terrifying tale, "In the Na'vi" Bart and Milhouse are assigned on a mission to access a sacred extract on a distant planet, Rigel 7 (the notable home of Kang and Kodos). They morph into the land's indigenous one-eyed avatars, but when Bart finds love and an eternal mate abroad, he is caught in planet warfare."
Opening sequence
[
edit
]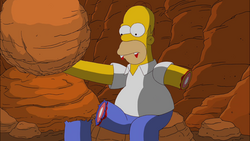 On Halloween, the kids come back from Trick-or-Treating with a massive haul of sweets. Marge, as the Switch Witch, switched their sweets with vegetables and tells Homer to take the sweets to a drop off facility to send them to American soldiers. Homer goes against this and goes to Candy Eating Peak to eat them, when he falls into a canyon and gets pinned by a boulder, with the bag of sweets just out of reach. After calling 911, he decides 20 minutes is too long to wait without sweets and decides to gnaw through his arm to get free. After gnawing through the other arm and a leg, he manages to free himself and open the bag, to find that it is full of vegetables instead with the kids stuffing their faces with sweets at home.
The Diving Bell and Butterball
[
edit
]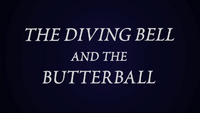 Homer is paralyzed after getting bitten by a real spider that got mixed up with the Halloween decorations. Lisa tried to read Homer The Brothers Karamazov to Homer's horror and he tries to make her stop the only way he can, by farting. Lisa then realizes that Homer can communicate this way and manages to get a message to Marge from him.
Later, as Homer is enjoying life, he gets bitten by another spider and gets spider-like powers. He swings from buildings with a hand truck attached to him taking out criminals and farting out webs. He and Marge then swing off back home.
Dial D for Diddily
[
edit
]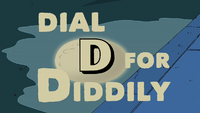 Ned Flanders drives through a seedy district of Springfield and starts doing lots of good chores, until he dumps a severed body into a local lake. Mr. Burns then drives up to dump nuclear waste in the lake and a large booming voice tells Ned to kill him. Ned does so and dumps the body in the lake too. Back at home, Ned gets ready to kill again when asked by who he thinks is God and also kills Sideshow Bob and Patty and Selma. He eventually finds out that Homer has been ordering these deaths, not God, and goes to kill Homer. Homer then burns Ned's Bible and the real God comes along and strangles Homer to death. When Marge walks in, God blames Ned for the death. Marge asks God to put everything right but he says that the Devil wouldn't like it, when he suddenly comes along and asks God to make him tea. Then, Maude Flanders comes along and asks the Devil to come back to bed, annoying Ned greatly.
In the Na'vi
[
edit
]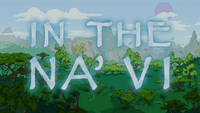 On the planet Rigel 7, the human forces are planning on getting hillarium for Krusty the Clown, a liquid which makes everything seem a lot funnier. They put Bart Simpson in an avatar body, along with Milhouse and send them to the planet to make contact with the natives and find the hillarium. Bart eventually falls in love with a Rigellian called Kamala and gets her pregnant. After finding out that the hillarium comes from the Rigellian queen, Milhouse calls the human forces and they go into war against the Rigellians and nature. the Rigellians win and Gary Chalmers is defeated by Bart. Kamala then says that they would have given them to hillarium if they had just asked.
Production
[
edit
]
To promote the episode, Burger King released a series of 10 toys as a tie-in to the episode. The characters are: Homer, Mr. Burns, Maggie, Scratchy, Bart, Marge, Kang, Lisa, Comic Book Guy, Milhouse.[1]
Prior to the episode airing, Al Jean announced that the writers have already started creating "Treehouse of Horror XXIII".[2]
Reception
[
edit
]
"Treehouse of Horror XXII" won the 2011 Annie Award for Writing in a Television Production.[3]
Promotional images
[
edit
]
References
[
edit
]