The Springfield Files
Wikisimpsons - The Simpsons Wiki
163
"The Springfield Files"
"Hello. I'm Leonard Nimoy. The following tale of alien encounters is true. And by true, I mean false. It's all lies. But they're entertaining lies. And in the end, isn't that the real truth? The answer is: No."
"The Springfield Files" Homer encounters an "alien" in the woods.
Episode Information

"The Springfield Files" is the tenth episode of season 8 of The Simpsons and the one-hundred and sixty-third episode overall. It originally aired on January 12, 1997. The episode was written by Reid Harrison and directed by Steven Dean Moore. It guest stars Leonard Nimoy as himself, David Duchovny as Agent Mulder and Gillian Anderson as Agent Scully.
Synopsis
[
edit
]
"Homer witnesses something out of this world in the woods near Springfield, but no one believes him, not even FBI Agents Mulder and Scully, who come to investigate the incident."
Leonard Nimoy hosts a paranormal television show where he narrates a tale of an alien encounter. He opens a book and tells the audience the story begins on a Friday morning in the little town of Springfield...
At the
Springfield Power Plant
,
Homer
announces his plan to head off to
Moe's
, despite
Lenny
telling him it's only 10am. "Don't worry, I have a plan," Homer adds, as he begins hooking up a VCR to
Sector 7-G
's security camera system.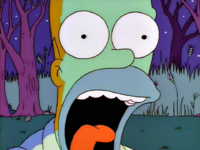 He inserts a video-tape which begins playing a recording (from the 70s) of Homer, Lenny, and
Carl
working on a continuous loop. Convinced his plan will work, Homer goes to Moe's, where he insists on trying a new beer seeing it's Friday night.
Moe
introduces him to
Red Tick Beer
, a brand brewed with real dogs. Homer drinks several bottles, before deciding to head
home
at 1am. Before letting him drive home, Moe forces Homer to take a breathalyzer test announcing he's drunk as
Boris Yeltsin
. With no other choice, Homer decides to walk home.
Homer begins his drunken journey home, but quickly becomes frightened by howling wolves and is disorientated by an approaching bus. The Psycho theme plays as the bus approaches, but it turns out it's just the Springfield Philharmonic. The violinist gets off and keeps playing the Psycho theme as she walks away. He dashes away and gets lost in the nearby woods. Frantically trying to find a way out, Homer's foot snags on a tree branch, and he falls to the ground. An eerie green light suddenly appears in the distance through the trees. Homer looks up in shock as he sees a tall, glowing creature waving its arms and walking towards him. Homer covers his eyes in panic and asks the creature not to hurt him, to which the alien-like form replies, "Don't be afraid." Homer lets out a scream and sprints away.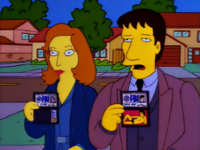 Homer arrives home at 2am and wakes up Marge. He begins to frantically tell her about his alien encounter, but Marge is reluctant to believe the story and asks if he was drinking. "No! Well...ten beers," Homer replies. The next morning at the breakfast table, Lisa isn't buying Homer's story and suggests maybe he just dreamed the whole incident. Homer remains adamant he saw an alien in the woods. Suddenly,Bart appears from behind them, dressed up as an alien and carrying a toy gun, exclaiming, "I am the thing from Uranus!" Homer gets frustrated with his family mocking him, so he heads to the Nuclear Plant to tell his co-workers the story. None of his co-workers believe it, so Homer visits the Springfield Police Station to report his encounter to Chief Wiggum. Wiggum doesn't believe Homer either and ridicules him by pretending to type up the report on an invisible typewriter. Homer leaves discontented.

Meanwhile, in Washington, D.C, at the FBI Division of Paranormal Activities, agents Mulder and Scully discover a report in the Springfield Shopper about Homer's encounter. Mulder insists on going to Springfield to investigate, but Scully reminds him of a shipment of drugs and illegal weapons coming into New Jersey later that night. "I hardly think the FBI is concerned with matters like that," Mulder replies, and the two agents leave for Springfield. They knock on the door of the Simpson house, where Marge mistakenly believes the two agents are here to arrest her for stealing a pen from the bank, but quickly invites them in once she learns their real reason for visiting.
The two agents take Homer to the F.B.I Springfield Branch, where they perform both psychological and physical tests on him. Later, they take Homer back to Moe's where they ask him to recreate his every move the night he saw the alien. He shows them the spot where he had the encounter, but fails to provide any real proof he actually did see an alien.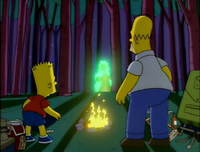 That night, Homer's expressing his annoyance with no one believing his story and the subsequent ridicule to Marge, who ultimately admits she doesn't believe him either. She begs him to just leave it be, but Homer refuses to share a bed with someone who thinks he's crazy. He's joined downstairs in the kitchen by Bart who reveals he believes Homer's story, and the two hatch a plan to return to the woods the following Friday to try to capture the alien on film.
The next Friday night, Homer and Bart camp out in the clearing. The two encounter the alien, who points at them with a long finger and says gently, "I bring you peace." Homer says, "And I bring you..." and accidentally stands in the campfire, setting his trouser leg on fire, scaring off the creature. Homer lets out a "D'oh!" because they let the alien get away without having any proof of his reappearance. However, Bart managed to capture the whole event on film, and the father and son duo jump up and down with excitement.
Leonard Nimoy closes the book and concludes his narration, thus ending the story with Homer and Bart obtaining proof of alien existence. Just as he's about to bid goodnight to the viewers, the stage hand reminds him the show still has ten minutes left. Nimoy says he needs to get something out of his car, but this is just a ruse, and he speeds off - making a quick getaway. The stage hand looks around at the empty set confused, before uttering, "I don't think he's coming back..."
Act III
[
edit
]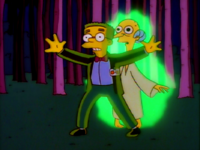 The following day, Homer watches a Channel 6 news report by Kent Brockman on the alien encounter and calls for the whole family to watch. The news report plays the tape Bart filmed and within minutes, half of Springfield's at the Simpson's door and now fully convinced Homer indeed saw an extraterrestrial. Despite this support, Lisa remains skeptical.

Friday night comes again, and all of Springfield set up camp at the clearing in the woods, anticipating another appearance by the alien. To Bart's surprise, Leonard Nimoy also joins the Springfielders in the waiting. Shortly after, dark thunder clouds roll over the woods, and the familiar green glow becomes visible through the trees. The alien comes into plain sight, and Marge apologizes for not believing Homer. The alien's surrounded by Springfielders, and repeats "I bring you love." Several townsfolk try to capture the alien and rapidly gang up on it with baseball bats and pitchforks. Suddenly, Lisa stands before them and announces, "You want an alien? This is your alien!" She shines a flashlight on the figure, and all's revealed - it's not an alien at all, but a well-known Springfieldian: Mr. Burns. Smithers appears to explain:
It transpires every Friday night, Mr Burns undergoes a series of medical treatments designed to help him cheat death for another week. These treatments include: a spinal adjustment, eye-drops, painkillers, and a vocal cord scraping. The whole ordeal leaves Mr Burns twisted, disorientated, and with a sweet heavenly voice (due respectively to the anesthesia and throat-work). He's allowed, by the incompetent Dr. Nick, to leave the hospital and wander around in the woods. The green glow's a result of Burns spending a lifetime working in a nuclear power plant.
Mr. Burns returns to his usual menacing state and says "And now that I'm back to normal, I don't bring you peace and love...I bring you fear, famine, pestilence, and..." Dr. Nick sneaks up behind Mr. Burns with a large needle and quickly administers the booster shot. Mr. Burns reverts back and starts singing "Good Morning Starshine". The whole town unites by holding hands and singing with Mr. Burns. Marge tells Homer she's proud of him for bringing peace and love to the town, and the two kiss and embrace.
"And so concludes our tale," says the show's new narrator - the stage hand, the Squeaky-voiced teen. He closes the book and adds, "I'm Leonard Nimoy and keep watching the skies," although he mispronounces "skies" in doing so.
Production
[
edit
]
Written by Reid Harrison and directed by Steven Dean Moore, the episode guest starred David Duchovny and Gillian Anderson as their X-Files characters, FBI Agents Fox Mulder and Dana Scully. Leonard Nimoy also guest-starred for the second time, after first appearing in "Marge vs. the Monorail".
The basic premise of the episode came from former showrunners Al Jean and Mike Reiss, who, while under contract with the Walt Disney Company, returned to produce the episode.[1]
The writers struggled to come up with an ending for the episode, which will need to include a satisfying explanation for the alien. Originally, they planned to just leave it a mystery, but ultimately decided to make the alien Mr Burns following longevity treatment.[2]
Reception
[
edit
]
Al Jean and Mike Reiss won a 1997 Annie Award for "Best Individual Achievement: Producing in a TV Production" for this episode.[3]
The episode received positive reviews from TV critics. The authors of the book I Can't Believe It's a Bigger and Better Updated Unofficial Simpsons Guide called it "a very clever episode, with the line-up being one of the best visual gags in ages", but were critical of the brief appearance of the X-Files guest stars.[4] IGN.com, in a flashback review, concluded that "it's an odd, silly, funny episode that would have worked even without the X-Files crossover, but having Spooky and Dana involved just made it that much cooler" and ultimately gave the episode a rating of 8.8/10.[5] In 2010, Leonard Nimoy's work for this episode was ranked as the eleventh best guest appearance in the history of The Simpsons.[6]
Fans also praised the episode. Reviews submitted to The Simpsons Archive named the episode "hysterical" and "a definitive Simpsons classic", with many calling it the best episode of the season.[7] The episode currently holds a 9.1 TV.com rating,[8] and an 8.3 rating on IMDb.[9]
Gallery
[
edit
]
References
[
edit
]