Flanders' Book of Faith
Wikisimpsons - The Simpsons Wiki
Flanders' Book of Faith
Book Information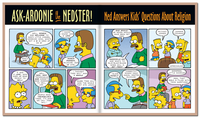 Flanders' Book of Faith is the seventh book in The Simpsons Library of Wisdom series. It was released in the United Kingdom on April 7, 2008 and in the USA and Canada on September 19, 2008.
Description
[
edit
]
"Hi-diddly-ho, true believers! Ned Flanders, everyone's favorite no–nonsense neighborino, is here to lend a helping hand, full of homespun and home-schooled hints. Follow the Nedster as he leads you through the thorny debate over church vs. state, comparing the Commandments to the Constitution; focus on the Flanders' family tree; get a glimpse of Springfield through Ned's Neighborhood Watch, and learn the forbidden words (a.k.a. Neddy No-Nos) in the Flanders' household."
"This gospel of goodness also includes a souvenir map to Praiseland, the shrine and amusement park dedicated to his late wife, Maude; Ned's Comic Book of Virtues; and a sampling of the SharpeN'Edge, a catalogue of the left-handed luxuries available only at the Leftorium. Whether you live north, south, east or even west of the Bible belt, good ol' Nedilly Doodilly will put you on the road to righteousness!"
"It's the ding-dangiliest book of wisdom yet. It's the... Flanders' Book of Faith!"
Contents
[
edit
]
Ned's Top 40
Focus on the Flanders Family Tree
Ask-Aroonie the Nedster! Ned Answers Kids' Questions about Religion (Part One)
Ned's Daily-Diddly Diary!
Maude Flanders: Late Mate and Mother of Ned's Little Kididdles
What Would Ned Do? (Part One)
Ned's List of Laudable Lefties
The SharpeN' EDge
The Many Manly Mustaches of Man
Anatomy of Ned
What Would Ned Do? (Part Two)
Scrub-a-Dub Flanders' Naughty Lyrics Laundry
A Ned Flanders Cookbook!
Ask-Aroonie the Nedster! Ned Answers Kids' Questions about Religion (Part Two)
Ned's Lifetime To-Diddly-Diddly-Do List!
Junior Camper Oath
Junior Camper Merit Badges Earned in Recognition of Meritorious Achievement
God: The Alpha and the Omega, Maker of Heaven and Earth
The Devil: The Enemy, The Great Deceiver, The Lord of the Flies
Neddy No-No's: Words Forbidden in the Flanders Home
A Comic Book of Virtues
Praiseland Souvenir Map
Tiny Traumatized Tykes: Ned's Collection of Humble Figurines
Still Image from God's Webcam: Ned Flanders' Desk
Flanders-Approved Textbooks for Todd and Rod from the Texas Home School Book Depository
Ask-Aroonie the Nedster! Ned Answers Kids' Questions about Religion (Part Three)
Ned's Nix and Picks from the Flap Doodle Music Album Archives
Reverend Timothy Lovejoy: Spiritual Leader of Springfield
Helen Lovejoy: Pastor's Wife and Town Gossip
40 Types of People You Meet in Church
Homer Simpson's Dream Church
The 10 Commandments vs. The Bill of Rights
Ned-Approved Family-Safe TV Viewing Log
Happy to Meat Ya! From the New Fashion Collection of Ned's BBQ Aprons
Inside Ned's Brain
What Would Ned Do? (Part Three)
Rod and Todd-Safe Halloween Costumes
Ask-Aroonie the Nedster! Ned Answers Kids' Questions about Religion (Part Four)
The Slippery Slope: Ned Flanders' Illustrated Pocket Guide to the 21 Danger Signs along the Road to Moral Decay
What Would Ned Do? (Part Four)
Ned's Beatnik Parents: Angel-Headed Hipsters
The Flanders Family Newsletter
Ned's Christmas List
Ned's Bumper Stickers
Ned's Bottom 40
External links
[
edit
]