Clancy Bouvier
Wikisimpsons - The Simpsons Wiki
"When that Simpson boy showed up, it took years off my life!"
―Mr. Bouvier
Clancy Bouvier
Character Information
Clarence "Clancy" Bouvier,[1][2] occasionally referred to as Grampa Bouvier,[3][4] was the chain-smoking husband of Jacqueline Bouvier, the father of Patty, Selma and Marge Simpson, father-in-law of Homer Simpson and maternal grandfather of Bart, Lisa and Maggie Simpson and Ling Bouvier. He was of French origin.[5]
Biography
[
edit
]
Like Patty and Selma, he was a chain smoker. While he was courting his future wife, he sent her a box of candy with his photo in it. After that, she never forgot him. Marge suggested that Homer try the same thing when he was upset because Mr. Burns did not remember his name.[6]
At some point he also served in the United States Navy where he picked up a swearing problem, which nearly cost him his job as a baby photographer. To solve this problem, his wife put a swear jar in the kitchen, and every time Clancy said a bad word, he had to put in a quarter.[7]
Clancy was one of the earliest male flight attendants, a job he held when Marge was a child, although he was ashamed of it, and told her he was a pilot instead. This was discovered when Marge boarded his plane to see her "pilot" father, but when she sees him performing stewardess duties, he yells at her not to look at him. This, along with several other plane-related mishaps, may have resulted in Marge's fear of flying.[8]
Dislike of Homer
[
edit
]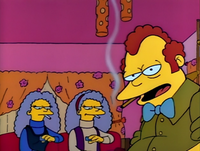 Clancy first met Homer when he showed up at the Bouvier home claiming to be Marge's prom date (who was actually Artie Ziff). He was kind and complimentary to Homer, saying that "from what she's told me I'm sure you're a solid citizen", since he was under the impression that Homer was Artie.[9]
It is revealed later that his behavior may have just been common courtesy: When Marge returned home after the prom, she overheard her father stating that "when that Simpson boy showed up it took years off my life", to which her mother replied with, "Will you stop? She went with the good one" (referring to Artie).
Later life
[
edit
]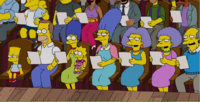 Ever since his children were little, Clancy went to Springfield Town Hall to sing the City Anthem, and continued to do so as he aged. He was still alive when his grandchildren Bart and Lisa were toddlers.[10] We know that Clancy is deceased, since Homer said he had bought Marge a "white-noise machine" to help her deal with her father's death.[11] It was later revealed by Jacqueline that he died of lung cancer.[3] At some point prior to his death, Clancy lost his leg.[4]
Non-canon
[
edit
]
| | |
| --- | --- |
| | The contents of this article or section are considered to be non-canon and therefore may not have actually happened or existed. |
According to Lisa Simpson, her grandfather, Clancy died in a freak rollercoaster accident.[12]
In "Treehouse of Horror III", Clancy was eaten by the groom at King Homer's marriage to Marge (the segment is an obvious parody of King Kong).
The Simpsons: Tapped Out
[
edit
]
Appearances
[
edit
]
References
[
edit
]
Airport and Airline Staff