Treehouse of Horror XXI
Wikisimpsons - The Simpsons Wiki
468
"Treehouse of Horror XXI"
XXI
"Treehouse of Horror XXI"
"They should call this one recipe for murder."
"What do you mean "this one?""
"Never mind."
―Homer
"Treehouse of Horror XXI"
Episode Information

"Treehouse of Horror XXI" is the fourth episode of season 22 of The Simpsons and the four-hundred and sixty-eighth episode overall. It is also the twenty-first installment in the Treehouse of Horror series and consists of three parts. It originally aired on November 7, 2010. The episode was written by Joel H. Cohen and directed by Bob Anderson. It guest stars Daniel Radcliffe as Edmund and Hugh Laurie as Roger.
Synopsis
[
edit
]
Opening Sequence
[
edit
]
Bart and Homer are carving pumpkins and Bart slices a smile into Homer's pants. Homer chokes him, so Bart puts a flaming pumpkin on his head. Professor Frink then introduces the show, giving a warning about the content and telling those concerned to skip forward. He skips forward too far and says he has ruined the show. He points the remote at himself until he dies and turns to dust. This blows away to say "Treehouse of Horror XXI". The monster picks up the remote and mentions The Office. This leads to a parody of the opening, set in the monsters work place.
War and Pieces
[
edit
]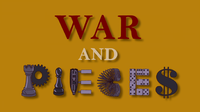 Marge, worried about the effects of excessively violent video games, encourages Bart and Milhouse to give the wholesome, classic board games in the attic a shot. The best friends discover a board game called Satan's Path. Upon playing it, it causes all the games to come to life and alter reality as the two must beat all the games' challenges to restore everything to normal.
Master and Cadaver
[
edit
]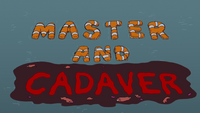 Homer and Marge set sail on a second honeymoon, but is interrupted by a castaway, who they rescue. Roger was a chef on the Albatross who was knocked out after trying to prevent an attempted poisoning on the ship. Convinced that Roger poisoned the passengers and plotting to murder them after seeing a dead shark with a recently made pie pan in its mouth, Homer and Marge take matters into their own hands as they seemingly killed Roger and knock his body overboard. However, finding the Albatross, they realized Roger was telling the truth. Roger appears again and Homer then kills Roger, and the surviving bankers, which shocks Marge who eats the poisoned pie. It would all turn out to be Maggie's imagination.
Tweenlight
[
edit
]
Lisa Simpson falls in love with a vampire named Edmund. After Edmund reveals that he is a vampire, Lisa invites him round for dinner. Homer and Count Dracula embarrass them to the point that they run away to Dracula-la Land. After Homer and Dracula find them, Dracula and Edmund try to force Lisa to become a vampire and Homer gets in the way. His high blood cholesterol kills the vampires. Homer then turns into a fat bat and tries to fly away, falling to his death as he is too fat to fly.
Production
[
edit
]
Reception
[
edit
]
Composer Alf Clausen was nominated for a Primetime Emmy Award for Outstanding Music Composition for a Series in the 63rd Primetime Emmy Awards for "Treehouse of Horror XXI". However, it lost to "John Muir in the New World" from American Masters.[1]
Director Bob Anderson was nominated for an Annie Award for Directing in a Television Production, but lost to Kung Fu Panda Holiday.[2]
Gallery
[
edit
]
References
[
edit
]