Alice Glick
Wikisimpsons - The Simpsons Wiki
"They've never improved on iodine."
―Mrs. Glick
Alice Glick (generally referred to as Mrs. Glick) is an elderly woman who resided in Springfield.
Biography
[
edit
]
Mrs. Glick lived in the Simpsons' neighborhood. Bart met her when he was trying to earn money to buy a collector's item comic book. Mrs. Glick put Bart to work doing chores around her house, but because she paid him very poorly, he quickly grew to loathe her. During one of Bart's work sessions with Mrs. Glick, she showed him "an old lady thing" where she dyed her wedding dress black for her husband's funeral.[2]
She has a booth at the Springfield Swap Meet where she is selling extremely value items for 5¢ (including the United States Declaration of Independence, a copy of Action Comics #1, a complete block of 1918 Inverted Jenny misprint United states postal stamps, and a Stradivarius violin.[3]
Doctor Hibbert confessed to once leaving his car keys inside her while operating.[4] She also tried to sell a candy dish for ninety dollars that she forcefully insisted could only be used for storing candy.[5] Mrs. Glick once took the heart donor ticket off her I.D., along with many other people around her.[6] She has civic pride telling Lisa to "think of Jebediah and the words" when Lisa hesitates to tell the citizenry the truth about town founder Jebediah Springfield.[7] Mrs. Glick is among the protesters outside the Immigration and Naturalization Service building with a sign reading HOMER SAYS "GET OUT" that Homer had made.[8] While walking along a street with her groceries, Mrs. Glick trips in and ends up upside down inside garbage can.[9]
Mrs. Glick was elderly and possibly suffered from dementia; consequently, her grasp on reality could be questioned at times. When residents of Springfield were at the Kwik-E-Mart stocking up food for a hurricane, she grabbed Lisa's head, thinking she was a pineapple, and carried her on her shopping cart along with Ralph (whom she thought was a pumpkin). Ralph then revealed that Mrs. Glick planned on cooking them into a pie.[10]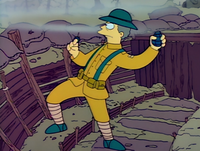 Mrs. Glick had a brother named Asa, who died during World War I. He was killed by his own grenade when he held onto it for too long.[2] She owns a Siamese and is regular viewer of the daytime drama Search for the Sun which she referred to as "her stories."[2]
It is revealed that Mrs. Glick was a long-time friend of Mrs. Bellamy. However, given that Mrs. Bellamy does not exist, but is a fictional character created for the reality show Frame Up, this could mean the show's producers either hired Mrs. Glick to be part of the cast or knew of her dementia and took advantage of it to get her to go along with the story.[11]
Non-canon
[
edit
]
| | |
| --- | --- |
| | The contents of this article or section are considered to be non-canon and therefore may not have actually happened or existed. |
Mrs. Glick was killed by one of the robotic baby seals built by Bart and Martin, after the funeral home executives changed them from being good to being evil. Kent Brockman read the story of her death on Channel 6 News. The story revealed that her first name was Alice. Soon after her death, she was seen dancing in Heaven with Jesus.[12]
In Bart's coma dream, she was one of the ghosts who came to Bart to get help in moving on to the afterlife.[13]
Alice is later seen alive, saying to Kent Brockman that Grampa murdered her once, and that's why her family doesn't visit her.[14]
The Simpsons: Tapped Out
[
edit
]
This section is transcluded from The Simpsons: Tapped Out characters/Oldies. To edit it, please edit the transcluded page.

Permanent Tasks
Task
Time
Reward
Requires
Quest with the task
Animated?
Go Skating
10m
17, 5
Simpsons' Skating Rink
Hand Out Mints
60m
70, 17
A New Wrinkle on Dating Pt. 4
Steal Bingo Cards
60m
70, 17
Retirement Castle or
Brown House
Overpay for Sex on the Beach
4h
260, 70
Smooches on the Beach
Stay at the Swelldorado
4h
260, 70
Swelldorado
Try to Win at Blackjack
4h
175, 45
$ Casino
Drink and Babysit
4h
175, 45
The Boiled Potato
Pay Tribute
4h
175, 45
Original Brown House
Attend Coffee Meetup
4h
175, 45
Jittery Joe's Coffee
Auction Off Wares
4h
175, 45
Springfield Swap Meet
Dance the Señor Burns
8h
420, 105
Chez Guevara
Prepare the Ritual
8h
275, 70
Ms. Glick's House
Mystery of the Brown House Pt. 4
Have a Knitting Circle
8h
275, 70
A New Wrinkle on Dating Pt. 3
Act Young
12h
420, 100
Retirement Castle or
Brown House
A New Wrinkle on Dating Pt. 1
Organize Photo Album
24h
600, 150
Ms. Glick's House
Behind the Laughter
[
edit
]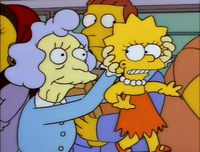 Following her debut in the episode "
Three Men and a Comic Book
", Ms. Glick became a recurring minor character, often seen at the hospital or the Springfield Retirement Castle. In addition to minor speaking roles, she also lingers in the background of various episodes, often laughing toothlessly.
In her first appearance, Mrs. Glick was voiced by Cloris Leachman. In all her other appearances, Mrs. Glick was voiced by Tress MacNeille.
Appearances
[
edit
]
Episodes:
Specials:
Adverts:
Simpsons Illustrated:
Simpsons Comics:
Treehouse of Horror:
Bart Simpson:
Futurama Crossover:
Comic Strips:
Winter Wingding:
Video Games:
Books:
References
[
edit
]
| | |
| --- | --- |
| | Wikisimpsons has a collection of images related to Alice Glick. |