Blood Feud
Wikisimpsons - The Simpsons Wiki
"I'm with you, Homer! Fight the Power!"
"Blood Feud"
Episode Information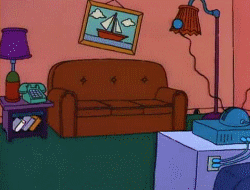 "Blood Feud" is the twenty-second and final episode of season 2 of The Simpsons and the thirty-fifth episode overall. It originally aired on July 11, 1991. The episode was written by George Meyer and directed by David Silverman.
Synopsis
[
edit
]
"Homer discovers that Bart has a rare blood type that can save Mr. Burns' life, Homer convinces Bart to give blood (in the hopes that Burns will give The Simpsons a cash reward), but when all Mr. Burns gives Bart is a "Thank You" card, Homer writes a nasty letter to his boss...which ends up getting sent to Burns by Bart."
Mr. Burns becomes deathly ill. He is diagnoses with (the fictional ailment of) hypohemia, an affliction that leaves a person without enough blood to sustain life. Desperate to save his boss, Smithers issues a plea to the plant's employees for a double-O-negative blood donor. Thinking Burns will reward him richly, Homer volunteers, but he does not have the right blood type. Bart happens to be a match, and Homer has the boy donate blood to his boss. After the transfusion, Burns is more alive than ever. He even decides to pen his autobiography.
Homer deems Burns' meager thank-you card to be an inadequate response to the gift of life. He immediately writes his millionaire boss a venomous letter, but Marge stops him from mailing it. The next morning, Homer is grateful that Marge's cooler head prevailed and goes to tear up the letter. Unable to the find the hate-filled note, he discovers that Bart has already mailed it. Homer tried unsuccessfully to retrieve the letter, but Burns sees it. Angered, Burns vows to make Homer's life miserable.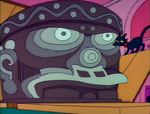 First, Burns signs Homer's pink slip, then he orders Smithers to have Homer beaten to a pulp, but Smithers refuses, explaining that he is unable to harm the man who saved his boss' life. Coming to his senses, Burns realizes the good deed the Simpsons have done, and buys them an extravagant present, a rare Olmec head statue. Bart thinks it's cool, but Homer doesn't think it is a fitting reward. The family cannot decide on the moral of the story, or even if it has one. They do however agree that is has been a memorable few days.
Reception
[
edit
]
This episode was part of the second season production run, but was completed behind schedule,[1] so it was broadcast after the normal season run as part of Fox's "premiere week", which during, Fox aired new episodes of their top shows. The reason for this is so they could gain new viewers for the fall. This episode is considered a second season episode, being part of The Complete Second Season DVD boxset.
This episode finished 24th in the ratings for the week beginning July 8, 1991, with a Nielsen rating of 10.9. It was the second highest rated program on Fox, only beaten by Beverly Hills, 90210.[2]
In other languages
[
edit
]
| Language | Name | Translation |
| --- | --- | --- |
| Magyar | "Vérbosszú" | Blood feud |
References
[
edit
]
| | |
| --- | --- |
| | Wikisimpsons has a collection of images related to "Blood Feud". |
| | |
| --- | --- |
| | This article about a Simpsons episode is a stub. You can help Wikisimpsons by embiggening it. |