Them, Robot
Wikisimpsons - The Simpsons Wiki
"So to sum up, nicely done, we hate you, and food for thought."
―Homer to Mr. Burns about the power plant and the robots.

"Them, Robot" is the seventeenth episode of season 23 of The Simpsons and the five-hundred and third episode overall. It originally aired on March 18, 2012. The episode was written by Michael Price and directed by Michael Polcino. It guest stars Brent Spiner as A9000 Robots.
Synopsis
[
edit
]
"Mr. Burns replaces all of Springfield Power Plant's employees with robots but decides to keep Homer as the sole human worker. With unemployment at an all-time high and mechanical arms operating the workplace, Springfield becomes a dismal and humorless place. But when Homer's machine-programmed peers start to turn on the community and his former real-life employees come to the rescue, they all realize that robots can't replace human friends."
Mr. Burns announces to his Springfield Power Plant employees that all of them will have to take a physical examination to be tested for narcotics. He reminds them that alcohol counts as a narcotic. Homer attempts to resist his urge to drink alcohol all weekend, in order to pass his examination on Monday. After Burns receives a large bill to pay for all of the employee's examinations, he decides to re-staff by hiring intelligent kangaroos instead. Waylon Smithers, Jr. points out to him that the kangaroos stole stationary supplies and ran away. Smithers then suggests a "more high-tech solution." Burns unveils his new workers, A9000 Robots, to the Power Plant employees, whom he subsequently proceeds to fire.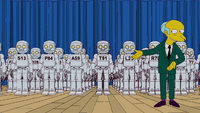 Smithers informs Burns that they are required to keep one human worker and he decides to keep Homer, to sign for packages etc. Burns also replaces Smithers with a A9000 Robot. Meanwhile, Homer begins to dislike his new job as he has no one to talk to and the robots won't interact with him. Later, at Moe's Tavern, Homer learns that all the redundant Power Plant workers have still not found new jobs and are struggling to make ends meet. The next day, Homer, while messing around, accidentally breaks one of the robots. He reads up in the A9000 Repair and Maintenance Manual and discovers that he can make the robots interact with him. After several failed attempts at this (as seen by several destroyed robots), Homer manages to activate "conversation mode" on Robot D39 and befriends it.
Marge, Bart, Lisa and Maggie pay a visit to town and see that all the local businesses are closing down. Marge reminiscences about how nice of a man Mr. Burns was when he moved to Springfield. In a flashback, a young Marge watches a street parade, where Mr. Burns announces the opening of his power plant and the abundant jobs that he is creating. Back in the present, we are shown how several of Springfield's residents are dealing with their new-found poverty; Lenny has taken up being a windscreen cleaner, Smithers is now a substitute teacher and Barney is a struggling stripper.
At the plant, Homer is having more fun at work since he has befriended Robot D39. As Homer converses about his life, D39 deduces that he is having family problems. Homer announces it is time to go to Moe's but D39 informs him that the automated workers are not able to leave the plant. It then tells Homer that their programming restricts their movement to the yellow guidance lines incorporated into the floor. This gives Homer an idea - he spray paints a new yellow line across town to the baseball field, where he and the bots all play a game. While trying to catch a long ball, Homer is nearly hit by an oncoming truck, but one of the robots sacrifices itself to save Homer's life. Their primary directive is to preserve human life. Homer continues to mourn the robot in the middle of the road, unaware that the other robots are all sacrificing themselves in the speeding traffic headed for Homer. Later that evening, in the Simpson's backyard, the family, accompanied by the remaining A9000 Robots, burn the bodies of the destroyed bots.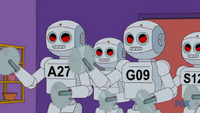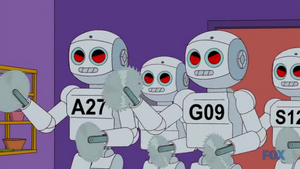 After, Homer attempts to raise a toast to the deceased robots by drinking a
Duff
, the bots snatch the beer away, which angers Homer. He tries to make some 'adjustments' on the A9000 robots by drilling into their heads, but this makes things worse - their primary directive is disabled and they set their new goal as destroying humans. Homer dashes away and the robots give chase.
Homer arrives at Burns' Manor, where he informs his boss of the robot's new directive. Mr. Burns releases the hounds, which the robots quickly deal with. Burns angers his hounds and both them and the robots chase them through the manor. Homer and Burns attempt to hide in the greenhouse, but the robots quickly spot them and smash through the glass and circle them. Just then, the former Power Plant workers enter and battle the robots ferociously. Homer thanks his friends for saving his life and Mr. Burns hires back his old workers. However, Homer decides to keep one of the A9000 robots and reprograms it to go on fishing trips with him. But the robot decides to self-destruct rather than spend another minute with Homer.
Production
[
edit
]
The episode was written by Michael Price and directed by Michael Polcino. Brent Spiner, of Star Trek fame, guest stars as the A9000 Robots.
Reception
[
edit
]
"Them, Robot" aired on Fox on March 18, 2012 and was watched by 5.24 million viewers, providing a slight increase in viewership compared to the previous two episodes. With a 2.4 Nielsen rating in the key demographic, the episode became the second highest-rated broadcast in Fox's Animation Domination lineup that night.[1]
The episode received generally positive reviews from TV critics. Firefox News said "Fairly inoffensive, and utterly average in every single respect. It wastes time on Homer's desperate quest to avoid drinking alcohol for a drug test – a subplot that goes nowhere when the main focus of the plot is Burns being at fault for the negligence. You'll chuckle, you'll smile a few times – and if you're a TNG fan you'll laugh aloud at Mister Spiner's work – but it's not a knee-slapper. Perhaps 'amusing' is enough for some, but the show needs just a little bit more to transcend average and become great.[2]
Fans had mixed opinions of the episode with many being disappointed with the lack of comedy.[3] "Them, Robot" currently holds a 7.4/10 rating on IMDb.[4]
Gallery
[
edit
]
References
[
edit
]
| | |
| --- | --- |
| | Wikisimpsons has a collection of images related to "Them, Robot". |