Homer the Whopper
Wikisimpsons - The Simpsons Wiki
"I have a bad feeling about this movie. Our star's overweight, we're way over budget, and that grasshopper raptor we built seems to have developed a mind of its own."
―Studio Executive
"Homer the Whopper"
Episode Information

"Homer the Whopper" is the first episode of season 21 of The Simpsons and the four-hundred and forty-second episode overall. It originally aired on September 27, 2009. The episode was written by Seth Rogen and Evan Goldberg and directed by Lance Kramer. It guest stars Matt Groening as himself, Kevin Michael Richardson as the Ginormous Pictures security guard, and Seth Rogen as Lyle McCarthy.
Synopsis
[
edit
]
"Comic Book Guy creates his own comic book, Everyman, which becomes a huge hit. A film based on the comic is produced but it ends up having many problems, including Comic Book Guy getting shut out of his own creation."
Bart and Milhouse enter The Android's Dungeon to annoy Comic Book Guy. After Comic Book Guy goes to his back room, the kids discover a comic book that Comic Book Guy himself had created, Everyman. They read the issue they find and enjoy it. Bart and Milhouse then convince Comic Book Guy to self-publish the comic. It gets shipped out all over Springfield and to other comic shops where it proves to be a huge hit.
The comic gets the attention of Marv, an executive at One-Week Wonder Films. Marv decides that Everyman will be their next Summer blockbuster. He is then informed that the rights to the film were already bought by Ginormous Pictures. At The Android's Dungeon, the producers at Ginormous Pictures convince Comic Book Guy to let them make the movie. Comic Book Guy eventually agrees, but only if he can choose who plays Everyman. The producers reluctantly agree and the casting process starts. After Comic Book Guy had rejected everyone, Homer walks into the store needing change for a dollar. Comic Book Guy decides that Homer is perfect for the role and signs him on.
After breaking the news to his family, Homer starts production on the film. He is told that people don't like how he looks in his superhero costume, so he needs to lose weight. The producers hire personal trainer Lyle McCarthy to help get Homer into shape with a fitness regime. Meanwhile, Hollywood had changed Comic Book Guy and he had adopted a Cambodian orphan, Prius.
Lyle trains Homer to the point where Homer has become fit and muscular. This impresses Marge, who enjoys making love to Homer again. During filming of a scene, Lyle tells Homer that he has to go to another client. After Lyle leaves, Homer starts to binge eat again, putting on weight. This leads to problems with filming, since Homer had quickly put on a lot of weight. As filming continued, there were more problems, including Homer getting stuck in his trailer. Comic Book Guy was also forced out of the creative process of the film.
Eventually, the film was ready for a test screening at the Aztec Theater. The film had Homer as Everyman changing his body shape frequently due to how it had been cut together. It ended up as a massive flop and nobody liked it. The producers told Comic Book Guy that if he just lied and told his online community that he enjoyed the film, he could direct the sequel. Comic Book Guy considered this offer, but decided against it and told everyone that it was the worst film ever.
Production
[
edit
]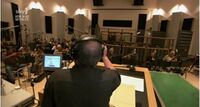 Seth Rogen and Evan Goldberg, writers of the film Superbad, asked the producers of The Simpsons if they could write an episode. They were invited to the writers room where they pitched several episode ideas. One was accepted, and they wrote an outline with the help of some feedback from the regular writers.[1] The table read took place in August 2008, and production on the episode began soon after that.[2] Rogen later said "we sat down for a read-through and three hours later I'm in a studio improv-ing with Homer Simpson, it was the single greatest day of my life."[3]
Reception
[
edit
]
In its original airing, "Homer the Whopper" was watched by 8.31 million people and received a 4.3 Nielsen rating/12 share.[4]
Emily Todd VanDerWerff of The A.V. Club gave the episode a B rating. She said that this episode wasn't as good as the last celebrity guest script episode; "Homer Simpson, This Is Your Wife", written by Ricky Gervais. However, she called it a "mostly amusing season premiere".[5]
As of January 2022, "Homer the Whopper" has a 7.1 rating on IMDb.[6]
References
[
edit
]