Karl
Wikisimpsons - The Simpsons Wiki
For the regular character, see Carl Carlson.
Karl
Character Information
Karl was Homer's assistant who tried to help Homer succeed as an executive.
Biography
[
edit
]
After Homer was promoted to a junior executive position at Springfield Nuclear Power Plant because of his newly grown hair, he had to find an assistant. All the applicants were, as Homer put it, "making kissy faces" at him, until he found Karl.
Karl proved to be a very capable assistant, helping Homer to be more confident in himself and showing him how to dress properly. Karl also covered for Homer's forgetting his and Marge's anniversary by hiring a singing telegram to serenade Marge with "You Are So Beautiful". Eventually Homer's thousand-dollar health insurance fraud was found out (Homer had used Dimoxinil to regrow his hair and charged it to the company health plan on the sly), and just as Smithers was about to fire him, Karl took the bullet for him. Karl falsely explained it was all his idea and that Homer was unaware of any fraud. Smithers then fired Karl instead of Homer.
Even after being fired, Karl still helped Homer out by writing his big speech for him, giving him his umbrella, and giving him a confidence-boosting pep talk after Homer lost his hair and was nervous about his speech. Unfortunately, it was all for naught as Homer's speech was a complete failure (the other executives ignored his ideas because he was bald), and Mr. Burns demoted Homer from his executive position back to his old job. It isn't known what job Karl ended up at after being fired from the power plant.[1]
Behind the Laughter
[
edit
]
Sexuality
[
edit
]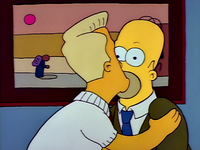 It has been suggested that Karl is homosexual or bisexual, as he kisses
Homer
during his pep talk and explains, "My mother taught me never to kiss a fool." Also, Karl was voiced by openly gay actor
Harvey Fierstein
. Some things Karl does, such as having Homer do an affirmation ("I deserve this! I am nature's greatest miracle!"), and telling Homer that a man's suit should say "Don't judge me, love me" could be considered references to the Gay Pride movement. Also, Fierstein declined to have Karl be designed to resemble him, because Fierstein didn't think he (himself) was a good representative of the gay community—and possibly indicating that Fierstein felt that Karl
was
supposed to represent the gay community.
However, Karl appears to be of Germanic origin and obviously has at least some European cultural influence in his background, and in some foreign countries physical contact among people is more acceptable (and less indicative of sexuality) than it is in American society. Also, in some European countries a man kissing another man is considered a sign of respect rather than romantic affection, and therefore not an indicator of sexual orientation. Karl does pat Homer on the behind at the end of his pep talk, but even in American culture, in the context of professional athletes such as football players, this is considered a comradely gesture rather than a romantic one. The tone of Karl's pep talk is more like a coach inspiring a team than it is like making a romantic advance, so Karl's patting Homer also should not be taken as an indication of homosexuality or bisexuality. Another issue that leaves Karl's orientation ambiguous is that he says he is friends with the women in the power plant's typing pool, but it is unknown whether he is romantically involved with any of them.
A stronger hint at Karl's possible orientation is dropped in "Flaming Moe" when Karl is seen supporting Moe's campaigning as gay while running for city council, but there's still no overt indication of his status.
Karl was originally going to be designed in Harvey Fierstein's likeness, but Fierstein declined, as he felt that he didn't represent the gay community well.
Karl was slated to re-appear as one of Homer's two gay roommates in "Three Gays of the Condo", but Fierstein declined to reprise the role.
The kiss between Karl and Homer is believed to be the first animated male-male kiss to air on network television.
Appearances
[
edit
]
References
[
edit
]
Factfiles from Simpsons World the Ultimate Episode Guide: Seasons 1-20
Season 14
Rock Stars • Audrey McConnell, Third Grade Teacher • Dr. Velimirovic, Plastic Surgeon • Mitch Hartwell, the Reality Channel Producer • Junior (AKA Frank Grimes, Jr.) • Teacher of the Year Award Nominating Committee • Dexter Colt, Private Eye • The Mugger • Larry H. Lawyer, Jr. • Baby Stink-Breath • Booberella • Sara Sloane, Hollywood Movie Star • Cookie Kwan, Red Coat Realtor • Stark Richdale • Declan Desmond • Julio and Grady • Luke Stetson, Junior Wrangler • Suds McDuff, Spokesdog/Mascot for Duff Beer • Marriage Counselor • Jim Proudfoot • Don Castellaneta