Fat Man and Little Boy
Wikisimpsons - The Simpsons Wiki
340
"Fat Man and Little Boy"
"Fat Man and Little Boy"
Episode Information

"Fat Man and Little Boy" is the fifth episode of season 16 of The Simpsons and the three-hundred and fortieth episode overall. It originally aired on December 12, 2004. The episode was written by Joel H. Cohen and directed by Mike B. Anderson. It guest stars Eric Idle as Declan Desmond.
Synopsis
[
edit
]
"When Bart writes slogans on t-shirts, he catches the attention of Goose Gladwell, a gag gift entrepreneur, and soon becomes a t-shirt mogul. With Bart now the breadwinner, Homer feels he no longer has a place in the family. In order to feel more useful, Homer begins spending more time with Lisa, including watching documentaries by scholar Declan Desmond. But when Gladwell is revealed as a fraud, Homer steps in to show him who's really boss."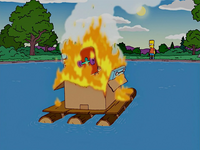 Bart fires spitballs at Lisa and Janey and one is covered in blood. Lisa then complains to Bart about it but Bart finds out he is losing his last baby tooth. Bart then starts to worry that he is becoming an adult and has to give up his life as a kid. He sits in a kiddie ride outside the Try-N-Save to try and regain his youth, but when Jimbo, Dolph and Kearney come, he goes home and decides to give his toys a Viking funeral. Lisa then tells Bart that when she is feeling down she writes stuff and Bart decides to write cynical messages on T-shirts. They quickly become popular and Bart opens his own T-shirt stand but Chief Wiggum shuts it down as he does not have a vending license.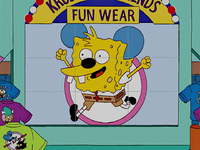 Bart makes a new T-shirt stand and takes it to the local expo, where it gets crushed by Krusty's bigger stand. Dejected, he goes outside and gets run over by a businessman named Goose Gladwell, who sees Bart's T-shirts and offers to distribute them, as he finds them "hilarious". Homer then realizes he just lost his spot in the family and ends up watching a Declan Desmond documentary about lions on TV, which convinces him to spend the remainder of his life bonding with Lisa instead of moving to the Springfield Retirement Castle.
Homer enjoys spending time with Lisa but after Lisa's project on nuclear energy is about to lose to Martin's robot named CHUM (short for "Childlike Humanoid Urban Muchacho") and Homer uses real plutonium to power Lisa's project and Lisa begins to hate Homer again. In the mean time Goose Gladwell is selling the rights to Bart's t-shirts to the Disney company and Bart is not even given a single penny. Homer then comes to the store and after a discussion with Goose Homer is able to end sales to Bart's t-shirts and Homer is able to reprise his role as father again. In a deleted scene during the credits, Bart tries to lose a tooth by getting Nelson to punch him, a plan that fails when Nelson leaves to think about the insults he received.
Production
[
edit
]
| | |
| --- | --- |
| | This article about a Simpsons episode is a stub. You can help Wikisimpsons by embiggening it. |