Nibbles
Wikisimpsons - The Simpsons Wiki
"You did it Nibbles! Now chew through my ball-sack!"
―Seymour Skinner to Nibbles
Nibbles
Animal Information

Nibbles was a class pet at Springfield Elementary School, although he seemed to leave the school.
History
[
edit
]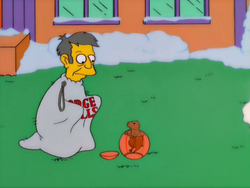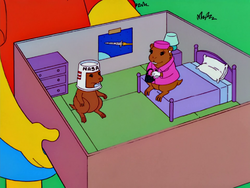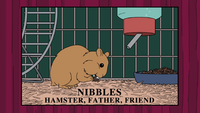 Nibbles was first seen at the school on a very snowy day when the only people who came to school were Principal Skinner, Groundskeeper Willie and barely enough students to fill one classroom. They ended up getting snowed in when the snow continued. The students rebelled against Principal Skinner, tied him up in a dodgeball sack and took charge of the school. Seeking help, Skinner put Nibbles and a note asking for help into the hamster's exercise ball and pushed it out the window. The rescue attempt appeared doomed for failure as Nibbles only got a few yards away from the school before falling through the snow.
Nibbles did make it out, however, and ended up saving Homer and Ned who had tried to drive to the school to rescue the kids. Ned's car had hit a fire hydrant and gotten stuck in the ice, and its interior was filling up with exhaust fumes. Homer and Ned were about to suffocate when Nibbles (still in his exercise ball) crashed through the windshield, bringing them some life-saving fresh air. The ice then thawed out and Homer and Ned drove on. They ended up freeing the snowbound school (albeit accidentally) when they hit a silo of cracker salt and knocked it over, which spilled the salt, which in turn melted most of the snow. Still in the exercise ball, Nibbles rolled up to Skinner, who was still tied up in the dodgeball bag. Skinner congratulated Nibbles for bringing back help, and then asked him to "chew through my ball sack", to which Nibbles' only response was to stare quizzically at Skinner.[1]
Homer later pressed Nibbles into service as an astronaut to fly a sophisticated model rocket that the nerd trio of Benjamin, Doug and Gary had built for him. Before making the flight, Nibbles said goodbye to his wife and five babies (she had already eaten three). During the flight, the rocket went off course. Homer radioed a set of instructions to Nibbles to put the rocket back on course, but Nibbles ejected from the rocket instead of following the instructions. As Nibbles parachuted to safety, the rocket went completely out of control and eventually crashed into the First Church of Springfield.[2]
After Lisa saved a raccoon, Miss Hoover decided that Lisa should take care of Nibbles as she was the best qualified to do so. However, Lisa forgot about him and he got stressed from having no attention payed to him. Lionel Budgie and Lisa operated on him but he passed away. A funeral for him was celebrated in Springfield Elementary.[3]
Non-canon
[
edit
]
| | |
| --- | --- |
| | The contents of this article or section are considered to be non-canon and therefore may not have actually happened or existed. |
The Simpsons: Tapped Out
[
edit
]
This section is transcluded from The Simpsons: Tapped Out characters/A Christmas Peril. To edit it, please edit the transcluded page.

Nibbles
Image
Cost
Unlock method
Unlock message
FREE
A Christmas Peril
Tray of 132 Donuts (with Dodgeball Skinner)
Action
Jumps in the air and flips in his ball when tapped.
Behind the Laughter
[
edit
]
Appearances
[
edit
]
References
[
edit
]
Factfiles from Simpsons World the Ultimate Episode Guide: Seasons 1-20
Season 14
Rock Stars • Audrey McConnell, Third Grade Teacher • Dr. Velimirovic, Plastic Surgeon • Mitch Hartwell, the Reality Channel Producer • Junior (AKA Frank Grimes, Jr.) • Teacher of the Year Award Nominating Committee • Dexter Colt, Private Eye • The Mugger • Larry H. Lawyer, Jr. • Baby Stink-Breath • Booberella • Sara Sloane, Hollywood Movie Star • Cookie Kwan, Red Coat Realtor • Stark Richdale • Declan Desmond • Julio and Grady • Luke Stetson, Junior Wrangler • Suds McDuff, Spokesdog/Mascot for Duff Beer • Marriage Counselor • Jim Proudfoot • Don Castellaneta